Rafa's controlled style the key to Europa triumph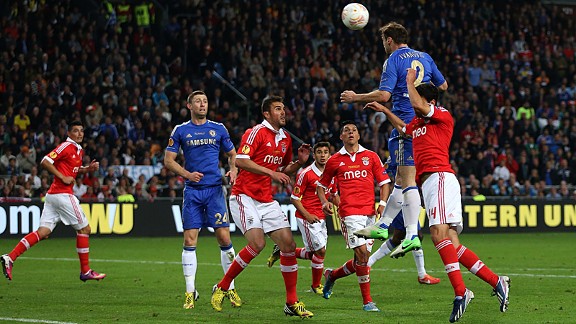 PA PhotosChelsea's Branislav Ivanovic scores the winning goal
On one side, deep trauma. On the other, a triumphant sense of vindication.

Those emotions will feel even further apart because this Europa League final came so close to going in the opposite direction. But even so, there was a sense of inevitability to Chelsea's 2-1 win over Benfica on Wednesday.

The Stamford Bridge side kept up their remarkable record in finals, while interim manager Rafa Benitez underlined his overachievement in European ties. To add an emotional resonance to the result, as well as the sense that it could have been scripted, Branislav Ivanovic went a long way toward making up for missing last year's Champions League final by scoring the luscious last-minute winner.

-Kundert: Cruel game - what now for Benfica?
- Brewin: Benitez eventually calls the tune
- Lampard hints at new deal after Europa win
- Benitez proud of Europa success

Benfica, meanwhile, not only failed in their seventh successive European final, but also lost a crucial season-defining game in the dying moments for the second time in a week. The first was a Portuguese Liga title-decider against FC Porto.

After that key defeat, it is understandable that emotional talk resurfaced regarding the curse former coach Bela Guttmann put on the club following his departure in 1962.

The truth, however, is that both sides allowed those recent histories to condition them.

Benfica, quite simply, looked like a nervous team that never fully believed they could actually win this game.

How else to explain their odd reluctance to shoot at the end of otherwise confident and impressive passing moves? Worse, when they did shoot, they were often disappointingly limp or rushed efforts that further betrayed an anxiety.

If they were showing Chelsea how to pass, Benitez's side were showing the Portuguese how to shoot -- not least with a swerving Frank Lampard effort shortly before halftime.

It was no surprise that Benfica could score only from a penalty, or that they failed to make the most of a desperate final chance.

By the time Oscar Cardozo took his spot kick, Chelsea had already recovered from a poor early period for Fernando Torres to creditably give them the lead. Such perseverance reflected both the experience of this consistently victorious squad and the exacting nature of Benitez's management.

While the likes of Ashley Cole and Lampard knew not to panic regardless of Benfica's pressure, the side gradually started to apply the controlling game that Benitez so insists on. It may not always be convincing or coruscating, but it conserves energy and intelligently draws out the other team, before offering a few crucial -- and occasionally blinding -- bursts. That was the case with the opening goal.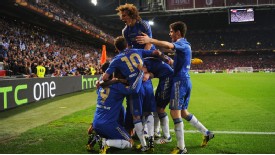 GettyImagesChelsea celebrate Fernando Torres' opener
Out of nothing, Petr Cech powered a surprising throw forward, Juan Mata pushed the ball on with a delightful touch, and then Torres held off two potential red-card fouls before scoring.

Benfica, for their part, refused to buckle to their evident previous anxiety after that goal. Instead, they put Chelsea on the back foot again before Cardozo powered home the penalty.

Thereafter, the game entered its most intense and entertaining period, illustrated by the evergreen Lampard's exceptional shot against the bar.

That Chelsea were able to persevere at that level, after a season like this, was admirable. Because, as many sides know (such as Leeds United of the late '60s and early '70s), such mammoth seasons often end with squads so stretched they actually win nothing.

It is to Chelsea's credit that two different competitions ended with satisfaction, while two other semifinals were reached. And, while Benitez has made a fair few mistakes on the job, much of that is down to the Spaniard's necessary -- if often frustrating -- squad management.

Even then, it seemed that Chelsea were going to be stretched even more as the game headed for extra time. Instead, Ivanovic headed a most glorious winner.

By then, though, the tension had given way to a sense of inevitability.

Benfica's soul-searching goes on.

Benitez and Chelsea enjoy glory yet again.