Much on the line for Roberto Mancini
In football, memories can be short.

Carlos Tevez, for instance, has been forgiven by Manchester City fans for refusing to, at the very least, warm up against Bayern Munich in last season's Champions League. Tevez would of course go on to play a role in helping City win its first Premier League title in 44 years in May, his golf swings in Argentina surely helping his conditioning.

Ahead of City's blockbuster Champions League clash against slumping Real Madrid in the Spanish capital on Tuesday, Jose Mourinho put his boot in the groin of the Citizens when he suggested that money can't buy tradition. Blackboard material for City -- and it's simply not true.

The hundreds of millions of pounds pumped into Chelsea by owner Roman Abramovich turned the west Londoners from a side chasing a top-four berth to multiple league winners and, finally, the Kings of Europe. Tradition, if not there, is on the way. Mourinho seems to have forgotten that less than 10 years ago, he was all too happy to spend his owner's bottomless pit of cash in a similar position to where Roberto Mancini is now.

Having conquered the Premier League to kick-start what City hopes will be a dynasty, the goal for Mancini in Europe is to advance past the CL group stage.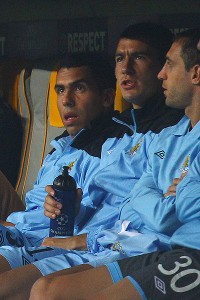 no_source / Alexander Hassenstein/Bongarts/Getty ImagesCarlos Tevez' last game in the Champions League was memorable for his refusal to participate vs. Bayern Munich; will he atone against Real Madrid on Tuesday?


Don't let the wealth fool you; in only its second season in the topflight European competition, reaching the second round and then quarterfinals would constitute success since City has found itself in the group of death again. In the Abramovich era, Chelsea made it to its first Champions League final in its fifth season. Far from an instant reward. City was ousted at the first hurdle last season.

"The group stage is difficult, like last year," Mancini told reporters. "But if we can get 10 points again I think we can go through."

Besides Madrid, City must contend with Borussia Dortmund, the two-time German champion eager to atone for a near disastrous showing in the competition a year ago, and Ajax. Nowhere near the force it was in the 1990s, Ajax could nonetheless be difficult to handle in Amsterdam.

City's start to the new season, while not as shaky as Real Madrid's, hasn't been dominant either: Its two victories from four league outings have come against relegation contenders and weren't overly convincing. Whereas Arsenal thumped Southampton 6-1 at home on Saturday, City edged the Saints 3-2 at home in August. Meanwhile, the wait for a clean sheet continues. City registered 17 shutouts in 2011/2012, an average of one almost every other game.

Another worrying pattern has emerged for the Premier League champions. In three of the four games, City has conceded first -- to Southampton, Stoke and Liverpool. The offensive firepower at Mancini's disposal has meant no losses in those three games, yet in the Champions League where the competition is stiffer, City can't expect to continue to rally for wins and draws.

Mancini insisted that City's mentality wasn't to go to "Madrid or anywhere for a draw or to lose."

"We always want to win," he added.

But as the saying goes, if Mancini was offered a point beforehand he would take it, especially given last year's debacle: When City visited then-group powerhouse Bayern Munich, the evening descended into a nightmare as a 2-0 loss was compounded by Tevez's sustained sulk on the bench.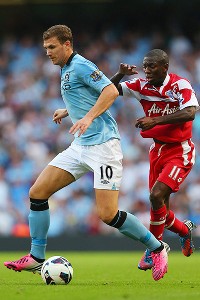 no_source / Alex Livesey/Getty ImagesEdin Dzeko is arguably City's most consistent striker yet lets the team down with poor decision-making. This lack of a sure-fire striker option is Roberto Mancini's biggest headache.

In that game, Mancini began with two strikers only to haul off a disgruntled Edin Dzeko in the 55th minute with the Bavarians two goals to the good. Mancini has started two strikers in all of City's games this season, but it will be a surprise if he opts for a pair Tuesday. After last season's Munich debacle, Mancini shifted to one striker against Villarreal on the road before reverting to two in a virtual must-win game at Napoli.

On Tuesday, too much space in midfield would benefit Cristiano Ronaldo immensely, not that the Portuguese danger man needs much space in order to torment the opposition. Any sadness Ronaldo is currently feeling will probably be put aside due to the glamorous nature of the fixture, plus that City is a major rival of his former (and next?) team, Manchester United.

So who to start up front if it is just the one?

Sergio Aguero is fit again following a knee injury and traveled with the squad to Spain, but a start for the ex-Atletico Madrid man appears unlikely. Mario Balotelli, hampered by an eye issue, has yet to take off this season though he must relish a chance to inflict woe on Mourinho, with whom he clashed at Inter Milan. Edin Dzeko is in form though frequently gives away possession. That and he's never shy to shoot -- and shoot from distance -- with an abundance of efforts going into the stands.

With a tireless work rate, three goals and two assists this season, Tevez is the most obvious candidate. A man-of-the-match performance for Tevez would further suppress memories of Munich.