Playoffs, not goal difference, should be the answer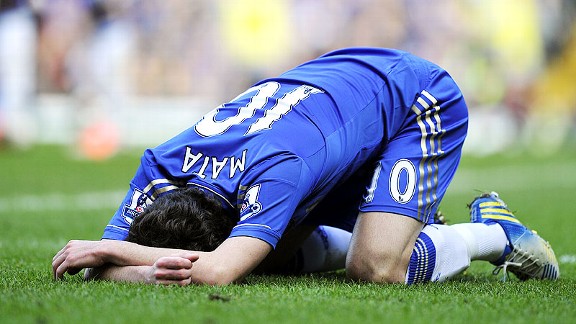 GLYN KIRK/AFP/Getty ImagesJuan Mata and Chelsea have played nearly two seasons' worth of games in 2012-13 but would have enough left for a CL, winner-take-all playoff.
The bookmakers give it less than a 1 percent chance -- 0.96 percent, to be precise, if my math is correct -- and so it's extremely unlikely that we'll see Chelsea and Everton draw 0-0 and Arsenal win 2-1 at Newcastle.

But if it does come to pass, the Premier League has confirmed that third place in the league will be decided by a playoff (most likely one game at a neutral venue) that will somehow be squeezed into the calendar. (And that won't be easy since Chelsea are scheduled to fly to the United States on Sunday night to play two friendlies against Manchester City on May 23 and May 25).

Story: Arsenal, Chelsea could face CL playoff

Why a playoff? Because with those exact score lines, Chelsea and Arsenal would finish level on points, goal difference and goals scored, the three tiebreakers used by the league to separate clubs.

Ordinarily, you wouldn't much care if you finished, say, joint 13th. But here, there's something important at stake. The Premier League's third-place side goes straight into the Champions League group stage, with a guaranteed honeypot of prize money, while the team in fourth needs to negotiate an annoying (and potentially tricky, if it's Schalke, Valencia or AC Milan) two-legged playoff in August.

Screw that one up and you're out $30 million-plus in revenue.

No doubt, the clubs are hoping that it does not happen. Arsenal's players likely just want to go on vacation. As for Chelsea, it would be their 70th game of the season and would mean canceling at least one of the two dates on the U.S. tour, for which -- presumably -- they would have to pay a hefty penalty to the promoters.

But my take is that if they finish level on points, it should happen. In fact, when something is at stake -- relegation, Europa League, Champions League or, indeed, the title itself -- you should always have a one-game playoff at a neutral venue to determine the victor.

I can hear the "goal difference" brigade getting up in arms already. There are still people who believe that goal difference measures the relative strength and performance of a team over the course of a season.

Well, most analytics guys -- and, perhaps, common sense -- will tell you that it does not. The object of the game is to win matches and, barring that, drawing them. It's on that basis that we award and use points to determine who wins the league.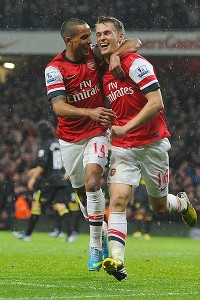 Stuart MacFarlane/Arsenal FC/Getty ImagesGoal difference is a simple, but imperfect, art. Arsenal has enjoyed some freakish wins this season but those results shouldn't carry extra weight.

The old argument in favor of goal difference is that it encourages attacking play, but there is no real evidence for this. When a team is, say, up 2-0, the exact same thing happens every time -- the side that's losing pushes players forward and gambles more in an attempt to draw level, which opens up acres of space for the team that's winning to score on the counterattack.

But that happens organically. It's not as if a manager decides that it's time to run up the score because, boy, goal difference might come in handy at the end of the season. (The only time you ever see this, in fact, is late in the season when teams are likely to finish level and it becomes an issue.)

Of course, there is a flip side to goal difference. You may argue that it encourages attacking play, but by the same token, what happens when you're 3-0 down with 10 minutes to play? You may stream forward trying to get a goal back and risk giving up a score on the counter, or you may just as easily figure "right, we've lost this one, let's just make sure they don't score a fourth." Your opponents, who might be exhausted by that point, might figure there's no need to push since you're not pushing and the game peters out. What fun, eh?

The other problem with goal difference is freak results. If your opponent's starting goalkeeper gets injured in the first minute and the substitute gets sent off in the third minute, you will play 87 minutes against a nonkeeper in goal (and against 10 men). That's a totally artificial situation, granted, but you might end up winning 8-0, not because of your merits but because of the opposition's sheer bad luck.

Other counterarguments?

Well, the traditionalists will say something along the lines of, "But goal difference is how we've always done it!" First off, these are the same types of people who freaked out when limits on foreign players were lifted, when clubs started to put names (and, before that, numbers) on jerseys and when games started to be spread across the weekend. There's a debate to be had about all these "innovations," but the point is that the game has survived and thrived and today, nobody seems to make a big deal out of any of this anymore.

Besides, this would actually be a case of the game going back to its roots. In some countries there were one-game playoffs until very recently, before moving to goal difference or head to head. And before the away-goals rule, the one-game playoff was used in European competition, too. (Sometimes they flipped a coin to determine who advanced, which sounds idiotic and demented today, but hey, that was part of tradition, too.)

And there are some who will complain about the logistics of it. But that's just the lack of a can-do mentality.

What if someone schedules a summer tour at the end of the season? Easy, put in a get-out clause, or get some insurance to compensate the promoters.

Who's going to show the game on TV? Simple, put it up for auction. Or sell the possibility of a playoff game when you sell the rights package. Heck, it doesn't seem to be a problem for the NBA and its playoff rights or for Test cricket, so why should it be a problem here?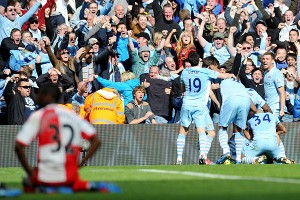 PAUL ELLIS/AFP/GettyImagesSergio Aguero's last-gasp goal made for a thrilling end to the 2011-12 Prem season but a one-game playoff would be far more likely to entertain in the long run.

Oh, but it's so difficult to arrange police and ticketing if you're going to play so soon after the final. No, it isn't. For years the FA Cup has had replays -- and sometimes second, third and fourth replays. That didn't seem to be a problem. Are you telling me they're worse organized and equipped in 2013 than they were in 1973?

Obviously, there are commercial advantages, too. Sure, last season's Premier League finale was breathtaking and exciting -- a bit like 1989 and Michael Thomas and all that -- but it could just as easily have been City racing to a 3-0 lead by halftime, which would have been a dull, damp squib. You can't rely on last-second goals. Based on probability, a one-game decider would be far more enthralling.

Excitement generates higher TV rights, sponsorships and gate receipts, all of which increase revenue. Funny how Premier League owners were happy to consider playing a 39th game in every corner of the globe but aren't pursuing something like this.

The other twist to this is that it's ultimately a rare occurrence. If the one-game playoff rule had been in place for the past three seasons, we would have had only two in the four major European leagues: last year's Premier League decider and, in 2010-11, Lazio and Udinese would have squared off for a spot in the Champions League.

If anything, it ought to be introduced precisely because it's so rare. It would be special. It would be exciting. And, most of all, it would be fair.

Gabriele Marcotti is a London-based journalist and broadcaster who covers world soccer. He is the author of three books, the world soccer columnist for The Times of London and a correspondent for the Italian daily Corriere dello Sport. You can catch him on ESPN Press Pass and read him here twice a week. Follow him on Twitter: @marcotti.