Jesus looks to resurrect Benfica in Europa final
Moments after FC Porto's last-gasp winner had hit the net on Saturday night to all but snatch the Portuguese championship from Benfica's grasp, TV replays showed Aguias coach Jorge Jesus' reaction: an immediate, spontaneous and dramatic fall to his knees with head bowed. It was an iconic image that could come to symbolise Benfica's season. Or will it?

Conventional wisdom suggests Benfica, who were previously unbeaten in the Liga and had led the way for months, would be floored by seeing a season's work unravel in extraordinary fashion in the last instants of a match that constituted their last difficult obstacle to lifting the title. In the flash interview that followed the final whistle, Jesus said: "This one is very tough to take; this loss has knocked us back and left us badly affected."

- Lythell: Chelsea can end tough season on high
- Cox: Europa League made for Benfica
Video: Hazard ruled out of final
- Ramires to forget Benfica ties for final

Just five days later, Benfica have the chance to bounce back as they take on Chelsea in the Europa League final in Amsterdam. The short recovery period could actually work in the Lisbon club's favour. What better way to rid oneself of a trauma than by replacing it with triumph? Indeed, the coaching staff and players are in all likelihood grateful that they have the chance of immediate redemption.

Instead of having to dwell on an acutely painful moment, Benfica have an immediate distraction. And a big one. It's 23 years since the famous old club have contested a European final. Moreover, with the league title out of their hands and almost certainly gone, Benfica need hold nothing back.

"We've changed the chip. It's going to be a day of great significance for Benfica. This is Benfica returning to the past. We are again becoming a great Benfica," said Jesus on Tuesday morning, as the squad boarded the plane destined for the Netherlands.

If Benfica achieve the levels of excellence they have regularly displayed in 2012-13, we could be in for something spectacular. With all due respect to Basel and Fenerbahce, when the semifinal draw was made, this was the final that everyone wanted. For all the antipathy Chelsea garner as the club that ushered in the era of billionaire owners distorting what was at least perceived as a more level playing field, the London club have made friends this season by playing some exhilarating football. Talents such as Eden Hazard, Juan Mata and Oscar have the verve and skill to grace any European final.

Exhilarating is also the appropriate word to describe the brand of football installed at the Estadio da Luz since the charismatic Jesus took over the reins four seasons ago. Portugal's most popular club have rekindled the swashbuckling all-out attacking style that they feel is part of their DNA.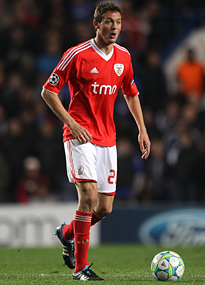 PA PhotosNemanja Matic: Leading contender to be voted player of the year in Portugal
The connections
The multiple connections between both clubs add another intriguing ingredient to the contest. "If football was just a question of passion I would never have left Benfica," said Chelsea's new commander-in-chief, David Luiz, who remains a hugely popular figure in Lisbon. Ramires, who made the exact same switch, is one more in the long list of players and coaches recruited by Chelsea who made their name in Portugal.

However, one player who made the journey in the opposite direction will also be striving to leave his indelible mark on this final. Nemanja Matic was considered little more than a makeweight in the David Luiz deal, having clocked up just two appearances for the Stamford Bridge side before arriving in Portugal. His opportunities were limited last season, but the Serbian has more than made up for it this term. An endless roll of consistently magnificent displays have made Matic the leading contender to be voted player of the year in Portugal, and led Benfica to slap a €45 million release clause on him.

Benfica's enviable list of attacking threats, including Nico Gaitan, Salvio, Ola John, Lima and Oscar Cardozo, all benefit from Matic's strength and vision. An imposing physical presence at the heart of the Benfica midfield, it is Matic's peerless positioning and timing, allied to his technically flawless passing that has seen him fit in so smoothly with Benfica's quick passing game.

The curse
Benfica, of course, have a long and proud tradition in Europe. They have reached nine European finals in total, including five European Cup finals in the Eusebio-inspired 1960s. But a dark cloud hovers over their rich past in continental competition. Of those nine finals, the Portuguese side have won only two: the first two, under the guidance of Hungarian coach Bela Guttmann.

After beating a Real Madrid side containing Alfredo Di Stefano and Ferenc Puskas 5-3 in the 1962 final to retain their crown, the coach saw fit to ask for a big pay rise, which was flatly refused. The club and coach fell out and as the Hungarian walked away he said in a fit of fury: "Benfica without me will never again win the European Cup!"

The phrase has become part of footballing folklore in Portugal, with each failure by Benfica to land European silverware adding more weight to the "Guttmann curse." Since the Hungarian cast his spell, Benfica have reached six European finals, falling short each time. The last time they did so was in Vienna in 1990, near the cemetery where Guttmann is laid to rest. On the eve of the final against Milan, Eusebio went to the grave to pray for forgiveness and ask the gods to lift the curse. To no avail, as a Frank Rijkaard goal made it another final defeat for Benfica.

If Benfica are to finally banish the curse, bounce back from huge disappointment and overcome the prematch favourites, it's a good bet Jorge Jesus will be on his knees again. Only this time with his head held high and arms aloft.