Emirates set for gung ho showdown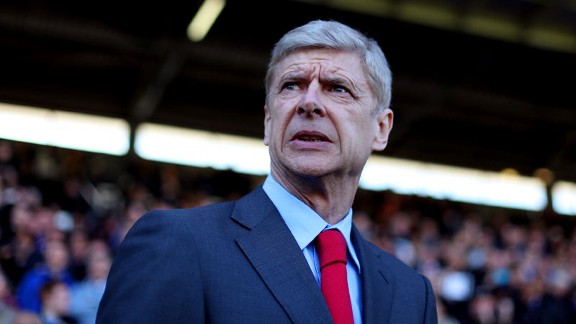 PA PhotosA calm Arsene Wenger seemed unperturbed by the high stakes of Arsenal's clash with Wigan
Arsene Wenger, rather curiously, can't remember ever relegating another Premier League side. Then again, should the worst happen to Wigan Athletic at the Emirates on Tuesday, the Arsenal manager won't necessarily feel like the executioner.

"You look at you and they look at themselves," Wenger said on the eve of the game. "We do not send them down if we beat them -- it is the whole season that sends you down."

In other words, it isn't the inches of the single night that it comes down to, but the long yards of the last few months. No matter how consequential one specific kick seems, it is ultimately conditioned by thousands of similar moments that preceded it. Similarly, no matter how cruel or close any particular ending appears, teams generally get what they deserve as a consequence.

At the same time, it is exceedingly rare for all those inches, elements and games to combine and produce a contest and context like this: quite simply, both teams know they must win. It could make for a frantic final few minutes.

Drop points and Arsenal will have to rely on Sunderland to claim a result at Tottenham on Sunday to avoid missing out on the Champions League for the first time in 15 years. Wigan, meanwhile, will be all but relegated if they don't win.

For his part, Roberto Martinez takes a similar long-term view to Wenger. As part of that, rather admirably, he is also attempting to shift the context in order to alleviate the evident pressure on his players.

"I don't see this as being survival. I just see this as an important part of the season," he said. "This is a final. You need to prepare for 10, 11 months and make sure that you are ready for these games."

It is, of course, Wigan's actual cup final that only deepens the distinctive nature of this occasion. Martinez's side could become the first team in history to win the FA Cup and get relegated in the same season.

On the other hand, the uplifting manner in which Wigan beat Manchester City could well carry them to a similar conquest at the Emirates.

One of the most impressive aspects of that Wembley win was that, unlike so many other previous upsets in the FA Cup final, Martinez's team did not try to just pragmatically cancel out superior opposition and catch them on the break. Wigan set out their plan and played the entire game on their terms.

It was as refreshing as it was rousing. They were thoroughly deserving winners. It also wasn't the first time.

Wigan produced a series of similarly commanding and confident performances in last year's run-in, not least at the Emirates, where they won 2-1.

The natural question from all that is why they can't reproduce that kind of display across the course of a season and prevent such anxiety in the first place?

Part of the reason, though, lies in their size.

With Martinez effectively forced to sell three first-team players every summer, the side must be consistently rebuilt and then relearn the manager's approach. Such a passing-pressing game, after all, requires a high degree of both understanding and integration to pull off sleekly. It doesn't just happen.

There is an argument that Martinez could be better served by a more pragmatic approach in the meantime but, for one, that prevents proper learning of the system; two, it would mean the side accepting their limits rather than so admirably trying to push them. Wenger even referenced this.

"I still think Wigan will be faithful to their shape," the Arsenal boss said. "Martinez has a positive philosophy. Above all, what you want is that he tries to play good football and has a positive philosophy. That for me is a good basis to go forward and move higher up."

Wigan have certainly matched and often beaten those well above them. As such, despite the stark differences between the positions of the sides and the fact Arsenal are at home, this has more the feel of a 50-50 game. Martinez certainly thinks previous wins could have a positive effect.

"In football, as in life, you need to have pictures of what you can achieve. It is difficult to achieve something special if you don't have those pictures. We have been to the Emirates and we know that we can compete. The win from last season is still fresh in our minds."

As is the win from the FA Cup final. Because, exacerbating all of this is the ever-shifting emotion surrounding this game.

It was commonly argued after the Swansea defeat that, regardless of the FA Cup result, Wigan may be too emotionally exhausted for the trip to the Emirates. Now that they've actually gone and beaten Manchester City, though, you can almost sense the lift it's given the entire team.

"It will be impossible for us to forget the emotions we had on Saturday," Martinez said.

If not impossible, it has also been difficult for Arsenal to fully escape the tension and anxiety that so often grips the Emirates. In fact, part of the reason that they have managed to put a run of six wins and two draws together has arguably been adjusting their game around that tension.

After a period in which they were coughing up so many goals, Wenger has notably reined his team in. Those recent results have been borne of cautious restraint rather than cavalier abandon. Most notably, Arsenal have only scored six in their last five. Even when they had the chance to cut QPR apart after scoring so early, they mostly attempted to just stay together themselves.

That, as goes without saying, has been the sober source of such steadiness.

"We are on a remarkable run," Wenger said. "We have been hugely consistent and we are in a position where our destiny depends on us and we want to finish the job."

The issue, though, might be seizing the day. Because while that restrained approach was probably more conducive to mounting a run, it may not necessarily be the best way to win a game against such an assertive away side. Worse, what if Arsenal go behind -- as happened in the fixture last season? Will that tension spill over into something else?

At the very least, both of these managers are among the best in the Premier League at blocking out negativity and keeping the appropriate mindset.

As with so many other difficult weeks in this testing season, you wouldn't have guessed Arsenal were under pressure from Wenger's completely relaxed approach on Monday.

Martinez, meanwhile, had the audacity to portray Wigan's dire situation as the ultimate positive.

"I think we are fortunate in terms of results because if you are relying on other people to do your job, that doesn't work in football. We are very fortunate in that we are third from bottom, but if we win the six points we don't have to rely on anyone.

"It is plain and simple. We need six points and we don't have to look elsewhere. It is important that the mindset is right."

That last sentence is the key. Because, as outlandish and outright unrealistic as some of Martinez's comments are -- not least the line about "fortune" -- it has fostered a situation in which they approach such games without fear.

The consequence may be a hugely positive game -- as well as one to remember, whether Wenger relegates Wigan or not.