City-bound Pellegrini gets most of his situations
After a season in which Roberto Mancini's charge of Manchester City has come in for its share of scrutiny, the Italian was finally jettisoned last month, and replaced with a man whose appointment will herald a strengthening of the Spanish -- and Hispano-American -- connection at City. Former Barcelona technical director Txiki Bergiristain, now City's director of football, has clearly seen a lot that he likes in Manuel Pellegrini.

Like Pablo Zabaleta and Sergio Aguero, Pellegrini's journey to Manchester began in South America and involved a stopover in Spain, and whilst his nine years there haven't brought him any trophies during spells with Villarreal, Real Madrid and Malaga, he's clearly an enormously talented manager. But what do you need to know about his pre-European career?

The first two points, and probably the ones most fans are wondering about most of all, are his playing style and his trophy haul. In that respect, the football we saw from his Spanish sides is very much a continuation of his previous style. He was the boss at Villarreal during their memorable, Juan Roman Riquelme-inspired run to the Champions League semifinals in 2005-06, and fans of the clubs he managed in South America easily recognised his mark on the team.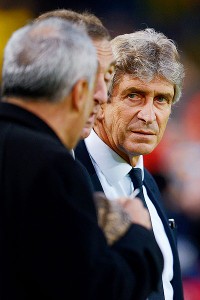 Dennis Grombkowski/Bongarts/Getty ImagesManuel Pellegrini's teams in South America and Spain have played attacking football. His relationships with star players will be key at City.
After a false start with various clubs in his native Chile (though things got better, with a Copa Interamericana and a Copa Chile at Universidad Catolica), spells at Liga de Quito in Ecuador and San Lorenzo and River Plate in Argentina gave him a chance to develop and brought his first league championship successes -- one with each club.

Those clubs all have traditions of attacking football, especially River -- where, almost ten years ago, I first attended an Argentine match. In some ways, this article has been a decade in the making, since I was watching Pellegrini's team. They'd been crowned champions a month and a bit before, scoring 43 goals in 19 matches, and I saw them open the new season in mid-2003. (As an aside, that match, a 2-1 win over Nueva Chicago, was also Javier Mascherano's first-team debut for River, and came after he'd made his first appearance for Argentina's full national side, in a friendly against Uruguay).

Pellegrini insists on attacking, adventurous football, and in Argentina it brought spectacular results -- his San Lorenzo side, in winning the 2001 Torneo Clausura, set a record for most points won in a short (19-game) championship in Argentina (47), as well as one for most consecutive victories, with 13. Both records still stand today. These were followed by the league title he'd just won when I saw his River Plate side, and -- later in 2003 -- a run to the final of the Copa Sudamericana, all achieved with nothing in the way of complaints about his style from the fans.

His relationship with star players is a third point fans of his new club will be curious about. How he gets on with big names will be important at City, and in this respect the only blemish on his record was the spat with Riquelme which led to the playmaker's return to Boca Juniors in 2007. It's a little perverse to hold that one against Pellegrini, given the number of arguments Riquelme's had in his career. The reason for it -- Riquelme's preference for not training and wanting to pick his matches -- might make Mario Balotelli happy he's not at City anymore.

Worth greater consideration is the level of performance Pellegrini got out of Riquelme when the two were happy together, culminating in that fantastic Champions League campaign. At San Lorenzo and River he also used his most high-profile players well, and also -- thanks to the 21st-century realities of South American football -- had plenty of chances to bring through young players, with Mascherano one among many. He even got decent performances out of Maxi Lopez (who soon moved to Barcelona and now, to the disbelief of almost everyone in Argentina, went on to play for Milan), who scored twice in the first leg of River's eventually unsuccessful Copa Sudamericana final in 2003.

City fans are bound to wonder how Pellegrini has previously reacted to being in charge at one of the favourites for a league title, as well. At Villarreal and Malaga, after all, the pressure was significantly lower, and at Real Madrid he failed to secure the Primera Division title. His spell at Madrid was hardly a failure, though -- they won more points and a higher percentage of matches than any Madrid side before, only being kept off the top by Barcelona's extraordinary exploits. If he struggled at times with the pressure at the club, it didn't show.

As previously mentioned, at San Lorenzo he also set records and ended up with a trophy to show for it. In truth, the upward and downward swings for sides here in Argentina between one championship and another mean that even when they have a fine team, and even though they're one of Argentina's "Big Five," the San Lorenzo job is far less of a pressure cooker than the River or Boca Juniors managerial positions are. At River -- and at Liga de Quito in Ecuador -- he came in with the pressure of keeping one of the country's biggest clubs in winning mode after recent trophy wins -- and succeeded at both.

In short, then, a glance at the bare statistics of Pellegrini's two longest club spells in Europe might not impress the fan who just wants a big-name manager with an impressive lot of recent silverware, but that's a simplistic view. A look at what he's done with the tools he's had to work with since his arrival in Europe tells much more of the story, and he's still remembered and followed in South America as a talented manager with a lot of potential success ahead of him.

Like their cross-city rivals, City might be signing a manager without any recent trophies to his name, but that shouldn't be a cause for concern. Given the confidence of the board, City's prospects should be in good hands.