Scholes among the last of the one-club men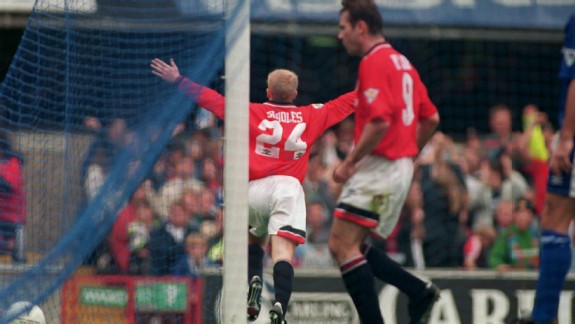 GettyImagesPaul Scholes scored on debut against Ipswich in 1994
Jamie Carragher played his final Merseyside derby last Sunday. Paul Scholes played his last Manchester derby a year ago. Carragher made his decision public in February and has been on a valedictory lap since. Scholes had not played since January but has never been one for a public show of intent. Both will take their leave of playing next weekend.

- Okwonga: Farewell Paul Scholes, football's quietest superstar
- Scholes' career in pictures
- Confirmation of Scholes' retirement

Scholes' retirement comes in the shadow of the only manager he has ever played for stepping down, too. Both he and Sir Alex Ferguson have attempted to retire before, of course, and last time, Scholes' came in the days following Manchester United's defeat in the 2011 Champions League final. That night, Barcelona's Xavi sought out the shirt of the midfielder he has used as "a reference" for his own career. It looked as if Scholes had gone out at the top before changing heart and almost inspiring United to the 2011-12 title.

A knee injury sustained in a January FA Cup game at Upton Park then further aggravated has curtailed Scholes' involvement. He has been unable to make the impact his high standards demand and will retreat to the shade he has always felt more comfortable in. Unlike Carragher, set to bring his Scouse squeak to counterbalance Gary Neville's Manc whine on UK TV screens, Scholes, softly spoken but never meek, is utterly unlikely to mount a media career.

He already had to be persuaded to continue playing this season, and Scholes has hardly been missed due to Michael Carrick's growing influence. "Oh, oh, oh, it's Carrick, hard to believe it's not Scholes" is United fans' bastardisation of Pilot's '70s hit "Magic" to pay tribute to a near-32-year-old who waited six years to be regaled as the new pretender.

A younger version of the old master might have been useful against Real Madrid, but a lack of legs lately found him overrun against spritelier, better teams. The injury's silver lining is that Scholes has avoided the disappointment of omittance. A return to the bench against Chelsea last Sunday signaled his readiness for goodbyes at home to Swansea and away at West Brom. Ferguson will grant playing farewells in his own final pair of matches.

Carragher's final stands have been personally more successful, even though his club have faltered in their search for silverware and European qualification. He began this season as a spare part, his lack of speed considered ill-suited to Brendan Rodgers' high-defensive-line pressing game. A performance of great defensive leadership at Chelsea in November changed matters; nowadays Rodgers is saying that retirement is coming too early for Carragher though the mind is made up, barring a Scholes-like response to an SOS. He departs as first-choice and inspirational organiser.

Carragher and Scholes represent a near-extinct breed. The one-club man was once a footballing staple, but Carragher and Steven Gerrard, Scholes and Ryan Giggs, are closing out tradition. John Terry's stint as "Mr. Chelsea" is set to expire with his contract at the end of next season. The overwhelming signs are that Terry will not be asked to hang around Stamford Bridge.

Manchester City's closest equivalent is 24-year-old Micah Richards. Only Joe Hart, who started his career at Shrewsbury Town and joined City in 2006 -- a year later than Richards -- is in any way contemporaneous. City's next-longest-serving players are Pablo Zabaleta and Vincent Kompany, signed in the hardly distant summer of 2008.

Everton sport two 32-year-old youth-product veterans in Tony Hibbert and Leon Osman, but the rest of the Premier League's clubs struggle for such longevity. Leon Britton, Alan Tate and Garry Monk have played in all four divisions for Swansea but all began their careers elsewhere, and Britton was briefly a Blade at Sheffield United amid the Swans' flight to the top.

Tottenham lost Ledley King last summer. Mark Noble, 26 this week, is West Ham's longest-serving player, but the lower-reaching the club, the less likely players are to stay long. Better players are picked off by wealthier concerns, lesser performers are allowed to leave. Catching a lower-division club once a season can be a confusing afternoon. One-year contracts are issued almost across the board. Many clubs field an almost completely different squad from season to season.

One man outstrips the longevity of even Scholes and Carragher, though we must accept that Ryan Giggs is a freakish outlier, whatever the era. He is outliving the Premier League itself, the first of United's "Class of '92" to break through, the last to take his leave, with departure date still unknown. Phil Neville may still be active as a player next season, but he is more than three years younger than Giggs.

United's golden generation was celebrated at the PFA Awards last month, and Scholes and Giggs took their place among old friends: Nicky Butt, his tousled mane a thing of the past but now back as a coach at United; Simon Davies, whose playing career ended at Airbus UK; Chris Casper, whose career was finished at 24 by serious injury; George Switzer, released at 19 by United, now a courier by profession who plays Manchester League amateur football.

For his part, Carragher, like Scholes' pals, was part of an FA Youth Cup-winning team, too. Liverpool's class of 1996 yielded Carragher a lifelong friend in Michael Owen, but the likes of David Thompson, Jon Newby, Andy Parkinson and Gareth Roberts had to seek professional careers elsewhere. The likes of Roy Naylor, Phil Brazier and brothers Stuart and Mark Quinn were soon lost to the game.

The fate of contemporaries is a compelling measure of the success of Scholes and Carragher. Scholes made his debut at Port Vale in October 1994, Carragher made his debut at Middlesbrough in January 1997. Next weekend provides the last chance to see two players who have defined their clubs for a generation. Such continuity is now a stranger in English football.