In defence of Milan's Allegri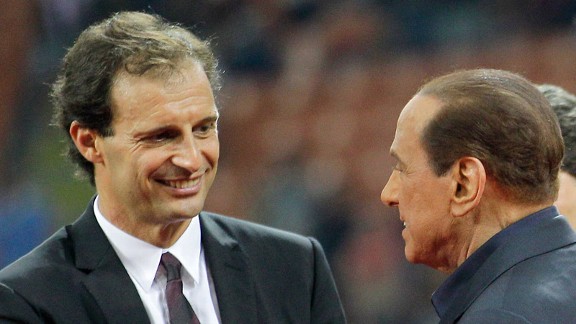 AP Photo/Luca BrunoAfter three-plus seasons, Massimiliano Allegri decided he will be leaving AC Milan, and owner Silvio Berlusconi, after this season.
Before Milan played Catania at San Siro on April 28, some of the club's ultras unfurled a banner in the Curva Sud. On it were two lines of text, the first in black, the second in red. It was a message of support for the man below in the home team's dugout. "More respect for our mister, Allegri," it read.

The ultras felt the coach had been shown a distinct lack of it, in particular by owner Silvio Berlusconi. Without a win in April, Milan had temporarily lost their hold on the final Champions League qualifying place to Fiorentina, a hold they would take back that evening by twice coming from behind.

Earlier that day, La Gazzetta dello Sport had a front-page splash claiming Allegri should "pay attention," because if Milan didn't finish third in Serie A, Berlusconi would have the excuse he needed to dismiss him and act on a whim. That whim -- at least according to the pink paper -- is that, in Berlusconi's opinion, Clarence Seedorf would make an excellent manager.

- Ahead of Roma, Ambrosini backs Allegri

As you can imagine, some questioned his judgment.

To give Berlusconi his due, he possesses great intuition -- or, in any case, he did. He recognised the potential of Arrigo Sacchi, a relative unknown at the time who never worked outside of Serie B before his appointment at Milan in 1987. Then there was Fabio Capello, who, aside from a brief caretaker stint, was given the job of replacing Sacchi after four years of working not on a bench but behind a desk in Berlusconi's corporate empire.

You get the impression Seedorf has what it takes to become a good manager in the future. A winner of four European Cups with three clubs and in three countries, he has the mentality. Something of a polymath on the pitch, having played several positions, he has an appreciation of what various roles entail and how one should interpret them. He knows what the Italians call the ambiente, literally the environment of a club and its atmosphere. He's intelligent and has force of personality.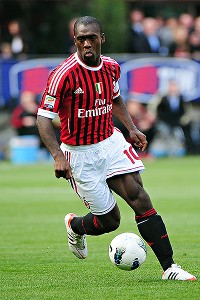 Olivier Morin/AFP/Getty ImagesA year after ending his Milan playing career, Clarence Seedorf is now mentioned as a successor to Massimiliano Allegri.
For now, though, Seedorf is still a player with Botafogo in Brazil. While he may have the expertise, he has no managerial experience. To apparently consider his candidacy while there was still an incumbent -- realising the objectives set in the summer and under the most difficult conditions any Milan coach has had to work in since Berlusconi bought the club in 1986 -- was an affront to Allegri.

Allegri has had to put up with a lot from his employer this season. After a 3-1 defeat to Fiorentina at San Siro in November, he came closer to the sack than at any time in his two-plus years with the club. In that time, chief executive Adriano Galliani has always had Allegri's back. He was the one who insisted Milan hire him in 2010 when Berlusconi instead wanted Marco van Basten. There was vindication as Allegri led the club to their first Scudetto in seven years.

At Galliani's behest, and perhaps mindful that he would have to pay off the remainder of his contract, which expires in 2014, Berlusconi resisted the urge to fire Allegri. The Milan president didn't, however, refrain from courting Pep Guardiola, who hadn't yet signed for Bayern Munich. "Guardiola? Who wouldn't want him?" Berlusconi said. "We have even spoken about it with Allegri. If [appointing Guardiola] were possible, we would look into it. Anyone would try to do so if they were presented with such an opportunity. ... For now, we have Allegri. [But] for the future, we're having a look."

When Sky Italia broke the news in January that, following a Dec. 18 meeting with Uli Hoeness in New York, Guardiola had agreed to coach Bayern next season, Allegri could have been forgiven for thinking that Berlusconi might be satisfied with his lot and that they could move on. But, oh no.

Instead, as is his wont, Berlusconi allowed himself an indiscretion while on the campaign trail ahead of Italy's general election in February. Milan were about to play Barcelona in the first leg of their Champions League Last 16 knockout tie, and Berlusconi was expressing his preference that Milan play with three up front. Is Allegri aware of that, someone asked? "He doesn't understand s---," Berlusconi replied in the local dialect.

It turned out he did, as Milan surprised many by winning 2-0. Although they lost the second leg 4-0 at the Camp Nou, had M'baye Niang scored and not hit the post early on, things might have been different. And anyway, lest we forget, the club's aim at the beginning of the season was simply to get out of the group stages and qualify for the competition again next season.

Berlusconi, for what it's worth, later backtracked and claimed he had been talking about something else. He apparently phoned Allegri to clarify his comments.

Isn't it funny then how this week Giorgio Squinzi, the president of Confindustria, Italy's employers' federation, and Sassuolo, the team Allegri made his name as a coach with that is on the brink of promotion to Serie A, revealed: "Berlusconi often calls me to complain about Allegri." According to Squinzi, one of his grumbles was "Why has he put [Stephan] El Shaarawy on the bench?"

Denials swiftly followed. Once again, there was an outpouring of sympathy for Allegri. His has been a mostly thankless task.

It's true he has his detractors. His Milan don't always play attractive football. "You can't always dine on lobster and caviar," Allegri says. "Every now and again you have to be satisfied with a ham sandwich."

Much in the same way that Roy Hodgson is remembered at Inter as the coach who sold Roberto Carlos, Allegri will always be the one who allowed Andrea Pirlo to leave Milan for Juventus, where he has since proved crucial to their back-to-back title triumphs.

Responsibility for that, though, should also lie with the club and Galliani's policy of offering players 30 and older one-year extensions.

Fallouts with Rino Gattuso, Pippo Inzaghi and Seedorf have contributed to the belief that he is in some way antipatico. What each have in common, mind you, is all were in the twilight of their careers. It was time Milan moved on.

Allegri was the one who had to break it to them. Granted, he could have handled things better. But you can imagine that, as all three were convinced that they weren't done yet, they weren't likely to take it well.

Gattuso, for one, has since come around to Allegri from afar. Peace has been made with Inzaghi too after that bust-up at a youth team game in September.

What often goes underappreciated is Allegri has had to transition this team from one generation to another. That gradual process became extreme in the summer when, in addition to phasing out veteran players such those mentioned, Alessandro Nesta and Mark van Bommel, they sold stars Thiago Silva and Zlatan Ibrahimovic as part of "painful but necessary cuts."

Don't forget how dark the mood was at the time. An epitaph was even laid outside the club's offices in via Turati. It read: "AC Milan, December 16, 1899-July 22, 2012." Season ticket sales were their lowest under Berlusconi.

When Milan were outside the relegation zone on goal difference with only seven points from eight games, there was shock but relatively little surprise considering the profound changes made. If you said at the time that they would finish third and qualify for the Champions League, no one would have believed you.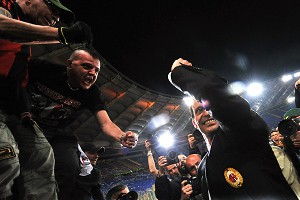 Alberto Pizzoli/AFP/Getty ImagesMilan supporters have become more vocal in their support of Massimiliano Allegri in recent weeks as the club closes in on clinching a Champions League berth.
But between late October and early March, their record was better even than Juventus'. Allegri has worked a small miracle to get Milan where they are today.

He's a contender, along with Juventus' Antonio Conte and Fiorentina's Vincenzo Montella, to win the Panchina d'Oro, Italy's coach of the year award. It would be his second after the one he received for his work at Cagliari, famously beating Jose Mourinho to it in 2009.

Allegri deserves credit, not criticism. If there's optimism about Milan's future, if the club is still relatively successful despite pursuing a policy of self-sustainability, coming close to breaking even in their year-end accounts and announcing "only" a €7m loss, and if Italy coach Cesare Prandelli admires Allegri for bringing through the likes of Mattia De Sciglio and developing other youngsters such as El Shaarawy and Mario Balotelli, then shouldn't he be entitled to some praise?

As a career arc, his time at Milan has ever such a lot in common with that of Alberto Zaccheroni. He too won the league championship at the first attempt in 1999. Yet Berlusconi, disapproving of Zac's political persuasion -- calling him a "communist" -- would criticise him incessantly right until March 13, 2001, when he sacked him live on TV after a 1-1 draw in the Champions League with Deportivo La Coruna.

It speaks for Allegri that the fans are with him. The players are too. And that shouldn't be underestimated. He obviously has their respect. Not a day goes by, it seems, without one coming out in support of him. "I hope he stays as I'm really happy with him," Balotelli said. "If I were the club, I'd do everything to keep hold of him."

Praising the way he kept everyone calm and didn't panic "during the chaos of the start of the season," club captain Massimo Ambrosini told Sky Italia: "People must recognise the credit belongs to Allegri. ... It'd take some real courage to change the coach considering the great results he has achieved over the last three years. I think Milan ought to confirm him."

On Sunday night, Milan play Roma at San Siro. A win assures Champions League football next season. A more intriguing storyline could define it, though -- this has been billed as a game between Allegri's present and his possible future.

A week ago, Il Corriere della Sera reported that Allegri, usually thick-skinned, was fed up for taking unnecessary flak from Berlusconi and for reasons of pride had decided to quit Milan and accept an offer to take over from Aurelio Andreazzoli at Roma next season.

Milan denied the story on their website. Furthermore, Roma general manager Franco Baldini told RAI: "We haven't made any agreement with anyone," refusing to exclude the possibility of confirming Andreazzoli for next season.

Even so, Allegri, with Napoli coach Walter Mazzarri, remain the favourites for the post. No one would begrudge him if he were to leave Milan to take it. For as the banner in the Curva Sud read two weeks ago, he deserves "more respect."