Foreign players don't have easy road to Premier League
Recently, both England manager Roy Hodgson and his assistant Gary Neville have voiced concern at the lack of English players in the Premier League. This is perhaps the natural result of a globalised game, where many of the world's elite performers are drawn to the money, huge crowds and competitiveness of the Premier League -- and, for that matter, the Championship, which has a number of fine teams.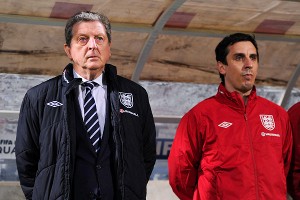 Mike Hewitt/Getty ImagesEngland manager Roy Hodgson, left, and assistant Gary Neville are concerned there aren't enough English players in the EPL. But rules for foreign players to get in the country are already tough.
For the sake of the national team, though, England is under uncommon pressure to develop players of the requisite quality.

Hodgson has said that "I go to quite a few games these days and there are no English players. One has to be very careful talking about the Premier League and the Englishness of it because two-thirds of the players are not English. We have one of the lowest numbers of homegrown players and that must put us at a major disadvantage to other nations."


The numbers provide a vivid illustration of Hodgson's concerns. As Neil Ashton noted in the Daily Mail, "just 34.9 percent of the players in the Premier League are eligible for the national team, compared with 45 percent in Germany's Bundesliga and Italy's Serie A, 58 percent in France's Ligue 1 and 59 percent in Spain's La Liga."

This might give the impression the laws make it very easy for foreign players to move to England, but in reality, it's very difficult. The paperwork is fairly extensive, and so it's best to begin three or four months before the deal is planned to go through. You need to secure releases from the player's club, and there are draconian rules governing how and when they will let players go.

You've got to be extraordinarily talented in order even to get noticed, and then there are numerous immigration laws surrounding foreign players from non-EU countries who come to play in England.

Of course, before you even qualify for consideration under those rules, you have to have played 75 percent of the competitive international games for your country -- which must be ranked by FIFA in the top 70 -- in the two years before your proposed move.

If you haven't, then your lawyer has to argue that you are a player of outstanding ability. Over the years I have had to argue 18 of these cases, and -- touch wood -- have been successful in most so far, given the process is extremely rigorous.

To demonstrate "outstanding ability", your player often has to be in a national team, which is frequently a problem when he's from one of the leading South American countries -- which, frankly, mean that he has to meet an almost unrivaled standard on a global scale before he can even think of coming to England.

In short, you've got to be very gifted, and you've got to show extraordinary commitment for a long time, so your path into the Premier League is not remotely as easy or clear-cut as it would be if you were English.

Fortunately, if a player is turned down here, then there's a very good chance he'll find a team elsewhere in Europe. One African client of mine couldn't get work in England, and so he went to Europe and dropped down a division; that proved to be a good shop window for him, and after a couple of years we managed to move him to a top Bundesliga club.

Whilst we're on the subject of Germany, its immigration laws are much more permissive and pragmatic than England's, which have very high thresholds. Having said that, once you're in the UK, the frameworks that protect a player's rights are much better than elsewhere in Europe -- to say nothing of the money.

Short of a quota system for overseas footballers, which would fall foul of current EU law, it's difficult to see what else could stop this influx. In fact, there's only one thing that consistently seems to deter my foreign clients, and on occasion has actually made them go and play in Spain for less money -- and that, perhaps predictably, is the weather.

John Blavo, an FA-registered lawyer, is the founder and Senior Partner of Blavo & Co; a law firm with expertise in several areas including sport, tax, commercial, immigration and employment law. John advises several leading footballers both in the Premier League and abroad.