Stay or go? Let The Clash sort out La Liga decisions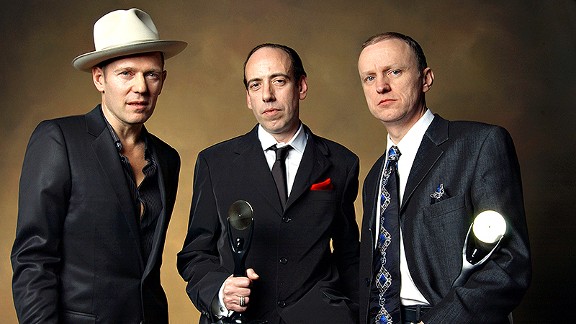 Dimitrios Kambouris/Getty ImagesDon't have a Magic 8 Ball handy? Let The Clash's hit "Should I Stay Or Should I Go" guide your La Liga queries.


As evidenced by Sir Alex Ferguson's fascinating decision, this is the time of year when football's men and women turn their minds to change, challenge, personal ambitions and tough decisions.

We always want this column to be all-embracing -- welcome one and all if you are even a passing fan of the most skilled league in the world. But it won't do any harm this week if you happen to be a fan of The Clash and can either hear their multimillion-selling 1982 hit "Should I Stay Or Should I Go?" in your head or lay your hands on the relevant CD/MP3.

Got it? OK, we might have to tinker with the lyrics a little because of the need for a different personal pronoun, but the urgency and the theme still fit nicely.

It's that time of the season when issues such as titles, Champions League qualification, relegation, promotion and their ilk fill our senses, and the games come thick and fast to the extent that, if we aren't careful, we can miss the fact that the men in grey suits in boardrooms all around La Liga are just about to finalise philosophies which will influence everything over the next 12 months and beyond.

It's a moment when the philosophy behind sackings, sales, hirings and honey-coated offers to re-commit is being honed down to the point that irrevocable and controversial decisions will be made, hidden away for a couple of weeks and then announced.

Here are a handful which are currently being chewed over.

Alexis Sanchez -- Barcelona

'Should He Stay Or Should He Go?'

I've always thought that one of the worst flaws for anyone working in the media is the hypocrisy of thinking it's OK to go with the tide, offering one virulent point of view one week and then blithely producing a volte-face to join the chorus of praise for the same subject when that is expedient a month later.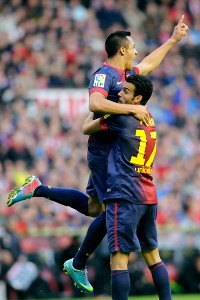 Ander Gillenea/AFP/Getty ImagesHis Barca teammates seem to go out of their way to boost Alexis Sanchez on goals and assists.
So I have no problem admitting that Sanchez is a player who has inspired little other than doubts in me. Some footballers grow into a shirt, others shrink -- whatever athletic and technical qualities he possesses, the Chilean has undoubtedly been in the latter category since joining Barca.

Nevertheless, the excellence of his goal and particularly his goal-assist at the weekend in the absolutely crucial defeat of Real Betis is the culmination of a couple of months when, although he has certainly not convinced me, he has offered sufficient evidence for the debate over his future to be more balanced and, I think, more interesting.

Prima facie, when you get a guy like this who is woefully short of self-assurance (the kind of chutzpah it takes to survive at a big, demanding club) and it is patently affecting his ability to score goals at a time when his employers are failing in a large number of their basic organisational objectives (winning the Copa and the Champions League, and being either competitive with or dominant over Real Madrid), then if there is a market, you sell.

You get as much of your original investment back as you can and you move on, wiser and poorer.

His flaws include desperate profligacy in front of goal, particularly starting from last season's Champions League semifinal against Chelsea and running for the better part of this term, when from time to time he has seemed capable of inventing new and even less feasible ways to miss the target.

Another is the fact that Sanchez appears to diminish greatly in the number of basic, sound decisions he makes with and without the ball when Leo Messi is playing compared to the way he acts when Barca's No. 10 is absent.

On the positive side, and not just at the moment, his work rate is terrific; he is one of the few who has continued to press well while many of his colleagues have run out of gas. From his grasp of its importance and when he's on form, you can see evidence that he's agile and potentially a useful footballer.

Compare him -- price, talent, attitude, work rate, subsequent achievements, confidence, leadership -- with Juan Mata, who was available at precisely the same time for less money and has gone on to win the FA Cup, the Champions League and the U21 European Championships and is now in the Europa League final, and it's clear cut that Sanchez wasn't far from the most astute piece of business Barcelona could have done in summer 2011.

Yet his sell-by date hasn't expired. I'm struck by how much his fellow players at Barcelona want to help him succeed. He scores, and they don't just celebrate the goal; they look to boost him and his self-belief. It's happened often but both Gerard Pique and Andres Iniesta gave him some special one-on-one loving for his goal and assist against Betis. I've seen it happen before, away from the public and the media spotlight. His fellow players don't, for example, regard him like Alex Hleb, who also underwhelmed but never properly showed the willingness or desire to adapt.

More, the calm which Sanchez showed in drawing a challenge and slotting in Messi for the fourth goal against a valiant and, I think, admirable Real Betis was precisely the type of cold-blooded, clear-eyed killer instinct in front of goal that he's lacked.

We know that both Inter Milan, desperately in need of re-building, and Juventus, looking to add the depth and pace which the Champions League quarterfinal defeat to Bayern showed the Italian champions still lack (and to link him up with his excellent, influential international team mate Arturo Vidal), would like to buy Sanchez.

So, Should He Stay Or Should He Go?

I remain unconvinced but open-minded.

Sanchez would prefer to stay and prosper.

Over to president Sandro Rosell and his technical staff -- right now they can surely hear Mick Jones' voice pumping out those lyrics.

Diego Lopez -- Real Madrid

'Should He Stay Or Should He Go?'

If you can hear anything emanating from the Bernabeu over the desperate, primal scream of "me, me, me, me, me" (© Felix Jose Mourinho), it's the sound of prolonged applause for Diego Lopez. Frankly, for a guy who was being kept out of the Sevilla first team earlier this season, the 31-year-old has been nothing short of sensational. Again, for the avoidance of doubt, I'd be just about Iker Casillas' biggest fan based on his professional career, how he trains, his attitude to winning and losing, his immense role in changing the basic sports psychology of this country, and his character.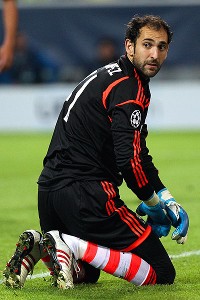 Boris Streubel/Getty ImagesDespite his sensational play, there is little goalkeeper Diego Lopez can do to improve his standing with Real Madrid with icon Iker Casillas still in the picture.
However, you'd need to be spiteful or just plain dumb not to acknowledge that there is almost nothing else Lopez could have done to improve the return on Madrid's January investment.

No fault attaches to the goals which put Real Madrid out of the Champions League, his weekly work has developed from stable to excellent, and if you take the temperature via his performances against Manchester United, Barcelona and Dortmund in the second leg, the Galician-born goalie is hot, hot, hot.

But, Casillas he is not.

When Pepe entered the fray post the defeat of Valladolid, criticising Mourinho for his lack of respect shown to Casillas, the defender pointed out that Iker is an institution at Madrid.

If Lopez and his advisers are looking at the situation shrewdly, they must know the time for an immensely important and not particularly easy decision is coming up.

For a variety of well-documented reasons, it's hellish hard to imagine Mourinho being at Madrid next season. OK, football being football, if there was no other option for coach or club, stranger things have happened ... but not that many.

Lopez has played sufficiently well to legitimately stay and fight for the first-choice goalkeeper jersey. No question.

But he must ask himself, will it be a straight fight? Will Casillas, de facto, be returned to kingpin position in a kind of football "restart" once Mourinho has departed to the sound of brows being wiped and discrete, relieved coughs?

Not automatically, no. But you'd have to imagine it will be a brave coach who begins the post-Mourinho era with not only a massive civil war but one which immediately evokes the running sore of this one.

Equally, the 31-year-old (despite playing vastly fewer top-team games across his career, Lopez is only six months younger than Casillas) has done so wonderfully well that a big-money, big-opportunity transfer will definitely be available to him and his representatives.

I'll respect him very much indeed if he chooses to stay and tough it out. Probably what I'd do in his shoes.

But not being the shrewdest player of a poker hand myself, it's likely that the percentage move, and the one I'm guessing his agent backs, is to choose a suitor with a big wage, Champions League football and the number one jersey on offer.

Should He Stay Or Should He Go? A tough one, and I'll bet the indecision is bugging him.

Double Whammy -- Ernesto Valverde and Marcelo Bielsa

It's a little ironic that it was a whopping home defeat to Real Sociedad which unleashed Valencia's greatest weapon in their hunt to haul down ... Real Sociedad for fourth place in La Liga. Back on Dec. 1, having led 1-0 for the previous 39 minutes, Jonas lashed out at Zurutuza and was sent off, La Real won 5-2 at the Mestalla, and Mauricio Pellegrino was summarily sacked.

By the next but one game, Valverde was in charge, and it's turned out to be a remarkably astute decision. If you subtract the two defeats which eliminated them from the Copa and the Champions League, painful but far from being the priority targets this season, the Basque has turned up 13 wins, seven draws and four defeats in his other 24 games since.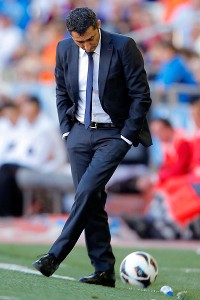 Jose Jordan/AFP/Getty ImagesErnesto Valverde has turned Valencia around and could to the same for Athletic.
It's a fine record in most circumstances. But if you set it against the absolute institutional chaos of no one being quite sure who is going to run the club, make the football decisions, set the buying and selling policy, and even offer Valverde a rock-solid contract to stay on, it's a properly remarkable achievement.

Not perfect: Madrid gave Valencia a thrashing in the league, Real Sociedad also won heavily at the Anoeta the other week and no one at the Mestalla likes to draw with noisy neighbours (The Frogs) Levante.

But little things such as getting the frustrating but excellent Ever Banega to produce solid, menacing football, making Roberto Soldado feel and play like a king amongst men, and bringing injured players such as Sergio Canales and Mathieu back into the fold successfully has put a smile back on the face of Valencia football.

However, the absolute upheaval and lack of vision at the club means that if Valencia do not make the top four, then, almost for sure, Valverde can go and all the most talented players will need to be sold off to replace the lost Champions League revenue.

Even if they do so, there's far from a guarantee that one or two won't be sold or that there will be reasonable money to invest in new playing stock.

Meanwhile, back in Gotham City, Athletic have an anachronism as their manager. Bielsa remains stuck in the first half of last season when his players were invigorated by his ideas, when his demand that they run and run and run as if they were a cross between Forrest Gump and Olympic marathon gold-medal winners could be met, and when his lack of people skills seemed eccentric, rather than debilitating to his squad.

The Argentinian has taken what is a golden generation of talent, arguably the best since Athletic were winning the title three decades ago, and he's burned the players out so badly, mentally and physically, that both trophies were competed for with paper-thin conviction in the final and this season the club hovers only six points off the drop zone.

Bielsa might understand football, his eccentricities might be only a distraction to the club, not an actual obstacle, but this man who's won only three club trophies in his career, the last one of which was in 1998, has turned wine into water at San Mames.

Now, here's the rub. Athletic have a major opportunity to let Bielsa haul his oddities off to the next football oasis where they are thirsty enough to drink in his doctrines, and to pinch Valverde while Valencia are in a mess.

Sorry, Valencia fans, I'm not doing you down or wishing a fine club ill fortune. But strategically, that's what the Basque club should do so as to inaugurate the new San Mames with a winning coach.

He's a former winger for the club, so no clash with the culture.

He was a successful youth team coach at Athletic.

He took the senior team into Europe once before.

He took Espanyol to the 2007 UEFA Cup final in Glasgow against Sevilla ... and he won five trophies in Greek football.

Strike while the iron is hot, Athletic.

Bielsa must go. Valverde must replace him.

Finally ...

Confederations Cup: Xavi, Xabi Alonso, Carles Puyol, David Villa

'If I Go There Will Be Trouble, If I Stay It Will Be Double'

During this tumultuous season, there has been little game time with the Spain team for Javi Martinez and Juan Mata (two guys who have reached European finals for their teams for the second successive season but who have been dropped by Vicente Del Bosque at one stage or another). Nor for Roberto Soldado, Alvaro Negredo (39 league goals between them as I write, and a similar total last season) or Fernando Torres (back on track at Chelsea and with more than 20 goals in all competitions). I'm not talking like for like positionally, but compare that with the massive slog of games which Xavi, Puyol, Alonso and to a lesser extent Villa have had to endure over the past seven years since Spain started winning tournaments.

Spain have never won the Confeds. They still feel the defeat to the U.S. in 2009 was a dreadful flop. It stings. The objective is to win this tournament, it's taken seriously, and, for some, it's good preparation for what training and competing in Brazil will be like in 2014.

But the guys I've mentioned are all pretty much knackered. OK, Villa is more burned out mentally because of how troubled his season has been in front of goal since gaining full physical fitness after his badly broken leg.

However, the theme is the same, and if there's one thing which the tired bodies and minds of fellas such as Alonso, Xavi and Puyol don't need right now, it's a summer streaking up and down the vast land mass that is Brazil while trying to win a tournament which is interesting but not vital.

If Del Bosque were wise and daring, he'd tell the four of these guys: "Look, you are almost on your knees, you've given great service the past few years ... take the summer off."

He could reassure them that it's an investment toward their being sufficiently fit and in form to help Spain try to win the World Cup the following season. It would be a daring step, and, who knows, perhaps Spain won't win this tournament (or the World Cup). But it would be a clever idea to try to let some of his most senior lieutenants step back from combat and enjoy some R&R before returning to the fray fighting fit.

They should stay; the rest should go. "So, come on and let me know. ..."