With Ferguson retiring, what happens next?
In the fall of 2001 I received a call from my old boss at the Italian newspaper Corriere dello Sport, Mario Sconcerti. "I'm going to see Sir Alex Ferguson. Do you want to come along, meet the guy and be my interpreter?"

Does the sun rise in the East? Is Jessica Alba hot? Are people who walk slowly ahead of you in airports annoying?

Given that Sir Alex rarely gave one-on-one interviews (still doesn't) and that this would be the first time he was going to explain just why he was retiring at the end of that season, my answer was obvious.

- Brewin: Sudden departure
- Payne: Painful memories

He met us at the training ground. It was ridiculously early, well before 8 o'clock. The conversation was far-ranging. When the inevitable question came he basically said that he'd be 60 at the end of the season and that he had achieved what he wanted to achieve.

Fifteen and a half years is a long time, he said. Plus, there were many other things he wanted to do in his life and he felt he was young enough to do them. He also said -- in a phrase I find somewhat chilling years later now that I, too, am a father -- that he vividly remembers his three sons being born and, years later, leaving home, but he wished he had more memories of them growing up. And that he wanted to be around more for his grandchildren.

That 2001-02 season was marked by endless speculation about who would take over at Old Trafford. As late as Dec. 26, 2001 he said: "I'm absolutely going. I won't be making comebacks like singers do. It's a decision me and my family have made."

He famously changed his mind a few months later, of course. In 2004, when Gianluca Vialli and I were writing "The Italian Job," we again had the opportunity to spend time with him. He explained his change of heart by saying he had learned to delegate more, to be more detached, to lead a more balanced -- but equally intense -- life.

It seems crazy to think that a full 12 years after his first announced retirement, we're in the same position: wondering what happens next.

Everybody has their own view on what he contributed to the game.

There isn't much point in going over it again. He hasn't passed on, we covered most of this when he reached the quarter century mark, if you don't get the part about longevity, staying power and trophies won in five different decades, you'll never get it.

Still, it's worth highlighting what I consider to be two of his exceptional attributes.

The first is timelessness. Sir Alex is at once a manager of this era and a manager of the 1980s. Very few men have managed to reinvent themselves and to adapt with the times, remaining modern and current even as the game changed around them. Building, then dismantling, then rebuilding no fewer than four different sides during his time at Old Trafford is evidence of that. And that's without even getting into the masterpiece he created at Aberdeen.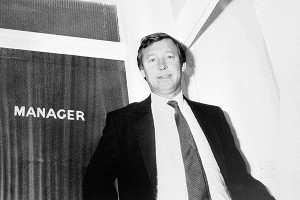 AP PhotoSir Alex Ferguson landed the Manchester United job, taking over from Ron Atkinson, in 1986.
Another is the ability to bounce back after mistakes. And, yes, he has made some blunders -- big ones, too -- but most of the time he has used them as learning opportunities, coming back stronger than before.

Very few managers -- possibly because so many are insecure -- admit to mistakes and how they learned from them. With Sir Alex, whether it was talking about how he had to change and "learn" how to play European football to get the best of his friend Marcello Lippi in the late 1990s or discussing why he got some of his goalkeeper choices wrong in the Massimo Taibi/Mark Bosnich era, or why he hired Carlos Queiroz -- most bosses wouldn't want another ambitious, high-profile manager around -- to help him implement some tactical changes or even why Juan Sebastian Veron (a player he admires to this day) didn't work out at Old Trafford, each of those experiences made him stronger. And while he doesn't speak often, when he does, he has been fairly open about it.

(One manager -- who doesn't wish to be identified for obvious reasons, possibly because he's embarrassed to admit that he's a "Star Trek: The Next Generation" buff -- told me that Sir Alex is like The Borg. You blast them with your phasers, they stagger back, take the hit and then evolve and come right back at you, except this time your weapon is useless, because they've adapted to it. So you need to come up with something new.)

The elephant in the room is what happens next. Early talk is about David Moyes, and no doubt someone will be pushing Jose Mourinho into the picture very soon, though the impression is that a decision will be announced by Thursday night or Friday morning at the earliest.

Here in England, many have painted it as the "impossible job." No matter who replaces him, they won't have Sir Alex's charisma, outsized power and influence and intimate knowledge of the club and how it operates.

We're in the realm of speculation, but the first thought is that much will depend on what Sir Alex's role as "director" will be. Will he be a Sir Bobby Charlton figure, a resident legend who is far outside the decision-making process and is largely an ambassador? Or will the sheer weight of his history at the club inevitably mean he'll be in a more hands-on position?

If it's the latter, we're in uncharted territory. Help and interference are two sides of the same coin. Unless the appointment is some young protégé type -- more Ole Gunnar Solskjaer or Gary Neville, say, than Moyes, who has more than a decade's experience in the Premier League -- a hands-on Sir Alex blurs the lines of responsibility. And unless success is immediate, it can make life very difficult for his successor.

On the other hand, if Sir Alex moves out of the footballing picture at the club, it might make sense to take this opportunity to go in an entirely different direction. David Gill, the club's longtime chief executive -- and a man whose role in building United's recent hegemony is second only to Sir Alex -- is also stepping aside at the end of the season.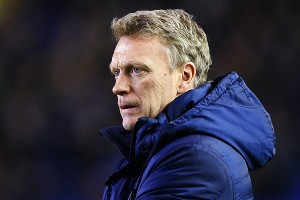 Alex Livesey/Getty ImagesWill Everton's David Moyes succeed Ferguson at Old Trafford?
Perhaps it makes more sense to make a clean break from the past, making the new job as different as possible from the one Sir Alex held. With a new chief executive, why not bring in a director of football who can work on a longer-term vision, coupled with a manager who handles the first team and the day-to-day responsibilities on the pitch?

It's not just a question of the director of football/head coach model being better (in my opinion, in most cases), it's about taking pressure off the replacement. Sir Alex was all-powerful at Old Trafford but that grip was built over more than a quarter century of success, allowing him to delegate tasks and responsibilities. Installing a new boss, giving him Sir Alex's power from day one and expecting him to figure everything out while also fielding a winning team is a huge ask.

It's a bit of a moot point; you would expect that the club have already made their decision and they're simply waiting to announce it.

If you're a United fan, you can only hope that they made the right choice, not just in terms of who they will appoint as Sir Alex's successor, but also in what his role will be at the club going forward and how United will be reorganized now that he's gone.

As for the man himself, being able to plan your own exit, on your own terms and doing so while you're at the top of your game is one of the greatest luxuries in sports.

Even his worst enemies have to admit it: He has earned it.