A sudden end to Ferguson's United reign


This is the crisis they knew had to come, destroying the balance they'd kept.

It always defied logic that Sir Alex Ferguson might go on forever, and it has been apparent since 2002's change of heart that when the end came it would be sudden. Over 26 years have passed since the man who ended 26 years of Manchester United's title drought took charge. He has won 13 championships, a return that his successors -- and there may be many in that same amount of time -- will surely struggle to match.

If any career needed to go out on a high, it had to be Ferguson's, but the celebration of United's 13th Premier League will seem unlucky for some; there are many in the Manchester United diaspora who can remember only Ferguson as manager. His waving through of the Glazer family's ownership may have jaundiced some against him but even those wronged by that public support recognise that the club is still built in Ferguson's image.

- Payne: Fergie exit evokes Busby departure

Those who can remember November 1986 will recall United's previous status as an ailing aristocrat of the English game, a "cup team" who always flattered to deceive. "'68, '68, life has never been so great," was a bittersweet Old Trafford anthem. Until Ferguson flowered, Sir Matt Busby had never been properly replaced.

Wilf McGuinness, Frank O'Farrell, Tommy Docherty, Dave Sexton and Ron Atkinson is the full list of failed pretenders. Docherty and Atkinson won FA Cups playing entertaining football but United trailed in the wake of all-conquering Liverpool, while provincials Nottingham Forest and Aston Villa became European champions too. United were still the best-supported club in the country but they were flaky and flawed. Busby loomed over his successors, first as general manager, then director before finally becoming president.

A truly successful United without Busby as manager was unimaginable, and when Ferguson arrived he was just the next pretender, though a man with an already enviable legacy. Before Rangers' recent fall, smashing Scotland's Old Firm was an impossibility. Ferguson with Aberdeen was the last man to do it, winning three Scottish titles with a European trophy too.

United were looking for a football man in the traditions of Busby, or his friends Jock Stein and Bill Shankly. Ferguson was a Stein protege who had worked with the "Big Man" with the Scottish national team until the night of Stein's death in September 1985. Bobby Charlton, the Busby Babe who followed his old manager onto the United board, championed Ferguson. According to Atkinson, whose ousting left the vacancy Ferguson filled, Charlton and Ferguson formed a lasting alliance at the 1986 World Cup in Mexico, months before Atkinson was fired.

If stability is the foundation of his success at Old Trafford then Ferguson was granted it amid early years of turmoil. The years from November 1986 to May 1990 were a litany of false dawns. United finished runners-up in the 1987-88 season, but were a galaxy behind one of Liverpool's finest-ever teams. An initial wave of "Fergie Fledglings" -- Russell Beardsmore, Lee Martin, Tony Gill and David Wilson -- faded, and come the summer of 1989 United were yet further behind Liverpool. A 5-1 defeat to Manchester City in September was the nadir, a night where Ferguson admitted he crawled home and placed his head under his pillow, not daring to face an angry public. "3 years of excuses and it's still crap, tara Fergie," painted onto a bedsheet, was season-ticket holder Pete Molyneux's damning summing-up of the Ferguson years during a 2-1 November 1989 defeat to Crystal Palace.

Ferguson, Charlton and chairman Martin Edwards have always denied that United's sliding doors moment came at Forest's City Ground in January 1990, but everything changed from there. Mark Robins, a 21-year-old poacher, scored the goal that kept United in the FA Cup, and the winner in the semifinal too. A preview of Ferguson's future ruthlessness saw Robins as a mere sub in the final with Palace, and unused in the replay.

The story beyond 1990 is well told: a Cup Winners' Cup the following year, then a crushing title challenge failure in 1992, then the catalytic effect of Eric Cantona and a first title in 1993. It is a measure of Ferguson that Cantona is now as historic a United figure as Busby or Charlton, while his manager continues to live in the present. The Scot has straddled an era of change, predating the Premier League and Champions League yet mastering both.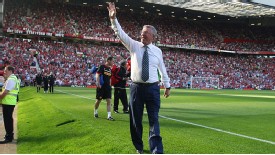 PA PhotosSir Alex Ferguson took charge of Manchester United in 1986

A list of felled rivals says much. Liverpool have torn themselves apart in trying to live with the force they once tamed with ease. Their title-less torture is now just three short of 26 years. Chelsea are going through a latest regime change after another season trailing in United's wake. Arsene Wenger's Arsenal were Ferguson's most sustained adversary but have faded into fighting for a top-four place. Aston Villa and Blackburn Rovers were fleeting rivals two decades ago. Manchester City's billions were surpassed this season after the shocking reverse of a year ago.

Ferguson's legacy is unmatched success, of regular and sometimes painful rebuilding to retain the same high standards. Football's obsession with quick fixes has precluded other clubs from following United's lead of success through stability, though that success has stopped rival managers being offered longevity too. Such has been his relentlessness that it exposes his own failures: Ferguson should have won more than two Champions League titles and he knows it too.

The successors will always suffer through comparison, especially as he will remain at the club in the roles of director and ambassador. One of the secrets of Ferguson's longevity has been an increasing ability to delegate. His assistants took training, he had a close ally in David Gill to work through transfer deals and consort with the club's owners. A step aside to hand over to someone else is the latest process of delegation, a move that echoes but hopefully does not replicate Busby's failed succession.

The fear is that without Ferguson, United will become just another football club.