Next appointment vital to clear up Molineux mess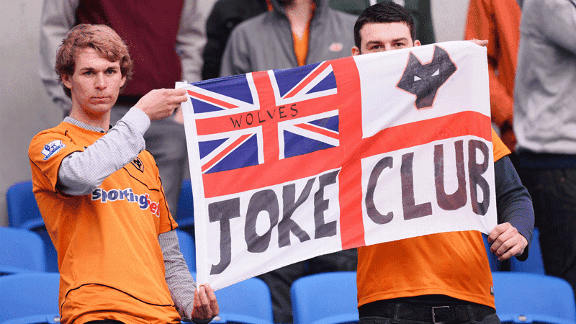 GettyImagesTwelve months ago Wolves were a Premier League club. Now they are in League One
They've gone foreign, they've gone British. They've appointed fast, they've appointed slow. They've taken one man out of the dole queue and another from a rival club. They have gone more sophisticated and subsequently back to direct football. And still they've gone down. What Wolverhampton Wanderers can't seem to do is install a man who actually succeeds.

A club who were seen as a decent Premier League working model two years ago are now preparing for life alongside Crawley and Stevenage in League One, their downward spiral held in sneering disregard by a disbelieving public at Molineux and beyond.

When the Wolves board haven't been twisting when they might have been sticking, they have simply jumped from one crisis to another or fallen over apparently sound candidates to unveil ones that were at best high-risk and at worst deeply flawed.

Four months to the day since welcoming Dean Saunders, Molineux officials produced a P45 that underlined what many had suspected the morning he was chosen; that there really hadn't been good cause to install him in the first place.

Amenable though the 48-year-old Saunders has been during his stay, he had nothing on his CV that screamed 'It must be me!' when Wolves owner-chairman Steve Morgan - already beleaguered after calling time on his Stale Solbakken project after eight unhappy months culminating in a lamentable FA Cup defeat at Luton - scoured the market.

The Wolverhampton-born and then very available Sean O'Driscoll surely represented a safer pair of hands than a man whose only experience anywhere near Wolves' level was to take Doncaster down and then have them nicely on the way to an immediate return to the Championship.

Saunders immediately – and foolishly – talked up Wolves' promotion chances this season. When those forlorn hopes went up in smoke with the nine-match winless sequence with which his reign kicked off, he changed tack by speaking of staying up this term and going up next season.

This wasn't mere fighting talk; it was utterly simplistic. "If just we can win this game – and then win the one after that, we could shoot right up the table," was the gist of one of his early utterances. You don't say! Never mind 'jam tomorrow', though. Wolves needed something on the table immediately: points. And Saunders, whose record at the club was five wins, five draws and ten defeats from 20 games, wasn't able to deliver.

A point a game is relegation form in anyone's book and it wasn't as if he took over when it was too late. Wolves were 18th, six points above the safety line. They finished 23rd, a sorry four points beneath the cut-off. They were even relegated on Saturday by the Albion, for goodness sake, though their fans can take comfort from the fact it was the Brighton and Hove version rather than their local rivals of the West Bromwich variety.

Good management of a business, any business, isn't just choosing the right people to run it. It's also choosing the right time to choose them. With Wolves hurtling towards League One, there was a decent argument for saying the decision to dispense with Saunders might have been taken earlier. After all, Nigel Adkins was available in March and which Wolves fan wouldn't now have found him a reassuring sight in the dugout?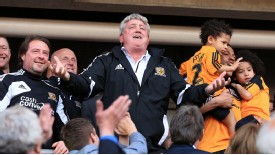 PA PhotosSteve Bruce was rejected by Wolves but has just celebrated taking Hull into the Premier League
To hell with sticking with one guy just to counter accusations that you are a trigger-happy club. If you're on the wrong horse, jump off it quick before it goes careering through the crash barriers.

Wolves, from nowhere, have got themselves into a right mess. They didn't even take sensible insurance against this eventuality by having it written into players' contracts that relegation to League One, like demotion from the top flight, would be reflected in wage packets. That smacks of complacency.

Morgan has already made it clear the next balance sheet will be horrendous and he, more than anyone, needs a good managerial appointment now as Wolves contemplate third-tier football for the first time in 24 years.
His pedigree in this field so far (Terry Connor in an interim role, then Solbakken and Saunders permanently) is appalling. His chief executive Jez Moxey, the man at whose feet the praise/blame lay for the previous three appointments (Dave Jones, Glenn Hoddle and Mick McCarthy) has done infinitely better.

But Wolves supporters, who might have been hoping to hear that Morgan was to depart on one of those two-month round-the-world cruises favoured by his predecessor Sir Jack Hayward, have a new man to pin their hopes on. Kevin Thelwell, recently promoted to the position of Head of Football Development & Recruitment, has been handed a major role in the search process. He will be earning his money in the coming days and possibly missing out on a little sleep.

The club, having overlooked Steve Bruce (whatever happened to him?) when trying to fill McCarthy's big shoes, took an age to make a decision then. The following winter, Saunders arrived in almost indecent haste. It was as if they had to avoid making the same mistake again; at all costs.

Time, as much as it ever is in football, is on Wolves' side now. But they simply have to get this one right.