David Luiz learns to lead Chelsea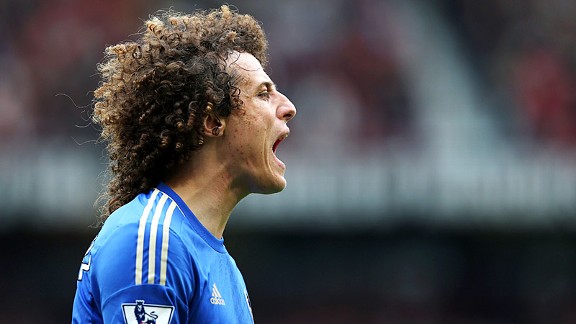 Alex Livesey/Getty ImagesDavid Luiz's role as a leader for Chelsea has increased exponentially this season.
Rafa Benitez, at least, wasn't smiling. This time, however, he was one of the few.

Virtually everyone else in the Chelsea press room couldn't help themselves as a broadcast reporter remarkably produced a picture of Sideshow Bob to show the Stamford Bridge manager.

The print-out was in response to the reported revelation that David Luiz wasn't actually laughing at the idea of getting Manchester United's Rafael sent off on Sunday, but rather an Old Trafford crowd jibe that he looks like The Simpsons character.

Po-faced controversy had finally given way to pantomime.

Benitez, however, had already attempted to deflect any attention with the utmost seriousness. Because, for him -- and many others at Stamford Bridge -- Luiz has become a serious figure in the game worthy of much more respect. He is not a player to be mocked but, increasingly, to be followed.

Asked whether he was aware of the latest update, the Chelsea boss simply responded "I'm aware David Luiz is one of the best players in the Premier League by miles -- miles away from a lot of players, one of the best no doubt."

There is also no doubting, however, that it sums up so much about Luiz at the moment; not just the incident or the emotion around it, but the entire context.

On the one hand, Luiz's reaction to Rafael's kick could be seen as a piece of ultra-professional hard-edged gamesmanship that helped his team secure an important 1-0 win. As Benitez also rightfully said in an otherwise limp enough attempt at evasion, "there are 200 incidents each weekend in the league." Similarly, there is the Spaniard's assertion that Luiz is now one of the finest players in the division. It is no longer that outlandish a statement and Luiz has significantly grown in influence both on the pitch and in the Chelsea dressing room.

On the other hand, there's all the rest of it. Even if the Rafael incident did reflect a gamesmanship that is much more common than realised, there is still the fact that Luiz's very demeanour made it so much more conspicuous. In short, he stands out and often can't stop this perception of farce enveloping him.

For his part, Luiz himself has previously admitted this side of his personality.

"I'm an extrovert, a joker," the Brazilian told O Globo last year, "and I didn't want to change my character when I moved to England. Yes, it was hard, but I wanted to show that Brazilians are happy people, and this is me."

With Luiz, however, happiness also often gave way to something else. The incidents are now well known. On first arriving at Chelsea, and without a word of English, he stood nodding in mock over-the-top sincerity as both Frank Lampard and Fernando Torres were getting interviewed by the club TV station -- eventually reducing both to laughter. Around that time, there was also Gary Neville's description of him as a "Playstation player controlled by a 10-year-old."

It reflected the prospect that every 30-yard masterpiece of a goal could just as easily be offset by a calamitous slip-up at the back. At his best, Luiz could be a genuine game-changer. At his worst, he was occasionally seen as something of a joke player.

The interesting thing about the latest incident is that it comes at a time when many Chelsea observers believe Luiz has been making a concerted -- and fairly successful -- attempt to shed that image. His previous response to the Neville comments would also appear to prove this.

"It does get to you," Luiz has said. "You ask yourself: 'Why are they saying this? Why can't they see I'm trying my best?'

"I'm an honest guy trying my best. If I was playing for a club in mid-table, I could make three or four mistakes and no one would notice because the analysis is not at the top level. But when you play for a big club, every little mistake is highlighted. So every day, you work, work, work. That is the key."

If Luiz has worked on adding more seriousness to his game, though, he has sometimes overcompensated -- because he's also been involved in some pretty serious incidents.

Against Brentford in the FA Cup, there was the atrocious collision that left Jack Reeves concussed. Against Sunderland in the Premier League, there was the elbow in the face of Conor Wickham. Even in the recent Basel Europa League tie which he effectively decided with that last-minute first leg free kick, there was one appalling challenge which could have sent the game in a drastically different direction. Even the recent Sergio Aguero stamp he suffered was preceded by those flailing arms.

On the pitch, for all the comic notoriety, there can clearly be a somewhat nasty edge.

Off it, when things have calmed, it should be acknowledged that he has generally shown genuine remorse. With Reeves, for example, he made an immediate attempt to go in and offer apologies -- which were accepted.

He has also shown real leadership.

While not seeking to completely excuse him, some around Luiz have tried to explain that such incidents are a consequence of a proper winner's mentality. He will not be intimidated and is prepared to mark his ground.

He has certainly come to set a certain tone.

Many at Chelsea also now talk about how he has become the leader of the increasingly influential Iberophone core who are distinctly separate to the old English axis.

When John Terry had a frank training-ground exchange with Benitez back in February, it was Luiz translating everything for the likes of Ramires. During the Basel game, too, he could be seen having his own heated discussion with Frank Lampard.

The point of this is not to indicate any kind of split in the squad or anything of the sort, but rather highlight the increasing importance of Luiz's voice.

He is being described as the next Chelsea captain and the 26-year-old seems to feel the same way.

"I know my personality is to be a natural leader," Luiz recently said. "I was captain at Benfica at 21, I've captained my country so I knew that, with the team's leaders of many, many years out of the side, I needed to take responsibility and try and help the young players. Players like [Eden] Hazard, a great talent and an amazing player, but someone who needs support; players like Ramires, who are more shy. I need to help them.

"I've always said my shoulders are broad and I can take on that extra responsibility. I love it. I want it."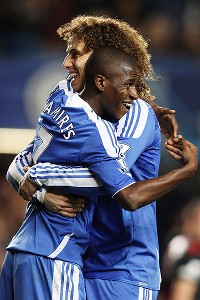 Ian Walton/Getty ImagesLuiz's mentoring of younger players like Ramires has been instrumental to Chelsea's success.
In some ways, Luiz's more frequent deployment in midfield also reflects his more prominent role in the Chelsea squad. Not also is he increasingly central to the play, but also the spirit. It has also, it must be said, helped him to develop as a player too.

Most of his finest performances this season have come from defensive midfield, where his insistence on driving forward from his position is much more of an asset than when in defence. It also has given him the platform for some special moments, from the divine pass to Hazard in the Club World Cup match against Monterrey to many of those spectacular strikes.
More than anything, it appears to be making his game as rounded as his off-pitch personality.

"European football is a lot about tactics," Luiz admitted to FourFourTwo recently. "In Brazil, style matters more and players there don't care about tactics that much. Playing in different positions gives you a global perspective on what makes a game tick. That teaches you how to play more collectively."

Most important of all, in fact, has been the positional switch's influence on the Chelsea team. Too often this season they have looked like something of a tactically broken side with the movement between defence and attack far too stilted. Luiz's strides and vision have started to solve this problem and made the side look far more cohesive.

He has also, clearly, helped squad cohesion. Given his growth, it's going to be interesting to see what a manager like Jose Mourinho does with him.

It is a prospect, however, to make Chelsea fans smile. That part is no joke.