Friday Four: Eyes on a top-four prize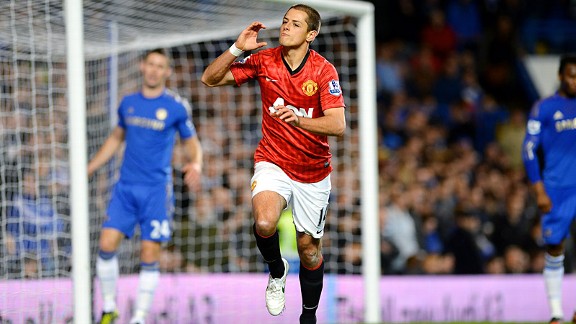 Shaun Botterill/Getty ImagesThere's just something about playing against Chelsea blue that brings out the best in Chicharito Hernandez.
Spurs manager Andre Villas-Boas is either a charter member of the Eternal Optimist Club or lacks long-term perspective on chairman Daniel Levy's genius for cashing in ($50 million for Luka Modric, $45 million for Dimitar Berbatov). Thus the burning homonym question of the day: How much is the bale to get Bale to bail? What is rarely up for debate, however, are the wisdom and perspicacity of your faithful Friday Four scribes. Without further ado ...

Chelsea vs. Manchester United

Fans of the other two London-based teams chasing third-place Chelsea for their share of the Champions League slush fund need not worry about Sir Alex Ferguson having a waning interest in this match. Fergie likes Rafa Benitez about as much as the Ferdinands admire John Terry. The world's third dourest Scotsman (former Prime Minister Gordon Brown and recently resigned Notts Forest headman Alex McLeish own the gold and silver medals) would dance a highland jig if his Red Devils could heap misery on Benitez, a man he has loathed since the Spaniard headed the last relevant Liverpool side.

- United looking to block Chelsea's bid for fourth

With regards to the Blues' chances, Rafa's selections Thursday night for the Europa League home leg against Basel gave a clear indication as to where he is leaning. With Juan Mata, Oscar and John Terry on the bench and Ashley Cole taking the night off entirely, it's pretty clear who will be pairing the repaired Gary Cahill in central defense. Given David Luiz's elevated form as a marauding midfielder and the Brazilian's equally inept series of defensive miscues against the EPL champions, it makes sense that Chelsea will opt for the steadier heads of Terry and Cole.

Sir Alex is almost certain to counter with Javier Hernandez, whose combination of confidence, pace and shiftiness drives the visitors up the wall. If Chicharito is en fuego, Robin van Persie given space and Wayne Rooney remotely engaged -- though it is doubtful all three see the field -- this could be a long Sunday for the Blues.

But that's not what we think is going to happen. We see a highly entertaining, end-to-end contest that gives Chelsea the point that it wants but does not have to have.

Chelsea 2, Manchester United 2

Southampton vs. Tottenham

Last week, we correctly pointed out that Spurs would drop points in its road game with Wigan. We understand the pained and tortured minds of those who worship the Tottenham kit, and we hope that our foreknowledge of Spurs' looming thumping of the Saints at White Hart Lane will serve as a balm for their sundered souls.

- Why Spurs won't qualify for Champions League

This match has "goal differential reduction" plastered all over it. Tottenham is both annoyed about last weekend's failure and all too aware that it must grab three points with Wednesday's season-defining contest against Chelsea up next. Spurs' relentless pace and pressure will throttle a Southampton squad that is not only overjoyed to simply have survived the Prem season but also is in defensive shambles when away from St Mary's Stadium (34 goals conceded in 17 away matches).

Worse yet for Mauricio Pochettino, he doesn't have a single Saint who can stand up to Gareth Bale, Aaron Lennon or Jermain Defoe, let alone manage all three of them. It will be interesting to see if the visitors can top last week's haul of two red-carded players in a single contest.

This will be one-way traffic, and unless Saints keeper Artur Boruc has a night that would make Lev Yashin rise from the great beyond, it's going to be "I'd rather watch Stoke" ugly.

Hide the children, the infirmed and the easily offended.

Spurs 5, Southampton 0

Everton vs. Liverpool

With only three games remaining and five points separating the two Merseyside clubs, it's looking increasingly likely that Everton will finish ahead of Liverpool in the league standings in consecutive campaigns for the first time since Franklin Roosevelt's first term in office.

- Walsh: Merseyside derby weakened
- Top five Everton Merseyside derby goals

It's a familiar compare and contrast: Everton's talent and resources are inferior to those assembled across Stanley Park, but the Toffees enjoy a considerable advantage in philosophy and grit, hallmarks of their iconic manager David Moyes. At this stage of the season, the most intriguing card in the Toffees' summer deck is whether Moyes will choose to continue to work his parsimonious miracles or finally head to more lucre rich climes?

Liverpool has the fifth-best goal differential in the EPL (plus-25, 11 better than Everton), but that's merely a reflection of the Reds' true Jekyll and Hyde nature. How else do you describe an outfit that cannot put one past Reading's reserve goalkeeper but then thumps six past Newcastle at St. James' Park despite missing Luis Suarez, the league's leading scorer?

The energy of one of England's best and most intense derbies should make this compelling soccer to watch, but predicting the outcome when a team like Liverpool is involved is as easy as anticipating the route of a New York City taxicab.

Liverpool Jekyll 3, Everton 1 -- or Liverpool Hyde 0, Everton 2. We should all know after 10 minutes.

Aston Villa vs. Norwich City

It is neither right nor noble to slow down and ogle when you see cars piled up or trains derailed, but we still do it -- what else are we going to watch? Baseball? That urge to voyeuristically observe other people's misery is the best reason to watch Villa boss Paul Lambert's return to Carrow Road.

- Hughes: Lambert's date with destiny
- Davitt: Hughton right to put struggle in perspective

The Lambert tale is oft told. After Norwich had plummeted from the top to the third flight, Lambert's squad du jour (Colchester) humiliated Norwich 7-1. Rather than gnash their teeth, the Norwich brass promptly hired Lambert. It was a brilliant move as he led an increasingly energetic and interesting Norwich team back to the Prem with back-to-back promotion seasons and a formidable 12th-place finish last season. In addition to masterminding this astonishing run, he had the East Anglians playing a pulsating, attacking style that earned them richly deserved plaudits around the country. He made Grant Holt, tire fixer extraordinaire, look like the second coming of Alan Shearer, beat Spurs at the Lane and drew with Chelsea, Liverpool and Arsenal.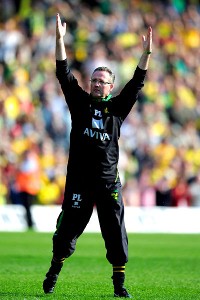 Jamie McDonald/Getty ImagesFormer Norwich City manager Paul Lambert returns to Carrow Road in a pivotal clash for Aston Villa.
And then Lambert dumped them to go to Aston Villa.

If hell hath no fury like a woman scorned, then the devil will want to check the truth of his maxims at Carrow Road on Saturday. The intensity of the jilted fans' reactions will dwarf whatever happens on the field of play, and that disparity will be made all the clearer if you can bear to watch the 90 minutes of insipid soccer that Norwich manager Chris Hughton ekes out of Lambert's leftovers.

It's slow; it's awkward; it's so bad that not even its mother, owner Delia Smith, could love it.

Earlier in the season, the Hughton plan seemed to be working as his charges went on an extended unbeaten string including 1-0 victories over Manchester United and Arsenal. All of that breathing room had disappeared by mid-April, with Norwich scoring as frequently as Luis Suarez apologized for his actions.

Lambert has gone through the opposite experience, consistently fielding a raw but exuberant squad of kids, lower-league pick-me-ups and Christian Benteke that yielded goals at an astonishing rate. After an abysmal start, Villa has picked up 13 precious points in its last seven games and is five points clear of the drop. Perhaps even more painfully, a Villa win Saturday would move Lambert's new team two points ahead of the one that he left behind.

Norwich 1, Aston Villa 1