The four-year Barca-Bayern difference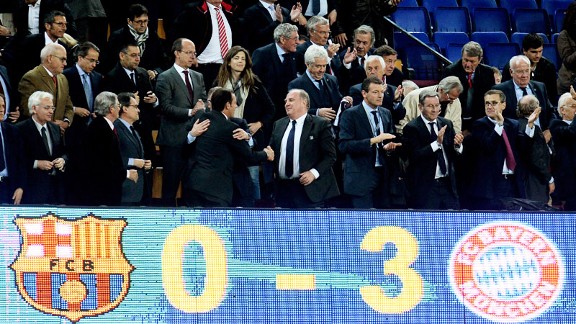 Lars Baron/Bongarts/Getty ImagesThe Camp Nou scoreboard on Wednesday night summed up the dramatic power shift in European football.

Although he doesn't seem like that type of personality, Bastian Schweinsteiger could be forgiven for grinning a little more wickedly than most this week.

Certainly, in the early hours of 30 June 2008, all he could do was smile.

Spain had just beaten Germany 1-0 in the European Championship final and, as Schweinsteiger attempted to put his disappointment into words in the Vienna mixed zone that morning, a mass conga line formed behind him. It was filled with some familiar faces: Cesc Fabregas, Carlos Puyol, Andres Iniesta. It also wasn't the last time they would dance by him in fairly humiliating fashion.

Nine months later, Barcelona would utterly crush Schweinsteiger's Bayern Munich 4-0 to properly announce their ascension as Europe's elite side. Just a year after that, Spain would fully assert their own superiority over Germany with another 1-0 win that was so commanding it felt like four or five.

And yet, none of those, not even Barca's 2009 win, seemed anywhere near as brutal or perception re-aligning as Bayern's battering of the Catalans over the past week. More than revenge, it felt like a revolution.

Because, allied to Borussia Dortmund's eventual elimination of Real Madrid, it is entirely understandable that such a resounding result has given rise to talk of a new era in European football.

- Rigg: Madrid starts rebuilding
- Bundesliga rivals set to meet
- Tyler: Bayern win signals changing of the guard

If that feels simplistic, it is the consequence of difficult, deep-rooted changes in both Spain and Germany. In the last two decades, no other countries have implemented such profound changes to their football infrastructures. Both have rewritten the rules on how to develop talent. The Bundesliga's transformation just happens to be more recent than La Liga's: post-2000 rather than pre-1992.

What is probably truer than any new era is that the last week just marks something of a watershed moment in the dominant but ongoing football duel between Spain and Germany.

Because, even if the Premier League's cash reserves keep its top teams competitive and Italy's Coverciano coaching school occasionally throws up a tactically-progressive side, neither football culture quite has the depth of the other two.
Spain and Germany are unparalleled and relatively unprecedented.

In truth it has been exceedingly rare in European football history for a specific friction between two countries to so spark and light the way in virtually all areas of the game. Spain and Germany are superior in everything from youth development and tactical innovation to club and international results.

There has really only been one such previous relationship in the game: The Netherlands and West Germany in the 1970s. Just like now, too, it was centred around two domestic rivalries -- in Ajax-Feyenoord and Bayern-Borussia Monchengladbach -- and perpetuated by the Germans adapting the Total Football approach of the other side.

A core of key fixtures also disproportionately colour entire perceptions of that era. Again, like now, one came in the European Cup, another in international football.

Initially, it seemed as if the Dutch school was light years ahead as Ajax claimed a third successive European Cup and their country's fourth by demolishing Bayern 4-0 in the 1972-73 quarterfinals. Within just over a year, though, the Germans responded in an even more searing manner with a 2-1 World Cup final win that carried a lot of psychological undertones for both countries.

Beyond those immediate perceptions, though, the reality is almost complex as some of the strands to that 1974 final.

For one, there is the fact that West Germany actually re-asserted their international dominance by adding the World Cup to their thrilling Euro '72 win. Secondly, there are the very mixed continental results of the surprisingly rare meetings of the two countries' clubs in that period. Weeks before Bayern won their first European Cup in 1974, a faltering Feyenoord despatched VfB Stuttgart to go on and claim the UEFA Cup.

The point of all this is, as with now, it can be somewhat misleading to draw entire conclusions from the inevitably oscillating cases of individual clubs.

As Xavi put it rather reasonably in the aftermath of his side's 7-0 aggregate defeat, "on the subject of whether German football is better than Spanish, I do not think that it is fair to base that on two ties."





What does seem certain, though, is that one era within all this is certainly closed. The abrasive and often aggressive rivalry between Jose Mourinho and the Barca team built by Pep Guardiola is all but over. The Portuguese coach is now virtually certain for Chelsea, and the Catalans have realised the importance of updating their side.

When you take into account the Portuguese coach's 2009-10 campaign at Inter, it has consumed at least four years of international football and set the game's primary tactical debate: his reactive, counter-attacking approach against Barca's proactive, pressing game -- right up to the 2010 World Cup final.

To a certain degree, too, it has also been a duel that has demanded so much effort from both sides that the damning nature of these semifinal defeats was somewhat inevitable.

Rather than push each other to greater heights as Ajax-Feyenoord and Bayern-Gladbach did in the '70s, it is arguable that the corrosive nature of the Clasico prevented both Real and Barca from reaching the levels they should have.

At this stage in 2011-12, after all, it was reasonable to argue that the exhausting Clasico that punctuated the two semifinal legs sufficiently sapped both of the Spanish sides for Bayern and Chelsea to just push past them into the final.

It denied us the all-Spanish fixture that should have properly closed an era.

Instead, both Real and Barca stumbled on -- partly made to look so much better by the form of both Cristiano Ronaldo and Leo Messi -- until the stunning eliminations of the last week.

For further context, though, just look at the contrasts within the ties.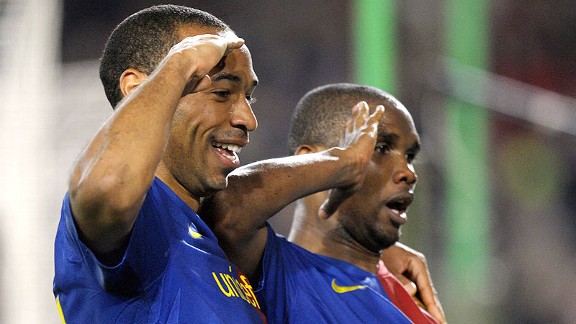 PHILIPPE DESMAZES/AFP/Getty ImagesThierry Henry and Samuel Eto'o were two main pieces on Barcelona's 2009 side that walloped Bayern Munich.
Barca were so affected by the last few years that they had lost their manager, any sense of direction, all designs on a proper transfer policy and, consequently, the fitness of many key players.

In the meantime, Bayern learned all the lessons of that 2009 defeat, adapted them and eventually soared past the Catalans. Consider the difference between the sides:

Barca 4-0 Bayern, 8 April 2009 -- Bayern 4-0 Barca, 30 April 2013

Victor Valdes -- Victor Valdes
Dani Alves -- Dani Alves
Rafael Marquez -- Marc Bartra
Gerard Pique -- Gerard Pique
Carlos Puyol -- Jordi Alba
Yaya Toure -- Sergio Busquets
Xavi -- Xavi
Andres Iniesta -- Andres Iniesta
Leo Messi -- Leo Messi
Samuel Eto'o -- Alex Sanchez
Thierry Henry -- Pedro

Hans-Jorg Butt -- Manuel Neuer
Massimo Oddo -- Philipp Lahm
Breno -- Jerome Boateng
Martin Demichelis -- Dante
Christian Lell -- David Alaba
Hamit Altintop -- Javi Martinez
Bastian Schweinsteiger -- Bastian Schweinsteiger
Mark Van Bommel -- Thomas Muller
Franck Ribery -- Franck Ribery
Luca Toni -- Mario Gomez
Ze Roberto -- Arjen Robben

Not only did Barca lose many dimensions and different types of players from their game in those four years, Bayern made it look even worse by the manner in which they added so much physique and finesse. That they did it with a more mechanical version of the Catalan game makes it seem all the more definitive.

Similarly, there is the way in which a man as obviously charismatic as Mourinho looked so jaded next to the positivity of Jurgen Klopp. The last few years have clearly weathered him.

It is with the German coach's Dortmund side, though, that we may well see the truest break from this era.

Because, although it is still early, their approach may eventually represent a 'third way' between the Mourinho/Inter/Real style and the philosophy of Spain/Barca. Whereas both of their games are focused on particular areas of the pitch -- the Spanish way towards the opposition box, the Portuguese's on breaking rapidly from his own -- Dortmund are more fluid and cohesive right across the pitch. They practice Total Football's complete pressing but don't marry it with the same level of possession: they were the only semi-finalist to have an average of less than 50% since the tournament began.

That may well mark a change.

As it is, though, neither Real nor Barca are in need of revolution --- just replenishment.

By contrast, Bayern and Dortmund are fully charged. The dance, however, is set to go on.