Benitez leads Chelsea towards European history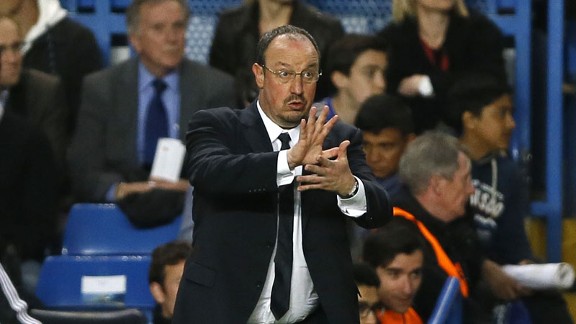 GettyImagesRafa Benitez can be forgiven a smile after booking Chelsea a place in the Europa League final
And so to Amsterdam. Chelsea's most gruelling season in their history could end up in silverware after all, the Europa League they probably never considered. Rafa Benitez can land a trophy. Its predecessor - the UEFA Cup - helped make his reputation.

This was the aim of grasping a poisoned chalice: restoring his standing in the game. Rafa was never at Stamford Bridge to win a popularity contest. Judging by his comments on Tuesday, it is Jose Mourinho who is the needy one. Until he comes back, Rafa and the fans can keep ignoring each other, and happily so too. He can point to qualified success; they can continue to pretend that they don't care about him.

Basel had Chelsea's measure as the first half ebbed away; their goal was a result of sustained pressure. Yet Benitez's team began the second with the vigour that took them to the final. Two players who have looked far more at home under Benitez in Fernando Torres and Victor Moses booked the flight before David Luiz's crowning classic.

The club have saved face too. Their group-stage exit from the Champions League was the worst ever performance of a modern European champion. The repechage that the Europa League offers gives their fans a chance to bring back memories. It might not equal Munich as the best night of their lives but the Dutch capital's liberal charms could provide just as big a party.

Chelsea have the chance to become the third European club to win all three of its intercontinental competitions. A roll call of Juventus, Ajax and Bayern Munich is about as glittering as it gets. Joining them should quieten those who say Chelsea have no history. They have been getting on with making history. Whatever your stance on the regime, that the Abramovich years have established Chelsea as one of Europe's chosen destinations is undeniable.

Cash, growing cachet and the chance to live in London has attracted bright stars. In Juan Mata, Oscar, Eden Hazard and David Luiz, they possess players that the rest of the elite covet. These are the men who will lead the new Chelsea, whoever is in charge. Even if Mourinho can convince Abramovich and Michael Emenalo to let Frank Lampard stay for another year while John Terry sees out his contract, the pair will no longer be the leading lights. The passing of time, an ageing of limbs and the careful pragmatism of Benitez has dimmed their influence. Luiz, the heir apparent now looking like a fine central midfielder, scored a wonderful goal.

Reducing their importance to the playing side has had a similar effect on the standing of these two totems of the last decade. It has been easier for a manager to freeze them out when he himself has little to lose. Lampard's continuing professionalism was in evidence as he ran as hard as ever in midfield and forced the parry from Yann Sommer that led to his team's opener. Terry could only sulk on the sidelines when his defensive colleagues struggled against Basel's fast-breaking forwards.

Mohammed Salah's goal might not have happened had Terry been playing. He has always played as the last man and would back himself not to get as sucked in as Branislav Ivanovic was to the one-two that Valentin Stocker played beyond the Serb.

That Salah's goal immediately followed a Fernando Torres shot that went out for a throw-in looked to have confirmed an ever-present Chelsea narrative; this is no £50 million player, this is a continuing decline and even Mourinho the master motivator might struggle with this unhappy soul yet a smile was apparent, even behind the mask, when Torres pounced on a rebound from Lampard's shot to neutralise the Swiss.

Moses has been a beneficiary of Rafa's rotation. His goal, taken at the second attempt, was his eighth in competitions outside the Premier League. He has been a staple of Benitez's midweek Europa XI while establishing himself as a Chelsea player when some could find no place for him

The marathon demands of the 2012-13 season means there can be not let-up, no resting on laurels. By this time next week, Chelsea will have played Manchester United and Tottenham. Even Amsterdam and Benfica do not provide the season's conclusion before a well-earned rest. Four days later, a match with Everton will most probably be vital to Chelsea returning to the Champions League, the detail Benitez was handed when he succeeded Roberto Di Matteo in November.

Chelsea have played in eight different tournaments this season. All that remains to win is the one they never wanted to play in at all. And the manager that can win it for them is the last man that Chelsea fans wanted in charge. May 15 offers a chance for shared celebration if never acceptance.