Handicapping the big relegation races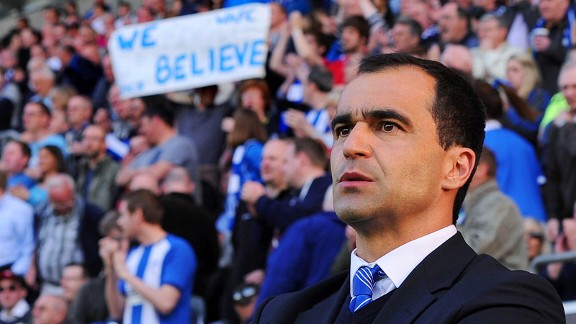 Michael Regan/Getty ImagesRoberto Martinez has masterminded several great escapes with Wigan. Could this season see that luck run out?
England: Two games remaining
Queens Park Rangers (20th place, 25 points), Reading (19th, 28 pts.), Wigan (18th, 35 pts.), Newcastle (17th, 38 pts.), Norwich (16th, 38 pts.), Sunderland (15th, 38 pts.), Southampton (14th, 39 pts.)

It speaks volumes of the presumed "best league in the world" that the most entertainment can generally be round in two tracts: the race for a top-four finish and the drag-out, bare-knuckle brawl at the bottom. Perhaps this latter race is always so engaging because even though massive amounts of money are at stake for the losers in both instances, at least the former battle still nets teams in fifth place or below a crucial chunk of TV and league revenue. For those in the doldrums, the loss of that precious capital year after year can doom clubs following bad signings, overextended wage packets and exorbitant agents' fees.

And so this season's chase is no different. Though QPR and Reading both punched their departures early, any one of four teams could conceivably join the pair in the Championship next season.

Wigan must carry the greatest concern. Failing to take even a point from Swansea in midweek means that Roberto Martinez must coax at least four from Arsenal (A) and Aston Villa (H) to even have a chance. Should the Magpies beat QPR at Loftus Road, Norwich take points from West Brom at home and Sunderland best Southampton at the Stadium of Light, anything less than victory at the Emirates puts the Latics more or less in the second tier.

Given that Wigan has the easiest final game -- Sunderland, Norwich and Newcastle face Spurs, Man City and Arsenal, respectively -- we could be in for a scintillating finish. However, I reckon this is one great escape too great for the mercurial Martinez.

Prediction: QPR, Reading (obviously), Wigan

Spain: Four games remaining
Mallorca (20th place, 29 points), Celta Vigo (19th, 31 pts., three games left), Deportivo La Coruna (18, 32 pts.), Real Zaragoza (17th, 33 pts.), Osasuna (16th, 33 pts.), Granada (15th, 35 pts.)

Prior to this weekend, Spain's relegation picture looked murkier than September in Seattle as the bottom six were split by just five points. However, the mayhem began Friday night, dramatically reshuffling the pack but offering little clarity.

Mallorca, Michael Laudrup's former club, couldn't force a win against a nothing-to-play-for Levante side but still benefits from a generous schedule -- two more games versus teams in 12th or lower -- despite losing to fellow battlers Zaragoza 3-2 prior to last weekend. That said, two league wins in 2013 doesn't bode well. At least Swansea's on the ups, right?

Zaragoza's brutal recent schedule included defeats to Getafe, Sevilla, Deportivo, Barcelona and Celta Vigo and doesn't get much better. Despite a 1-1 draw versus Real Madrid, a porous defense (15 goals conceded in its past six games) will surely spell doom. Yet timing is everything in relegation fights (just ask Martinez), and the ease with which it brushed aside Rayo Vallecano -- 3-0 with 16 shots on goal despite barely one-third of possession -- for its first back-to-back wins all season offers hope of salvation.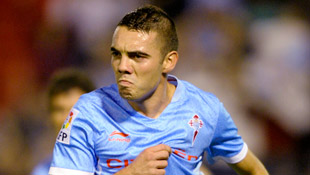 Miguel Riopa/AFP/Getty ImagesYoung forward Iago Aspas has been a bright spot for Celta Vigo. Will he still be there next year if they plunge into the Segunda Division?

Celta Vigo's road to safety is slightly clearer. Riding a Wigan-esque two-game late season win streak, a home game against the bad-traveling Athletic Bilbao (13 points from 16 games) afforded a chance to make it three in three. But it needed Iago Aspas' 84th-minute equalizer to salvage a point, and there's little goodwill from here on out: Having lost 3-1 at home to Atletico Madrid on Wednesday, it managed one win and two losses against Real Betis, Real Valladolid and Espanyol earlier this season. Having one game fewer than the competition means one fewer opportunity to escape the mire.

Above them, Deportivo looked safe (four wins and two draws in its last six games) until Zaragoza's win, while both Granada (an improbable home win versus Malaga segues into trips to Real Sociedad and Valencia) and Osasuna (trips to Valencia and Real Madrid) have the potential to complicate things.

Prediction: Mallorca, Celta Vigo, Osasuna

Italy: Two games remaining
US Pescara (20th, 22 points), Siena (19th, 30 pts.), Palermo (18th, 32 pts.), Genoa (17, 36 pts.), Torino (16th, 37 pts.)

A slightly clearer situation across the Mediterranean as Pescara's confirmed consignment to Serie B leaves at most four teams trying to avoid the remaining two spots in the second tier.

Siena is almost certainly banked to drop given a number of grim signs -- three straight defeats, including Sunday's 10-man, 3-0 capitulation in Catania is bad enough. Factor in that its two remaining games are against top-four teams -- Napoli and AC Milan -- that will have no motivation to roll over, with AC Milan vying for third place and the final Champions League spot for Serie A this coming season.

Palermo's five-game unbeaten run was scuppered by Scudetto winners Juve on Sunday, a 1-0 defeat that was magnified by Genoa's unsurprising 4-1 rout of Pescara. Of greater concern was the bare-knuckle 3-2 home defeat to Udinese on Wednesday -- Mehdi Benatia's 83rd minute game winner came just two minutes after Palermo tied it up a second time -- that all but puts the Aquile in Serie B for the first time since 2003-04. Nothing less than consecutive wins versus Fiorentina and Parma will do.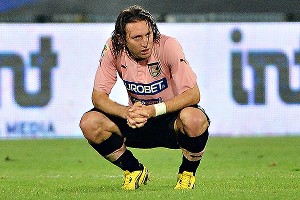 Tullio M. Puglia/Getty ImagesTwo straight defeats have put Edgar Barreto and Palermo in real danger of ending a strong 10-year run in Serie A.

Genoa's timely win should ensure another year in the Italian top flight with the unpredictable Inter and so-so Bologna waiting in the wings. Torino, meanwhile, is bottom of the form table (one draw and four defeats in its past five), but the midweek 0-0 draw with Genoa puts it on firmer ground.

Prediction: Pescara, Siena, Palermo

Germany: Two games remaining
SpVgg Greuther Furth (18th, 21 points), TSG Hoffenheim (17th, 28 pts.), FC Augsburg (16th, 30 pts.), Fortuna Duesseldorf (15th, 30 pts.), Werder Bremen (14th, 33 pts.)

The Bundesliga is slightly more generous given that only two drop automatically with the third pressed into a playoff with the third-best team in Bundesliga II, offering another chance to avoid ignominy. Given that Greuther Furth is already down, Saturday's 2-0 win at Stuttgart (just the club's fourth in 2012-13) was a neat reminder of what could have been.

Hoffenheim and Bremen enjoyed a six-pointer that eventually doled out one apiece as Werder frittered away a 2-0 lead in the final five minutes, the kind of galvanizing fight back that should inspire TSG in its final two games. That said, a trip to Dortmund on the final day of the season -- Hoffenheim has collected a dismal nine points from a possible 48 on the road in 2012-13 -- might be too much to overcome.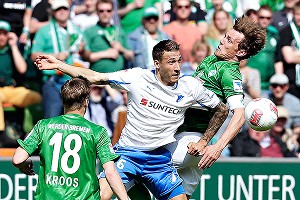 Oliver Hardt/Getty ImagesFabian Johnson and TSG Hoffenheim should have enough quality to escape relegation, but a tough season has them in a difficult spot.

In Hoffenheim's favor is the form and function of the two teams just above. Neither Augsburg (at Bayern next week) nor Duesseldorf (one draw and five defeats in its past six games) has inspired enough to make this race truly feel over. There's enough talent at the Rhein-Neckar Arena -- including the emerging USMNT duo of Fabian Johnson and Danny Williams -- to escape.

Prediction: Greuther Furth and Duesseldorf automatic, Augsburg in playoff

France: Three games remaining
Brest (20th, 29 points), Troyes (19th, 31 pts.), Evian Thonon Gaillard (18th, 34 pts.), AS Nancy-Lorraine (17th, 35 pts.), Sochaux (16th, 39 pts.)

Ligue 1 finds more movement and mania in the cellar than at a death metal concert with none of the bottom six distinguishing themselves down the stretch. Brest, losers of its last six games, rolled over for Montpellier in a 2-1 defeat Saturday and finds itself needing a miracle over the final three weeks (H vs. Sochaux, A vs. PSG, H vs. Nancy) to bridge the six-point gap.

Troyes beat fellow minnow Evian 1-0 -- the latter's third straight defeat -- to do neither side much of a favor while Sochaux's nine-point haul in its past six games looks to have lifted it decisively above the fray.

To consider in the final rounds: Troyes' Coupe de la Ligue progress could derail league safety, especially as the first leg of its semifinal versus Bordeaux has been rescheduled due to bad weather. Evian also has Coupe concerns while Sochaux should prosper from a generous run-in (A vs. Brest, H vs. so-so Toulouse and A vs. Bastia). Two of Nancy's final three are away from the Stade Marcel Picot, and Les Chardons don't travel nearly as well as the region's wines, with just three wins from 17 league games in 2012-13.

Prediction: Brest, Troyes, Nancy

James Tyler is an editor for ESPNFC.