Two clubs are already counting the crippling cost of a relegation battle nobody could afford to lose. Sunday's derby of the damned between Reading and QPR was a match without hope: listless, bloodless and feckless. It was so bad that Harry Redknapp's post-match smirk could be forgiven. If the Premier League is truly a global entertainment franchise, here was proof that neither team deserved to be part of the show.

Neither club will be trousering the £70 million bonanza that domestic and international TV deals will hand each of the 20 clubs playing out the 2013-14 season. Reading played the season like the Championship team they had been the previous season. Rangers played the season like a group of individuals who had just met but already decided they were never going to get along.

The identity of the third unfortunate to slip through the trapdoor is not yet known, though Wigan Athletic's escapology act is in danger of finally getting the hook. Aston Villa's risky gamble on young players looked to have been landed in their crushing of Sunderland, a club whose late change of manager is the most striking example of the panic that £70 million can cause.

At the Madejski on Sunday, Nigel Adkins and Redknapp were two managers who have benefitted from the twitchiness that such riches can yield. Redknapp was hurriedly snatched from the supposed clutches of Ukraine's national team when Mark Hughes had presided over a pathetic winless run.

Adkins has been on both sides of the Premier panic. First, he was removed by Southampton and replaced by Mauricio Pochettino and his interpreter. And then his total-positivity-in-management zeal took over from the downbeat charms of Brian McDermott. Reading, already doomed when Adkins took over, might already have damaged their hopes for next season through their impatience. Adkins' trademark wave of optimism might already have lost its sheen in a battle long lost. Making plans for Nigel might have been more effective as a fresh start ahead of the attritional war of a Championship promotion battle.

Forty-six matches minimum - the play-offs loom too - mean that smaller squads must play twice a week. Even though the Premier League's new riches hand relegated teams £23 million in parachute payments in their first year of exile, budgets must be slashed to the point of penury. QPR, whose outlay on wages outstrips 100% of turnover after the lavish spending of both the Hughes and Redknapp regimes, are staring into a bottomless financial hole.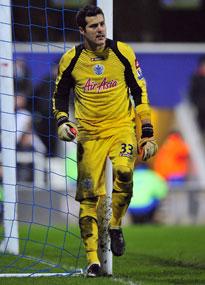 PA PhotosJulio Cesar is one of QPR's high earners likely to move on this summer
They have fully 25 players who remain in contract for the 2013-14 season, and very few particularly sellable assets. Perhaps Julio Cesar might reduce their goalkeeping bill to below £100,000 a week by returning to Italy but few clubs are likely to offer Christopher Samba the riches he has earned since joining in January. Esteban Granero might tempt a Spanish club, though few are blessed with the funds for a large transfer fee. Park Ji-Sung's three lungs have lost their capacity; the Korean has lost his touch too. Junior Hoilett arrived on a free but his asset value is lowered in the light of not being able to force his way into such a doomed team.

Loic Remy is already being shopped around by his agent but Andy Johnson and Bobby Zamora are high-earning forwards with bad injury records. There remains the small matter of Joey Barton, still expensively contracted to the club. The Football League has Financial Fair Play too and QPR's situation already looks in flagrant contravention of breaking even. The two most recent examples of clubs returning at the first attempt may not be available to them. West Ham's owners last season put up the £50 million a Premier League team would receive to get them promotion via the play-offs. Mike Ashley paid Premier League wages to Newcastle United's squad to return them as champions of the 2009-10 Championship.

Reading and Wigan, with much lower wage bills, are in financially better positions, though that is hardly saying much in the light of Rangers' car-crash economics. Royals 'keeper Alex McCarthy's recent heroics place him on many clubs' shopping lists but few of his team-mates look the type to be targeted, a damning indictment of the group's aptitude for survival this season. Wigan would have to start afresh. Manager Roberto Martinez is unlikely to stay, and James McCarthy, James McArthur, Callum McManaman, Shaun Maloney and Arouna Kone are all ripe for the picking from carrion clubs in the upper echelon. Relegated teams always get less for their players.

A glance at last season's relegated teams throws up cautionary tales, though perhaps even QPR might stop short of the circus that Blackburn Rovers has become. Wolverhampton Wanderers are relying on mathematical miracles to save them from League One. Four managers in 14 months, with the latest being Dean Saunders, a manager who thinks strikers require "the eye of the tiger" to score goals, tells a story of horrendously ill-starred stewardship from owner Steve Morgan and chief executive Jez Moxey. Bolton Wanderers, under new management after Dougie Freedman replaced Owen Coyle, go into the final day of the Championship season needing a win to confirm a play-off position. Nottingham Forest, winners of two European Cups, hope Bolton might slip up.

Forest prove the gulf between the two divisions; failure to bounce back can prove near-terminal. Leicester City, Charlton Athletic, Birmingham City, Ipswich Town, Middlesbrough and Derby County form a bank of formerly established Premier League clubs who have no chance of a return this summer. Below them lie Burnley, in the Premier League three years ago and once a true establishment club. Then come Leeds, the most cautionary of all the tales until broken Portsmouth slithered into League Two at the end of this season.

The longer you are out, the harder it is to return. And the cost of Premier League relegation just got much more expensive.