Bayern's win over Barca signals changing of the guard in Europe


OK, it just might be time to pronounce the changing of the guard in European soccer. Where the temptation after the first leg was strong but premature, the ease with which Bayern throttled Barcelona at the Camp Nou might make it indisputable.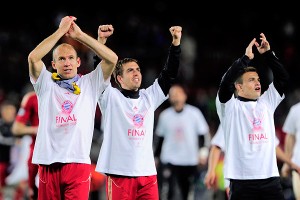 Josep Lago/AFP/Getty ImagesBarcelona can celebrate their league title, but they won't forget that Bayern defeated them 7-0 on aggregate in the Champions League.
There's no doubt that such lofty talk of regime changes and power shifts is already hackneyed after barely a week -- purely because no transition between empires or dynasties is as clean and decisive as what Bayern Munich did to Barcelona in the two-leg semifinal, scoring seven and conceding none -- but it's proving irresistible.

After all, what else can we call this? Every result comes dripping with context and pre-built narratives, yet this lopsided contest only served to bolster, not shatter, the paradigm presented at Allianz Arena last week.

Barca chose to spare Lionel Messi the chance for further humiliation on Wednesday night. Having allowed him to hobble ineffectually around the attacking third in Munich, there would be no rousing second act from the Blaugrana's talisman. There also would be little bravery from any of Tito Vilanova's charges. Despite the home crowd's winsome positivity in the face of Bayern's overwhelming superiority, no Barca player dared to make it a game.

Neither David Villa nor Cesc Fabregas used the Messi void to his advantage. Alex Song was as irrelevant on the pitch as he has been all season while off it. Gerard Pique showed courage against Bayern's impossibly fast counterattacks -- until he shinned a Franck Ribery cross into his own net for the German side's second goal of the night.

Whatever we witnessed in the two games between Europe's waning dynasty and its emergent force, more troubling to Barca fans might be the gradual ebb of its most influential midfielders. For a solid decade, Xavi and Andres Iniesta have been the creative core at the Camp Nou, the tempo to Messi's guitar hook. Yet both men looked sullen and clueless against Bayern's pressing game.

Teams have wised up to Barca's weaknesses in the past year or so, as witnessed by little victories for Real Madrid here and there, and the Catalonian side's puzzling weakness in the Champions League.

Yet it would be unfair to put all of the blame on the losers. This result speaks far more loudly of Bayern than it does anything else. To see what Jupp Heynckes has managed this season in particular is nothing short of perfection. The casual march to a Bundesliga title in record time. The fiery force with which Thomas Mueller and Co. wrested domestic power back from Juergen Klopp and Borussia Dortmund. And, in Europe, the ease with which several big teams were brushed aside.

Against Juventus, the speed and intelligence of Heynckes' fluid, flexible formation made Andrea Pirlo look like an afterthought. Here, the size and bulk advantage was used in full from back to front as Mueller, Bastian Schweinsteiger, Javi Martinez (the "most German" of Spanish players, it's been said), Dante, Arjen Robben and David Alaba wrestled countless balls back from a team defined by its gaudy passing stats and overwhelming dominance in possession.

And the goals, each a product of pure pace on the break: a raking crossfield ball from Alaba found Robben isolated against Adriano and with enough room to execute his now-trademark (critics might say "only") move, shuffling infield onto his better left foot before bending it around Victor Valdes' outstretched gloves. Ribery's pace down the left conjured the second goal off Pique's mistake before another Ribery cross found Mueller at the back post to outleap two Barca defenders and nod it between Valdes' arms.

Beyond the inescapable weight of that pregame narrative, on a granular level Bayern did everything that Barca failed to do. It used the width of the Camp Nou pitch and the speed of its attackers to constantly stretch the defense. (Spare a thought for Marc Bartra, who will have nightmares about Mueller and Co. for months.) The Germans defended with power, blocked passing lanes in their own half and sent two men to the ball when Barca came within 30 yards of the goal. It seemed so easy that Barca resorted to something most curious: a steady stream of lofted crosses despite the height disadvantage of Villa and Pedro against Jerome Boateng and Daniel van Buyten.

As such, we got seven compelling reasons to decry the kings dethroned and replaced in full.

The absence of a fully fit, fully motivated Messi will mean we can't truly mark Barcelona's grave, not knowing what his impact could have accomplished. Yet not even the great Leo could single-handedly cause an eight-goal swing with his two feet. If this is indeed the "end" for Barcelona, you'd hope that there is a fresh beginning next season. It seems odd to lament their passing when Vilanova's side is still winning La Liga at a canter and surely will retool this summer, perhaps even with Real Madrid distracted by the need to replace Jose Mourinho.

Meanwhile, everything is laid on a platter for Heynckes to head into retirement with a treble (Bundesliga, DFB-Pokal and Champions League) and set an unenviable mark for the mercurial Pep Guardiola. Bayern fans will hope that their incandescent squad has enough left in the tank for the final. Standing in its way: a little team from Dortmund. You may have heard of them.