Barcelona must buck its semifinal trend to reach Wembley
Given that they've won this competition four times, played in 13 semifinals and been finalists seven times, it's remarkable that Barcelona's home record in the semifinal of the Champions League/European Cup is absolutely atrocious.

In fact, they have never won the home leg of a semifinal and gone on to win the final itself. Since 2002 the Catalans have played an enviable seven Champions League semifinals (this will be their eighth), won the home match only once (a result that still eliminated them), scored only four times, registered three 0-0 draws and been beaten 2-0 by Real Madrid (in 2002).

- Tomas: Wanted - Convincing Barca comeback
- Schaaf: Cautious optimism for date at Wembley

You'd almost call it a jinx. You'd also call it something close to a statistical guarantee that the 4-0 deficit they carry from that embarrassing mauling in Bavaria last week is an insuperable barrier to their getting to the Wembley final.

That debacle seemed to me to emphasize something that Pep Guardiola often used to harp on about when he was the head honcho at the Camp Nou.

When his Barca side was looking in any way precarious and the Catalan media was rumbling, Guardiola was never far from pointing out that the mentality at Madrid (he meant media, fans, players, executives) was much more aggressive, much more relentless, less masochistic. Ergo cogito sum -- they had nine European Cups to Barcelona's paltry two (at the time of Guardiola taking over).

Looking at the four European Champion Clubs' Cup wins that Barcelona have enjoyed in their history, it probably underlines his point, and hints at a current deficiency.

Back in 1992 when they first won at Wembley, beating a talented Sampdoria side led by the terrible twins of Luca Vialli and Roberto Mancini, the steel jaw of that Barca side comprised Ronald Koeman and Guardiola himself. The 21-year-old Guardiola said before that final: "We need to go there and show arrogance, cockiness and aggression. The worst thing you can do is forget to actually play a final, to take risks because people are too scared of failing".

Consider the depth and vision in those words being uttered by a 21-year-old about to experience his first senior final.

In 2006, the steel, the utter refusal to be defeated oozed from Samuel Eto'o, Henrik Larsson, Carles Puyol and Victor Valdes. Xavi says it was the introduction of Andres Iniesta at halftime that changed the game, as Juliano Beletti scored that buccaneering winner.

But to me, having met them and listened to them repeatedly over the years and witnessed the other feats in their career, Eto'o, Larsson and Puyol were the "I'm not leaving the stadium without that trophy" presences.

By 2009 the recipe was repeated: Puyol, Guardiola, Eto'o -- with a wee dab of magic from the wee magic man, Lionel Messi. As for 2011, well, perhaps that was Barca's most sublime footballing performance. Throughout all the final victories there was talent, unforgettable talent: Michael Laudrup, Hristo Stoichkov, Xavi, Iniesta, Ronaldinho, David Villa, Valdes.

But I'd wager that everyone understands what I mean when you delineate the kind of man about whom you say, "If I had to go into battle I know who I'd like by my side."

Boil down the elements that have made Puyol, Guardiola, Eto'o, Larsson, Koeman and Valdes serial winners and neck-and-neck with their talent will be a gritty, stubborn, selfish, hard-nosed, aggressive addiction to avoiding defeat and doing whatever it takes for years and years on end in order to be more competitive than the next guy.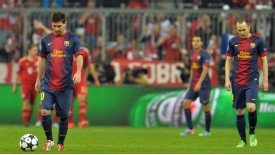 GettyImagesBarcelona's Champions League season looks over after defeat to Bayern

Right now the Camp Nou roster remains a cornucopia of quite extraordinary talents, vision, technique, intelligence and imagination. Moreover, there's absolutely zero missing from the will to win exhibited by Messi, Xavi or Iniesta. However, all good systems -- scientific, biological, mechanical, sporting -- require equilibrium. To my understanding, the gradual but incremental loss incurred through the departures of Eto'o, Yaya Toure, Seydo Keita, director of football Txiki Begiristain and Guardiola himself has allowed an imbalance to grow. There has been a diminution of athleticism, pace, power, hunger, height and the positive arrogance of which young Guardiola spoke back in 1992.

Now close your eyes and let some images drift up from your football subconscious. Athleticism, pace, power, hunger, height and positive arrogance -- did Madrid have that when knocking Barcelona out of the semifinal in 2002? Inter in 2010? Chelsea last April?

I take talent, technique, skill, intelligence, vision to be indispensable -- paramount, in fact. But Bayern proved last week that they possess all these things plus an abundance of athleticism, pace, power, hunger, height and positive arrogance.

More than one of the planners at the Camp Nou has either become complacent or has allowed a blurring of vision that speaks of misplaced priorities.

It had been seductive for those in charge to play the very Catalan card that being able to field a starting XI of homegrown footballers is, rather than being a wonderful bonus, perhaps the holy grail.

Some seem to have felt it is a corollary that because there has been a Klondike of golden talent in recent years a stream of 24 karat nuggets will always wash up at the Camp Nou.

What they forget is the power of equilibrium -- the very best teams have always matched steel fist and velvet glove.

And it's that combo Barca face again Wednesday night. Bayern's transition from rag dolls here in 2009 (a 4-0 thrashing) to current Rottweilers has been the product of just the opposite type of football thinking at corporate level than we are seeing right now at the Camp Nou.

Karl-Heinz Rummenigge, Matthias Sammer, Franz Beckenbauer, Uli Hoeness and Jupp Heynckes are on the same wavelength as Joan Laporta, Ferran Soriano, Marc Ingla and Begiristain (with the inestimable Johan Cruyff's backing) from 2003 onward in Barcelona.

Seeing the power of Bayern's rewards across this tie will hopefully act as a wake-up call to Barca president Sandro Rosell and his Camp Nou executives.