Frantic Dortmund books spot in Champions final in similar manner
Borussia Dortmund stands on the brink of history; Jose Mourinho must already face up to the first real failure of his career.

That it came so astonishingly close to being so markedly different reflects the epic nature of this remarkable occasion.

-- Rigg: La Decima disappears for Madrid
-- Press Pass: Dortmund seal Wembley date

Such an ending, though, was also entirely in keeping with the course of these teams.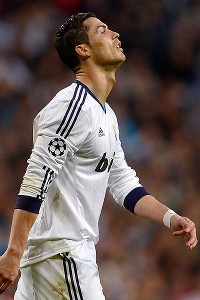 Dani Pozo/Getty ImagesRonaldo & Co. were unable to overcome a 4-1 aggregate deficit at the Bernabeu.
A frantic Dortmund team got to the final -- and quite possibly the peak of their era -- in the most frantic of manners. Mourinho's Real Madrid, meanwhile, ultimately failed to do enough. Just like his haul of a single league title and one domestic cup so far, those two late goals were not sufficient for a team as lavishly put together as this. He will not be able to deliver that long-awaited 10th Champions League to the club that defines itself by that trophy above all others -- especially given that he effectively confirmed his departure after this defeat.

"Very close is not good enough for Madrid, or for me," he said. "They have earned lots of money from going so far, and gained lots of prestige, but they did not win the competition."

By contrast, a Dortmund team put together in the most refreshing method may well now define a new approach in football. In a curious kind of way, the chaotic manner in which they finished this game represented the final maturation of the team and the reality that they are so distinct to virtually anything else in the world game at the moment.

As Juergen Klopp said, "these kids need time to relax."

It wasn't an orthodox way to go through, but then they are not an orthodox team.

"To stay cool in situations like this is absolutely great," Klopp said. "I knew if we stay cool and try to play football, OK, not our best football, but what is best for us, then we go to the final."

That is certainly true.

Just as they looked set to fold, just as Real looked to push them over the line, Felipe Santana came on, the back line held firm and Dortmund held their nerve.

It is also arguably somewhat symbolic that, despite the departing Mario Goetze going off so early, they admirably kept together. In that, they are a true collective.

The starkest fact for Real, though, is that they only looked like this for brief periods of these hectic 180 minutes.

The most galling fact, meanwhile, is that the intense ending to this 2-0 win actually mirrored the start -- but without the reward or much else in between.

In this leg, if not quite the tie as a whole given that Dortmund had already fully displayed their attacking capabilities at home, that was where the key moments came.

That Klopp's side didn't concede when Real showed their greatest conviction would prove crucial by the end.

Even though there were a few moments of nerves, such as when Neven Subotic needlessly gave away a corner, they were matched by Real's uncertainty. An ineffective Gonzalo Higuain squandered a one-on-one; Cristiano Ronaldo could only poke a presentable chance at Roman Weidenfeller's body.

"It is a pity we did not score more early," Mourinho said, sighing. "We missed too many chances."

Whether Dortmund withstood that early siege through blind luck or strategic play is hard to say.

Klopp did insist it was the latter. "We did not need luck because we played really well. We deserved to go through," he said.

What is undeniable, though, was that they recovered their composure to gradually gain control of the game.

By the time Real finally came flying back into it, it should have been long over. Robert Lewandowski smashed the ball against the bar among a number of missed chances, and Ilkay Gundogan could only fire at Diego Lopez when the entire area opened up.

By that point, it was as if Real had lost its faith.

Certainly, something has been lost along the way for Mourinho as a whole. It's hard to say if that is down to the possibility that he finally came across a squad with one too many personalities as big as his own, or simply that his emotional intensity cannot be sustained past a second year.

It is likely a combination of a number of factors.

Explanations will come.

On the night itself, explanations are almost elusive. After substitute Karim Benzema brought the tie back to life in the 88th minute and Sergio Ramos added a further jolt, it was difficult to know where to look.

At one end, Weidenfeller produced another brilliant save. In front of him, Sebastian Kehl went down to critically sap Real of some of their impetus.

On the sideline, Mourinho raged at that, while Klopp expressed similar feelings about the five minutes' stoppage time.

Within seconds, though, all of that had transformed.

Dortmund were joyous, Real crestfallen. Half an hour after the end, Klopp was out to celebrate with their fans, who were high in the stadium's fifth tier.

The team, meanwhile, keep on rising.