Real Madrid looks to call upon the spirit of Juanito against Dortmund
This is one of those matches that, in football terms, raises a question just as interesting and as hard to resolve as the nature-versus-nurture debate.

How on Earth can it be possible for history to influence what happens this week? In other words, how can a specific club possess football DNA handed down across decades when, realistically, the current entity is made up of a huge number of diverse nationalities and personalities as compared to the forefather version from the 1960s, '70s or '80s?

If we had football laboratories, this would be one of the genetic puzzles they'd be working on.

- Uersfeld: Dortmund dreaming despite distractions
- Rigg: Remontada, Remontada, Remontada for Madrid
- Delaney: Bravery the key for Klopp in Madrid

Fact 1: Real Madrid simply has the remontada (comeback victory) embedded in its historic qualities as firmly as the name Alfredo Di Stefano or the fact that it has won nine European Cups.
Over the generations it has often seemed like a Jake LaMotta club -- initially clubbed about, on the ropes, but then winning via a flurry of hooks, jabs and haymakers. It can be an awfully thrilling sight.

Fact 2: The current squad knows next to nothing of this. When the greatest "fight-back" games occurred, most of these footballers weren't even born. Now there are many, many more diverse nationalities who grew up totally uninfluenced by la leyenda de la remontada blanca -- the legend of the Real Madrid comeback win. Every player who will start is a millionaire; some will be well on their way to having dozens of millions in property and savings. They are proud, they are hungry, but when Pepe is dropped, there won't be a single low-down mean street fighter apart from Sergio Ramos in the XI. Nor a single one of them who was born in Madrid, given that Iker Casillas has been relegated to the bench.

Fact 3: Many of the fans travelled home from Dortmund in the early hours of Thursday morning clearly fearing that Fact 2 may prove that Fact 1 is no longer true.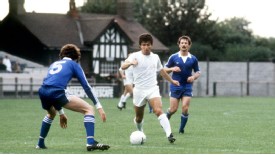 PA PhotosThe legendary Juanito in action for Real Madrid against Limerick United in 1980
They fear that the players on this squad don't have the club crest or its values close enough to their hearts. Dozens and dozens of them greeted the Real Madrid team bus outside the airport in northern Germany singing one song, which, somewhat watered down to me, demanded more testosterone and less multimillion Euro salaries.

But their other song that night, the one that resonates with my theme was "Eleven Juanitos ... we want eleven Juanitos ..." to the tune of "Guantanamera." The late Juanito was this tricky, proud, aggressive, volatile winger whose peak years were in the 1980s.

He wore what is generally a mythical number on his back -- 7. Which is why, to this day, the Bernabeu breaks into a rousing chant every time any match reaches the seventh minute. "Illa, Illa, Illa, Juanito maravilla!" (Yeah, yeah, yeah, Juanito is marvellous).

Before he died in a car crash returning home after watching a midweek Madrid match 21 years and one month ago, Juanito had made himself emblematic of a number of things that were held to be vital to Madridistas of the day. That no cause was ever lost. That every match was a challenge to your chutzpah, a chance to not only prove yourself better than the opposition but to also rub its nose in it if possible. That you would go to, and beyond, the rules to defend the club (at which point excess would have an indulgent blind eye turned to it).

So for all his derring-do, Juanito was also the volcano on legs who attacked a linesman in Switzerland and was banned by UEFA for two years. Then, in his final season at Madrid nearly a decade later, he stomped on the head of Bayern sweeper Lothar Matthaus, a moment that effectively ended his career with Los Blancos.

However, these were the remarkable nights during Juanito's golden era that the Bernabeu has been evoking for a week and that those furious fans in Germany were roaring at the Madrid team bus after humiliation at the hands of Jurgen Klopp's men.

Madrid trailed 2-0 to Celtic in the European Cup (Champions League original name) quarterfinal of 1980 but won the return 3-0. Against Anderlecht in 1984-85, Los Blancos lost 3-0 in the first leg before handing the Belgians a 6-1 thrashing, then they lost the first leg of the semifinal 2-0 to Inter Milan before turning it around, thrillingly, to win 3-2 on aggregate.

Perhaps most remarkably of all, indeed during one of the most remarkable few months in the history of European football, Madrid lost 5-1 to Borussia Moenchengladbach in the 1986 UEFA Cup quarterfinal before winning 4-0 at home and qualifying on away goals. Then, in the semifinal, they broke poor old Inter's heart again, losing 3-1 in Italy before swamping the Nerazzurri 5-1 at the Bernabeu.

The first one of these roller-coaster nights I remember seeing was as far back as 1976, when Madrid went to Derby County in the European Cup, lost 4-1 in England but then won 5-1 after extra time at the Bernabeu to achieve something I thought, at the time, was quite stunning. Still do, in fact.

Those who were present at any or all of those and who remain season-ticket holders of Madrid will demand similar theatrics, similar drama ... similar commitment. Those there on Tuesday night in the intimidating, stern, Bernabeu who are too young to recall these nights will nonetheless appeal to the "Juanito" spirit and roar out the "Illa, illa, illa ... Juanito maravilla!" mantra as we hit the seventh minute.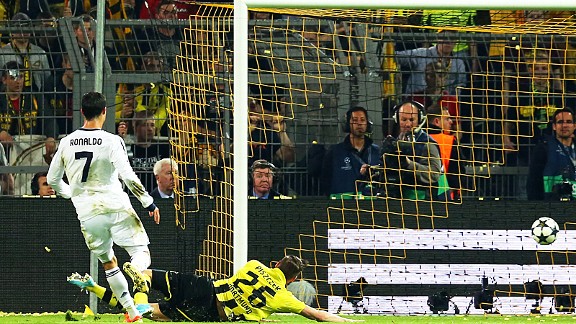 GettyImagesCristiano Ronaldo scores what could prove to be a vital away goal for Real Madrid

But how, if at all, will this affect Jose Mourinho's players? Sure, the noise generated can draw extra confidence, extra effort out of them. Most top professionals I've talked to say that they have never, or rarely, been intimidated by an atmosphere but that it can just keep you pushing and working that little bit extra when you think your legs and lungs have packed up for the night.

However, I ask again: Can the club's ancient DNA be inherited? Can those glory (sometimes only black-and-white) images inspire a kid like Mesut Ozil or a multimillionaire like Ronaldo? Are concepts like confidence, ambition, hunger, desire and historical values sufficiently tangible to create a winning mentality in those who will, mostly, be hearing about them for the first time over the past week?

The romantic in me wants to say: Yes! Of course! The pragmatist, the cynic has to argue back.
But what I will say is that players often need to put blind faith in a coach's message in order to believe. They need instruction, cajoling and, sometimes, a helping hand.

I know of all kinds of tricks pulled by psychologically shrewd managers, including the one where when a player took a blow to his head midmatch, couldn't remember who he was and the coach told his physio, "Give him some smelling salts and tell him he's Pele!"

Mourinho said in the prematch news conference that he didn't need motivational videos, that he just needed to show his winning record to the players and that they needed to trust in the Special One and follow his special instructions.

But sometimes, just sometimes, a little nudge from history makes its impact.

If, and I do mean if, the Juanito spirit plays a tiny part in pushing the Spanish champions into their first Champions League final since 2002, then what a way to celebrate the 21st anniversary of the passing of that fiery, proud, talented and much-lamented Real Madrid winger. Illa, illa, illa, Juanito maravilla.