Bravery the key for Klopp in Madrid
MADRID -- As much as Jurgen Klopp smiled, as often as he laughed and as light-hearted as the entire mood of his pregame news conference at the Bernabeu had been, there was one moment when it all went very serious -- and as quickly as one of his team's counter-attacks.

The Borussia Dortmund coach had just been asked whether there was any possibility his young team might freeze now they're on the fringe of something truly special.

And, in truth, the prospect of a well-timed Real Madrid goal is the one situation that could really see this tie transform. Given their young age and given the stakes of the stage, Dortmund might well struggle under circumstances they've not yet really encountered. As one former European Cup finalist in John Giles said last Wednesday, they have the look of an "all-or-nothing team." When they're on top, they're thrilling; when they're under pressure, well ... we don't really know yet.

- Uersfeld: Dortmund dreaming despite distractions
- Rigg: Remontada, Remontada, Remontada for Madrid
- Hunter: Real look to call upon spirit of Juanito
- Video: Dortmund prepare to defend 4-1 lead

Klopp, though, definitely seems to know.

"No," he proclaimed, with the sort of certainty that had already incinerated any follow-up.

It is the sort of certainty, in fact, we've so often seen in his opposite number for this semifinal. Because, beyond Cristiano Ronaldo and Robert Lewandowski, beyond whether Dortmund will sit back, it is the unique psychology that is arguably the most arresting element of this semifinal.

It is undeniably one of the key characteristics in Jose Mourinho's career. A prominent narrative, after all, has been that he is not necessarily the best tactician nor the finest coach but specialises in deriving maximum energy and application from his players.

He has forged an iron will in each of his finest teams. Porto possessed the defiance to rise well above their station and win the Champions League, Chelsea the resilience to break the English points record and Inter the ferocity to withstand Barcelona at their best.

Now, Real Madrid must discover the belief to persevere in the face of a genuinely daunting scoreline.

Should they overturn Dortmund's 4-1 lead, of course, it would match the most impressive comeback in the modern Champions League. And, if Mourinho is en route to a record-equalling third victory in this competition, a recovery of such character would be entirely appropriate -- and in-keeping with the club's history.

It is for those reasons that this might well be the Portuguese's greatest mental challenge, where he can really prove himself as one of the greatest: maximising his most renowned ability in the most demanding occasion.

Adding even greater depth to all of that, there is the fact that this tie may well define his entire tenure at Real Madrid -- especially given that it has been a period filled with talk of unprecedented turmoil among his squad.

If Mourinho fails to win the trophy the club desire above all others, is his time there a relative failure? So much depends on success in this second leg.

It is perhaps understandable, then, that Mourinho tried to so hard to downplay it all in his own, much more solemn, pregame news conference.

"We will go out to play, and try and get in front," the Portuguese said, rather plainly. "If we are 1-0 up, we need two goals to win. If we are 2-1 ahead, we need two goals to draw. We must go minute by minute, goal by goal, until the last minute of the game."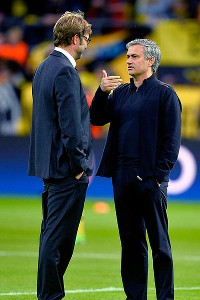 Odd Andersen/AFP/Getty ImagesA comeback for the ages against Klopp's side would cement Jose Mourinho's Champions League legacy.
As methodical as that approach seems, it is likely the simple source of so many epic achievements. A comeback of the type the Madrid media have spent the week waxing lyrical about, after all, is hugely difficult for an individual to envisage. Breaking the game down to more manageable individual parts, however, suddenly makes the whole exercise seem much more achievable. As ever with Mourinho, it is all about what you can actually control and condition.

Which brings us back to Klopp's certainty. If Real get one of those goals, and the whole tone of the tie is transformed, what makes the Dortmund manager so sure his side can withstand the pressure?

Klopp points to one of the matches against Bayern Munich last season, when the big boys of German were desperate to reassert their authority by finally defeating Dortmund again.

They couldn't, even though that in itself was another new step for this Borussia side akin to this semifinal.

"They wanted to beat us in this game, they wanted to beat us all season," Klopp says. "My team was pretty cool in this moment. The only way to reach your dream is to do be brave. It's no problem to lose the game. That can happen, of course. It's only interesting what you invest in the game. That's what is important for us. They cannot fail, they can only give their best."

Again, it's the kind of attitude that suddenly makes all the normal questions at such a time seem irrelevant. How could any team with such a managerial attitude suffer from "bottle" or nerve? The manager just promotes going out and playing. Do that and, depending on luck, the rest will take care of itself. Klopp feels it was even the case in last year's first-round exit.

"Last year we played wonderfully in the Champions League but weren't successful. We know Mourinho watched us beyond results and he knew we were playing good games."

It all ties in with Klopp's frequent phrase that his team are "monsters of mentality" and also comes across in how they will approach this game.

Many teams with such a lead would be caught in two minds about whether to protect what they have or proactively kill the game.

For Klopp, again, it's simply not a relevant question.

"The important thing is balance in football. When we attack, we all attack and when we defend, we all defend. That plan is applicable to all matches.

"It is a relatively easy philosophy. We need to defend well to score many goals. The team needs to play closely, in a very solid way. It is important to keep our discipline. If a goal is scored, we need to defend but we also need to be daring. That is the idea we've had day by day."

On this day, though, Mourinho has a similar feeling about his team.

"I think you must enjoy yourself on the pitch, not just when you are 4-0 up but also when you are in a difficult situation. No player has jumped out of the boat and claimed to be injured and not want to play. They all want to play. That gives me confidence to go into the game, and hope to play, and belief that it is possible."

If much of this match is to be played in the mind, too, Mourinho plans to give Dortmund something they mightn't necessarily know about Madrid.

"You cannot hide something which is obvious," the Portuguese said of the first leg. "We all knew the team which was going to play, apart from [Angel] Di Maria with his situation. It was a team which everyone knew -- you, me, Dortmund. There were no doubts. Tomorrow, the situation is different. We might play different players who do not normally play, or a different system than normally."

Do that and things might get even more serious at the Bernabeu.