Pardew's whirlpool of negativity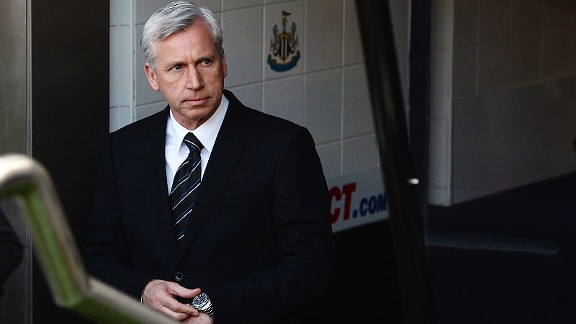 Gareth Copley/Getty ImagesWith every defeat, Newcastle manager Alan Pardew is closer to exiting through the back door at St James' Park.
Alan Pardew didn't want to use the word 'embarrassing' -- he preferred disappointing. It's been a depressing competition to see at what avenue Newcastle's season does become embarrassing. As Yohan Cabaye trudged off the pitch, a Liverpool shirt around his head, his face said more than any well-crafted match report ever could.

- Duffy: Enough is enough at Newcastle
- Pardew fears Newcastle axe

Last season, Cabaye had left the pitch jovial as Newcastle not only beat Liverpool, but surpassed them in the Premier League table. Less than 12 months on, the disparity between the two teams is chronic. Few could have predicted such an emphatic scoreline as they awaited the club's reaction to derby day humiliation.

Which is not to say a defeat was unexpected. The concern among fans began as soon as the team sheet had filtered out from the press room and into the public domain. It wasn't the first time fans had disagreed with Pardew tactically -- his decision to include Jonas Gutierrez and James Perch of particular frustration.

In the wake of the game it appeared there was a Monday morning epiphany, the clarity of hindsight now providing the change fans had hoped for: "I got things wrong," Pardew told the Evening Chronicle.

Yet as you delve further into his explanation, disappointment returns. Once again he couldn't see the wood for the trees. Lamenting his decision to move Cabaye into an advanced role, he also critiqued his side's ineffectual play from the flanks. Both points were valid, but it remains his continued selection of the same players that is inhibiting play.

In particular, Gutierrez. An honest player, his effort levels are commendable but do not excuse his lack of contribution. Once an exciting winger with questionable end product but great athleticism, the latter characteristic has waned. Still just 29, against younger, fitter counterparts, he now looks somewhat frail.

Alongside him, cult hero Perch, another whose character is unblemished but isn't the dynamic, attacker fans want to see. It would take 45 minutes for those types of players to enter on Saturday, at which point the contest was all but over. Again Pardew had the choice between optimism and pessimism in his approach and he had plumped firmly for the second option.

It's a negative facet of his management that became prevalent during this season's winter of discontent. As positive results became harder to attain, Pardew became more introverted in his approach. Given the opportunity to evolve his side tactically or regress, he chose to simplify. The style of play became rudimentary, and Demba Ba became the target man with which Tim Krul was to aim his kicks.

When Ba left for Chelsea in January, Newcastle were always likely to miss him, but not necessarily because of his goals. His compatriot, Papiss Cisse, is more than adept at providing those, but he lacks any of the target man abilities Ba was forced to provide.

Unable to hold the ball up, or win the ball aerially, the strengths of his game are based on consistent service in and around the box. Study his 13 goals from last season, and you will note how many are one fluid motion of a single touch before striking. Ba could be as quick to strike, but was also able to fashion his own chances.

The one dimensional aspect to his approach surfaced again following Moussa Sissoko's impactful February. Wins against Chelsea and Southampton showed the club now had diversity, that they had the options they lacked before Christmas. Instead a 4-2-3-1 became the staple, as time and again Sissoko was asked to repeat a once in a lifetime performance.

Yet just as no one man makes a team, nor does he break one. There were preceding events that led to Saturday's crescendo. Newcastle's lack of summer spending has been duly noted and looks like it is costing them more than the few million pounds Mike Ashley was unwilling to pay. Forced to rely on a clutch of young players that were not fit for the mentally taxing rigors of the Premier League, the pre-Christmas period did most damage to Pardew's second campaign.

Of note, only Vurnon Anita and Romain Amalfitano entered the club's training ground to complete the medical formalities. A promising youngster, Amalfitano has been confined to the club's development squad -- a quiet return to France seeming almost inevitable.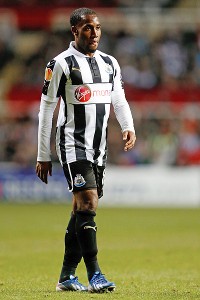 Paul Thomas/Getty ImagesOne of the many frustrations felt by Newcastle fans has been Pardew's decision to exclude the possession-strong Vurnon Anita in recent matches.
Meanwhile for Anita, a Dutch international and Eredivisie champion with Ajax, his lack of involvement ahead of players like Gutierrez and Perch is perplexing given how impressive he was in his first six months with the club. When he first arrived, Pardew was asked how he perceived Anita. "He's one for the games in which we're dominating possession," he replied. The fact he has rarely started Anita, gives subtle connotations his paramount goal is not to dominate possession, irrespective of the opponent.

Perhaps against a side like Liverpool that is understandable, what isn't was the sheer lack of organisation present. During his first season Pardew had cultivated the league's best defence -- he now has the league's worst. As people clamored to decipher how he had achieved such a feat, he revealed his secret. Extra training sessions had been given to his back five, teaching them how to operate as a unit.

The underlying theme of last season's success was consistency. Able to name a settled back five, it remains an unrealistic expectation to avoid chronic injuries or suspensions two seasons in a row, but Newcastle thought they could. Like a premonition to the season, the innocuous injury of Ryan Taylor against Atromitos should have sparked the club's dealmakers into action, but it didn't.

Salvation is not unachievable, however. This time last year Newcastle had a 4-3-3 formation that maximised their assets. In gaining Sissoko and Yoan Gouffran, the club now have arguably better players with which to perform such a tactic -- yet Pardew seems unwilling to indulge.

Of more frustration to the fans has been the consistently poor line of excuses: Fatigue, Europa League, his mitigation has changed game to game and never seemed parallel with facts. Not the first manager to sprinkle cliche and lame explanations of why his side were beaten; the factors have all swirled together to form a whirlpool of negativity.

His lack of change and consistently poor tactical decisions have now also birthed a negativity that is seeing even the most partisan of supporters question if he is the man they really want.

Sacking is unthinkable, long before you factor in the mentality of the ownership. "The manager can have a bad season and still bounce back with us," Derek Llambias said in October, almost seeming to predict the future as the ink on Pardew's new eight-year contract began to dry. Quite how bad it has to get before Llambias believes bouncing back is impossible remains to be seen, but it's also something that no fan on Tyneside wants to test out.