Gareth Bale, first among equals
Upton Park, February 25. Tottenham Hotspur's push for the top four is stalling. West Ham have played one of their best matches of the season but Spurs are coming back at them.

The score is 2-2, the clock has ticked beyond 90 minutes. Gareth Bale has moved to the centre, and wants the ball. He receives it on the half turn but then collapses under a Joey O'Brien challenge. No foul given. Bale is angry. He gets up to his feet and demands the ball again immediately. Youngster Tom Carroll's pass is smart enough but Bale is still 30 yards from goal. No matter. Bale receives it with his back to goal, pirouettes with his next touch and then unleashes. Hammers goalkeeper Jussi Jaaskelainen is offered no chance whatsoever.

The goal of the season from the player of the season. Bale has been decorated by his fellow professionals because he is probably the only Premier League player who can produce such moments, and on a consistent basis too. At a time when the British game is looking covetously at its German or Spanish counterparts, Bale provides glorious and repeated reminder that these isles can still turn out a player that any team in the world would want.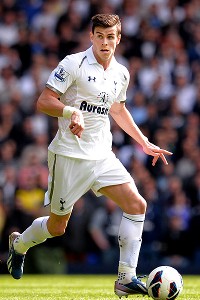 Shaun Botterill/Getty ImagesGareth Bale, the PFA Player of the Year, has been as vital to Spurs as Cristiano Ronaldo to Real Madrid or Leonel Messi to Barcelona.
He possesses the physique of a modern rugby union back-row forward, the pace and determination of a champion hurdler but the gossamer touch and vision of the very best footballers. Those professionals who voted for Bale are those who have been left in his wake or cursed him as one of his shots billows their net. He can do things with a football that even they cannot dream of.

Though Spurs are currently a lesser concern than such superclubs, he is as equally important to his own team as Lionel Messi is to Barcelona or Cristiano Ronaldo to Real Madrid. Were Spurs to find themselves in a Champions League semifinal, they would -- just like Barcelona with Messi -- field a Bale able only to operate on one leg. At times this season, they have risked a troublesome ankle; just having Bale on the field has become a heavy-duty psychological weapon.

This has been a far better and more consistent season for Bale than 2010-11, when he previously won this award. That year, his incendiary destruction of Inter Milan in the autumn nailed him on for the award in a campaign with far fewer standout performers. Winning it this year is a franking of a continuing high standing among his contemporaries. And, while still eligible, it surely follows that he must also be the Young Player of the Year, even though the likes of Christian Benteke have had fine seasons.

That Michu, Swansea's outstanding Spaniard, was left off the short list suggests that this has been a season of high individual achievement. There may be concerns about the overall quality of the division's teams -- and it is pertinent that no defenders were in the six -- but aside from Eden Hazard, who is yet to match his talent with consistency, the other five would all have been worthy winners.

No PFA Player of the Year winner has ever had an asterisk against his name, not even Norman 'Bites Yer Legs' Hunter, the inaugural winner in 1974 whose hard tackling would be verboten these days. Luis Suarez's goal power, flair and irrepressible energy pressed serious claims, though there are notable reasons why 'the good pro' might not vote for him. The hangover from the Evra affair lingers, and he has perniciously pushed winning at all costs beyond acceptable limits, even before his mind-meltingly-stupid nip of Branislav Ivanovic's shoulder.

Suarez made no plans to travel to the unveiling, knowing his fate, but he is still a worthy member of the Team of the Season. Last week, he spoke of how he felt the Football Writers' Award, a more venerable honour, was likelier to come his way. Not now, since those ballot papers are still to be collected. Bale is no stranger to simulation but Suarez's transgressions have been more outwardly insidious.

Instead, Robin Van Persie seems likely to receive the Writers' award. When it comes to changing the written narrative of a season, the Dutchman is on his own. He has converted Manchester United from losing on goal difference to winning at a canter. Losing the players' award perhaps comes as a result of the timing of the voting. When the players were voting, Van Persie was in a goal-scoring doldrums he has only recently returned from. His 19 goals by February were overlooked since this was the time that Bale was in an imperial phase of match-winning performances.

Michael Carrick, the unassuming metronome of United's title domination is the type of player other professionals might recognise. Rarely hurried, usually incisive and now crucial in the dying of Paul Scholes' light, Carrick has papered over the cracks of his team's lack of other quality performers in midfield. Juan Mata, in a squad over-blessed with playmaking talent, has been a beacon of consistency in Chelsea's strange but lengthy season. The Spaniard can not only create and score but also harry and dig in too. Even Hazard and Oscar must play second fiddle to him. Chelsea's hunt for a new leader should stop with Mata, fully mature at just 25 and perhaps the most complete player on the shortlist.

Bale, though, is first among equals, and can hardly be regarded as a controversial choice. Even if Spurs fall short of their Champions League ambitions, this is not David Ginola winning the award in Manchester United's Treble season of 1998-99, nor is it Mark Hughes winning in 1989 and 1991 when his United team were a country away from challenging champions Arsenal for the title. And this is not an award given to the best player in the best team. Football does not work like that. Ginola terrorised defenders all season, Hughes monstered them and both scored great goals too. This season's winner has done both in spades.

Bale has repeatedly shown that he is good enough to be regarded as the best. The fellow professionals who voted for him are those who fear his name on the opposing teamsheet but would also love it to be on their own.