Will Gunners blow race for Champions League?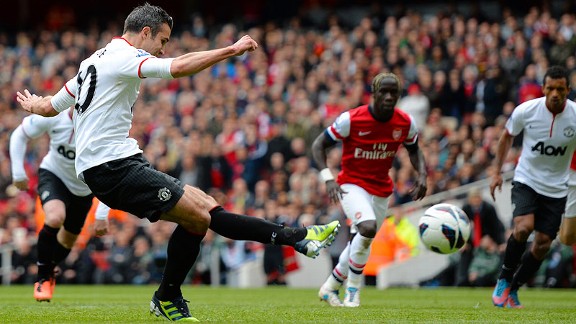 Shaun Botterill/Getty ImagesArsenal's 1-0 lead was erased after Robin van Persie's penalty. Now the Gunners, who have dropped to fourth place, must regroup.
As the days of Premier League football continue to dwindle for another season, reality sinks in. There's less to play for and more teams clearly eyeing pints on the beach. Some literally go through the motions -- you only had to watch the abject performance by QPR and Reading on Sunday to see that. After a scoreless draw, both sides walked off the pitch relegated to the Championship in seemingly good spirits. Jose Bosingwa flashed a smile, Harry Redknapp had a bounce in his step. The slow, inexorable slide was officially, mercifully, over. Now comes the fun part: watching which players jump ship.

One spot remains for the drop -- it's currently occupied by Wigan, but Newcastle, Sunderland and Aston Villa all remain close to the trap door.

- Okwonga: RVP spot on in Arsenal return
- Mangan: Draw fair, but equaliser frustrates Gunners

It remains very competitive up top, too, in the fight for third and fourth place. After this weekend's action, Chelsea moved into third with 65 points, an increasingly fragile Arsenal dropped to fourth place with 64 points and Tottenham sits fifth with 62 points. Here's how each side's fortunes look in the quest for Champions League football.

Arsenal's fragility ... again
In some respects, it made perfect poetic sense that the Gunners' latest obstacle in the pursuit of a top-four finish would be Manchester United. Not only did it give them a nice, up-close seat to Robin van Persie's shiny, new, title-winning outfit, but it offered the opportunity for Arsene Wenger's side -- and the fans -- to prove to themselves that they're doing just fine without him.

For the first 40 minutes, at least, that mission looked to be succeeding. Theo Walcott profited from a half-asleep linesman to poke Arsenal into the lead after some 100 seconds, holding midfielders Aaron Ramsey and Mikel Arteta harassed the relaxed Prem champions into several careless giveaways and Tomas Rosicky and Santi Cazorla set a generous, stylish pace in attack.

Man United, meanwhile, lived up to the pregame expectations, looking more hungover and incoherent than Jamie Carragher after a night out. Wayne Rooney showed why he's the subject of so many transfer rumors. Phil Jones was a soccer player wielding a cricket bat, ill-equipped to perform his basic job. Michael Carrick wordlessly used oxygen and released carbon dioxide.

Yet with the first half winding down, Arsenal morphed into, well, Arsenal. The swashbuckling aesthetics were replaced by self-doubt and reckless mistakes, the kind that allowed Bacary Sagna to needlessly trip RvP in the box and give the ex-Gunner a simple penalty to tie the score at 1-1. The second half was little better for Arsenal; despite coaxing several Red Devils into clumsy fouls and yellow cards early in the game, the killer instinct simply never emerged. United's game-grinding professionalism did, mind you, lurching the game to its inevitable draw.

Perhaps this is what Wenger's tenure will be remembered for when it finally ends; not the marauding "Invincibles" who bullied the league into a dominant season, but the mentally fragile frustration of his later years in which all the skill and artistry on display lacked a fundamental resolve that every team needs.

This was the chance to prove to the entire league that Arsenal is more than a team happy to fight for fourth, something Wenger was foolish to admit when asked many months ago. Only an obvious truth emerged from yet more points dropped at home: The Gunners are poetry without meter, a song without a chorus, a meal without salt. Until Wenger finds the missing ingredient, this is as good as it gets for a fan base traditionally used to so much more.

Funnily enough, the run-in is so generous -- QPR away, Wigan home, Newcastle away -- compared to what awaits Chelsea and Spurs that the demure Gunners should still clinch a top-four finish, preserving the status quo at the Emirates.

Prediction: fourth-place finish

Chelsea's resolve
Perhaps Rafa Benitez's players were watching QPR versus Reading, because they started the first half as if they were in an Ambien-induced coma. It was understandable to see Swansea City's lackadaisical play given that it (like Manchester United) has nothing to play for, other than perhaps not wanting such sleepy form to be the enduring image of their season. But you expected more from Chelsea -- and aside from Frank Lampard in the first half, the Blues competed as if they weren't too bothered by the result.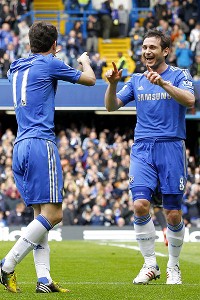 Ian Kington/AFP/Getty ImagesFrank Lampard scored his 201st goal for Chelsea, moving him to within one goal of the club record held by Bobby Tambling.
But inside a somber Stamford Bridge, Chelsea picked up its play at the end of the first half, signs of life evident with a raking goal by Oscar in the 43rd minute and a Lampard penalty in first-half stoppage time. No more goals would follow, though there were some close shots by Demba Ba, Juan Mata and Lampard.

It was Chelsea's 63rd match of the season, and if the Blues reach the Europa League final, they will have played 69 matches -– more than any team in the Premier League era. (This, by the way, will be followed by two money-grubbing friendlies in the U.S. against Manchester City.)

The run-in now looks like this: May 5 at Manchester United, a side that will be more interested in continuing to see how the team will take shape next season, not this one; a massive match at Stamford Bridge versus Spurs on May 8; at Villa Park on May 11, which could be tricky as AV continues to fight for its Premier League life; and then, finally, a home match versus Everton.

Sunday's three points against Swansea were huge for Chelsea, and everything continues to point to the match against Spurs as perhaps the most season-defining title for both sides. It should also be noted that Rafa has actually coped with the fixture fatigue quite well -- and props to David Luiz, who's played in 14 of the team's past 15 matches, squad rotation be damned -- and with the quality in the midfield of Eden Hazard, Oscar and Juan Mata, plus the leadership of Lampard, you have to fancy Chelsea for reaching their goal.

Prediction: third-place finish

Spurs being Spurs?
Andre Villas-Boas' side salvaged a 2-2 draw yesterday at Wigan. Both goals were the product of a healthy slab of luck –- first as Gareth Bale capitalized on terrible play by Maynor Figueroa and Joel Robles and then via Emmerson Boyce's 89th-minute own goal. Are Spurs supporters panicking? Maybe not, but as our own Tottenham correspondent Dan Fitch wrote in his postmatch analysis, there's plenty to worry about: AVB's tactics Saturday, which robbed his side of width; Scott Parker's role in midfield if the side continues with a 4-3-3 system; and the continued lack of a centrally effective goal scorer up top, to name just three.

Perhaps the biggest obstacle continues to be mental: Was yesterday's draw just Spurs being Spurs?

The run-in will tell: Tottenham hosts Southampton on May 4, which should be three points; then the big showdown at the Bridge on May 8; Stoke City should be there for taking all three points at the Britannia on May 12, even if the Potters eked out a drab 1-0 win this past weekend; and then, finally, Spurs face a revitalized Sunderland on May 19.

Spurs have the ability to win all of these matches –- equally, they're capable of dropping a ton of points, too. Would you put money down for them finishing in the top four? It would be a bold bettor who does that, but if they can bag all three points against Southampton and beat Chelsea, AVB will be riding high into the last two matches.

Prediction: fifth-place finish