Finally, Villas-Boas allows himself a laugh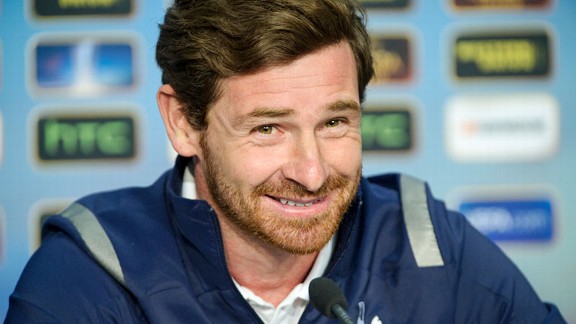 Sebastien Bozon/Getty ImagesTry as he might, Andre Villas-Boas can't hide the fact he brings a serious approach to the job as Tottenham's manager.
Finally, Andre Villas-Boas allows himself a laugh. It's Thursday afternoon at Tottenham Hotspur's state-of-the-art new training centre and the Portuguese manager is asked about Real Madrid's reported interest in appointing him.

Except, he doesn't just laugh -- he lets out a guffaw.
"At the moment I am very, very focused on trying to get another year at one club!" he said.

There are a few things going on here that offer a bit of depth to Villas-Boas' demeanour. Most obvious, there is his recognition of the prospect that, should he start next season at White Hart Lane, it will represent the first time in his managerial career he has stayed at a club for more than a single season.

Should he also start it in the Champions League, it will reflect the good job he has done and why the likes of Real are having a look at him.

The latter, however, is entirely dependent on how Tottenham finish the season.

And, in that regard, Villas-Boas has reason to be much more upbeat.

Just a week beforehand, in his pregame news conference ahead of the Manchester City match, the Tottenham boss seemed so pessimistic about his team's chances that he was actively trying to downplay the campaign's expectations, arguing that fifth or sixth would still be acceptable.

At that point, to be frank, Spurs didn't really seem capable of arresting their evident collapse. In the previous weeks, they had been eliminated from the Europa League, dropped eight points from 12 in the league and subsequently dropped out of the top four.

It all seemed to damningly conform to the club's notorious reputation for deteriorating just when a season reached its most demanding point. And, to a degree, there are a few facts that reinforce that perception.

Since the 2005-06 season and the infamous lasagna incident in which the side so badly lost at West Ham United on the last day to squander a Champions League place, they have mostly shown a decline in the last few games. In general, they've picked up far fewer points per match in the last month than in the previous eight.

That all seemed set to continue as the clock ticked toward the 75th minute against Manchester City. Villas-Boas' pregame pessimism, in fact, was reflected by the lifelessness and listlessness of his players.

Most visibly, there was the stark contrast between their ineffectiveness and the energy of Carlos Tevez. The opening goal perfectly illustrated that as the Argentine claimed the ball near the corner flag, kept it and then improbably set up Samir Nasri from that position. It looked certain to also set the final score.

Then, with 16 minutes left, something changed. And not just in this individual match, but in the whole mood around the team. It was the main element Villas-Boas noticed after Clint Dempsey had turned in Gareth Bale's divine cross: the release, relief and resurgence around White Hart Lane.

"You gain the momentum, the confidence," the Portuguese said. "Emotionally, the stadium also helps. The fans were outstanding.

"After (the goal), we were hyped up."

They certainly produced a hyperactive finish, firing in another two goals in the next five minutes to secure three thrilling points.

Given that so much in football seems to depend on players' individual mindsets and superstitions, not to mention the manner in which Tottenham's previous history has potentially psychologically conditioned their past run-ins, the key question is whether that win over City can now have the opposite effect; whether they can kick on in Saturday's game against Wigan. Certainly, such an energising finish to a match has been rare.

"That momentum is very specific to the game because the 1-1 gave us emotionally the edge and the extra motivation," Villas-Boas said on Thursday. "It is a consequence of what happened in the game.

"Only if we are able to transfer that motivation will we be able to get the three points [at Wigan]."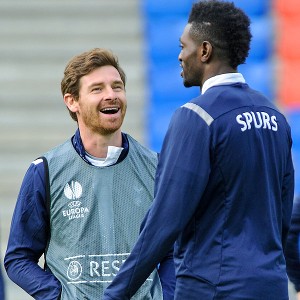 Sebastien Bozon/AFP/Getty ImagesSpurs players such as Emmanuel Adebayor are a bit more rested for the run-in thanks to Andre Villas-Boas' philosophy.
From the way Villas-Boas speaks, he would appear to be a manager who puts a lot of stock in the benefit of momentum and mentality. He even balks, yet again, when asked about stats and if he has the data for players' number of minutes and their fitness.

"No!" Villas-Boas lets out with another laugh. "It's difficult to answer this question because I'm not sure if it is that quantifiable like that."

That does not, however, mean that he sees no quality in such information. Some around Villas-Boas say he has been overplaying this aversion to stats and numbers, possibly in order to escape certain perceptions about him as a 'studious' manager.
He certainly cuts a very different figure to his predecessor, and those at the club say there is simply no comparison between the simplicity of Harry Redknapp's training sessions and the sophistication of Villas-Boas'. That is expected to further aid the squad.

It was, of course, Redknapp's final run-in with Spurs which so accentuated their reputation for choking. And there are already visible differences with how he prepared his squad, and what Villas-Boas is doing now.

Back then, there was a fair argument that the physical burden Redknapp placed on his squad in the opening few months of the season badly affected how they finished it.

At this stage last season, Spurs had seven players who appeared in more than 85 percent of their league games. Under Villas-Boas, that's been the case with only four. In general, too, he has been much more considered and sparing in his use of the squad, spreading their appearances over a more manageable period.

This week, much more obviously, they'll have enjoyed the benefit of a 10-day break followed by a six-day break: just two games in the past 16 days, quite a difference from the congestion of the past month.

That, however, is somewhat complicated this weekend by the fact Wigan are themselves benefiting from a similar rest after an equally demanding recent period, which also includes the emotional extreme of reaching their first FA Cup final.

What's more, whereas Spurs have a recent history of fading as the season draws to a close, Roberto Martinez's team seem to only get going.

"It's very difficult because Wigan have become experienced in these kind of situations where they are able to jump out of their position in the final few fixtures," Villas-Boas said. "This is something than can play to Martinez's advantage. They are all filled with their past experiences. Their motivation is immense. I think probably, out of these remaining games, the Wigan game could be decisive factor in our run-in."

Just as important, however, could be Tottenham's new-found impetus. While the last round of league fixtures saw Wigan get sucked further down into the relegation scrap, Spurs were only boosted up.
Allied to their superior preparation to previous years, it may well yet see Villas-Boas -- and the club -- have the last laugh.