Friday Four: Intrigue in the Prem's twilight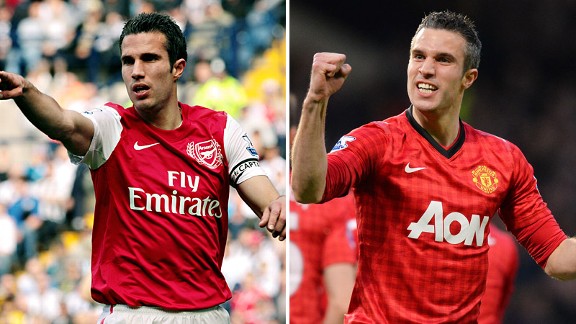 Getty ImagesRobin van Persie has changed colors, but it's Arsenal fans who will likely be turning many shades of red Sunday at the Emirates.
Anybody left out there who still believes that the EPL is the strongest league in Europe? After watching Germany outscore Spain 8-1 in this week's Mighty vs. Mightier contests, a sane soccer fan simply has to tip his hat to the shift in power to the Teutonic side of the house.

But all is not lost, however. The English/Welsh Premier League can still claim to be the most even of the top flights -- well, minus Reading and QPR -- and it is this very parity that leads to some exciting tete-a-tetes for our Friday Four.

Spurs vs. Wigan

The most salacious rumor of the week has young tyro Andre Villas-Boas continuing to follow in his Jedi Master's footsteps and hightailing it off to Madrid, hauling Gareth Bale in faithful tow. It doesn't matter whether there's an ounce of truth in the matter -- just the very thought of crippling emotional spasms coursing through the Spurs faithful would make even the Fifty Shades of Grey lady stand up and applaud.

Closer to home, another potential torture chamber awaits. When a team has an important end-of-season match on the docket, it wants to go up against a side that either has enjoyed its success and is done (all hail Manchester United) or one that has nothing left to do other than play out the proverbial string -- like, say, Capital One Cup holders Swansea City. It certainly doesn't help that this weekend the two preceding examples are playing Arsenal and Chelsea, Tottenham's chief Champions League spot rivals, respectively.

What you certainly don't want is a matchup against a traditionally Spring-strong squad battling to escape the regulation zone -- like, say, Wigan.

On the surface, the Latics are wildly overmatched. Wigan ships goals with Aston Villa regularity, is down to its third-choice center-back -- either Maynor Figueroa or Jean Beausejour -- and plays an aggressive style that is hideously tailor-made for Spurs' high-speed counter attacks.

Last week, Jermain Defoe looked dangerous coming off the bench, Bale shook off the dust from his injury layoff and even Lewis Holtby achieved relevancy. With Aaron Lennon likely back in the mix with his blistering pace, it could be a very good day for Spurs' sagging goal differential.

Gaze a little deeper and you will note that Wigan already beat Spurs 1-0 this year at the Lane, has a powerful striker in Arouna Kone made in the mold that the Londoners usually don't handle well, and a history of April success against the visitors. Tottenham's last three April visits to the DW Stadium have each ended in draws. Then there is the painful fact that this is the type of match that Spurs always screws up. They are, after all, Spurs.

Spurs 1, Wigan 1

Arsenal vs. Manchester United

It's not likely to be the most exciting match of the weekend, but it certainly possesses the most compelling storyline as Arsene Wenger's prodigal son, Robin van Persie, returns to the Emirates.

There is a delicious irony on display here as Wenger has finally produced a team that has the blood and guts that previous, vastly more talented teams, so sorely lacked. But what do the Gunners not have? How about a legitimate center forward, somebody to turn Arsenal's courageous and swiftly moving displays into goals? Instead, the Emirates faithful are stuck actually bemoaning the fact that Olivier Giroud is suspended for the contest. As astonishing as it is to some, you could make a legitimate case that if RvP had stayed, Arsenal would have made a run at the EPL title. But if Grandpa had a surfeit of estrogen, he'd be Grandma . . . such is the enigma of coulda, woulda, shoulda.

Wise analysts would point out that United has nothing to play for, that Fergie will enjoy his pre-game Honour Guard and thus be less combative, that Arsenal must take the three points and how the team that must win usually does.

But none of that matters. Please, please, please, please let RvP score. In fact, while we're wishing for the moon, let's beg for a brace. We need to see the expression on Arsene's face as the dangerous Dutchman ignores the politeness of declining celebration against former clubs to wheel away from the net in his usual post-goal flourish. We have to hear the gasping, choking sounds of 70,000-plus people trying to clear the communal gorge from their throats. After a season of watching squads like QPR, Norwich and Stoke hacking their way around the field, we deserve this. Truly.

But we won't get it. Just like we won't see either Barcelona or Real Madrid at Wembley on May 25.

Arsenal 2, a disinterested United 1

Swansea City vs. Chelsea

What is it about league play and Victor Moses? By all accounts, he was one of Nigeria's standouts on this year's African Nations Cup-winning side and Thursday he scored his fourth Europa goal -- yet he's been stunningly disappointing in the Prem with only one goal to his Chelsea name.

Moses' dissonance serves as a microcosm of the Chelsea conundrum. The Blues are as capable and interesting an attacking side as you can find on the continent. There's no better midfield trio outside of Barcelona for shifting, gorgeous, fluid interplay, and Chelsea enjoys genuine all-world talent at every position. While the easy mark is Fernando Torres, the moody striker has knocked in a more-than-respectable 20 goals in this never-ending campaign, and is the leading scorer on Rafa Benitez's squad.

Unfortunately, the capital side has developed an annoying habit of not only shipping goals but also conceding them late, exemplified by last Sunday's surrender of two huge points at the death to Liverpool. It's enough to make Benitez want to gnaw off his arm.

As such, Wales' best side will be waltzing into the Bridge filled with confidence. Not only are the Swans undefeated in three matches against Chelsea, but they have yielded just a single goal in those encounters. Their ball-possession style works well against Benitez's volatile lot, and this year they have been a bogey team for the Blues.

Still, as mentioned earlier, there really is nothing in play for Swansea and a win is almost a necessity for the home side. So, unless Michu is particularly interested -- or man-marked by David Luiz -- you can expect Chelsea to win this one comfortably.

Chelsea 2, Swansea City 0

Newcastle vs. Liverpool

Here is what we know: Liverpool will take 57 shots on goal. Eight will be on target and, at best, one will go in. Steven Gerrard will play every minute but hardly anybody will realize he is on the field.

If Daniel Agger were to take out a cricket bat, and, without any provocation whatsoever, clobber Pappis Cisse into helpless submission while insulting his ancestral heritage, Brendan Rodgers and the entire Reds' managerial hierarchy would defend Agger and complain about any eventual punishment.

Everton will finish ahead of their expensively mediocre Merseyside rivals for the second consecutive year.

Alan Pardew will not receive an additional 10 years on his contract after this season. Journalists across England will continue to miss Joey Barton in a Magpie uniform because what the heck else is there to write about with this Newcastle outfit?

The result? Feels like a 1-1, but we're guessing that something flat-out bizarre happens during the contest, rendering the final score a footnote.

Paul Kanarek is a freelance soccer writer living in Los Angeles, the only city in America where MLS teams outnumber NFL teams 2-0. James Tyler is an editor for ESPNFC.