Dortmund's eternal moment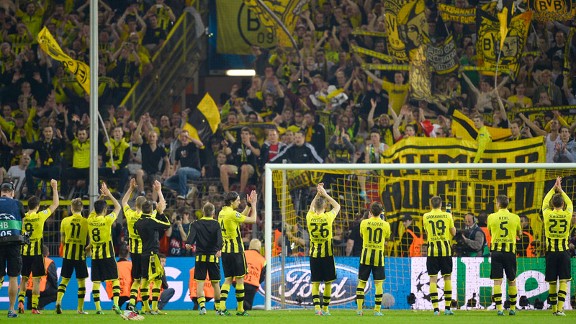 Odd Andersen/AFP/Getty ImagesThe Westfalenstadion was treated to one of the greatest matches in Borussia Dortmund history in their 4-1 win over Madrid.
Berlin Hauptbahnhof, around noon.

"You're heading towards Dortmund?" the business lady asks. "Sure thing!" I reply, wearing my black-n-yellow scarf. It's a cloudy day in Berlin. Spring might have arrived but it certainly is not out to impress on April 24th.

But Black-n-yellows gather to catch the ICE to Dortmund. While approaching Dortmund, the sun is out, the Dortmund fans smile at each other knowingly. Champions League semifinal. In Dortmund. Against Real Madrid. There are worse things to do on a Wednesday night. A bunch of scalpers await customers in front of Dortmund Hauptbahnhof. Not successful. But last night in Munich, they remember. Not in Dortmund.

- Delaney: Dazzling Dortmund outclass Madrid
- Train: Madrid with barely a leg to stand on
- Video: Klopp: Nothing is decided yet
- Five Aside: Dortmund thrash Madrid

Black-n-yellow floods the streets of Dortmund, strolling towards the city centre. Twenty-five degrees on such a sunny day. Rarely has Dortmund been as relaxed as on this day. This city breathes football and it has no plans to stop breathing. Gotze might have been in a shock, but why let anyone take a Champions League semifinal away from you? Once every fifteen years, maybe.

As Kosovo-Albanians sport their Champions League winner jerseys from 1997 and tell tales of how they have waited for this day to come; as fans from all over Germany arrive at the central station to head back where they belong; where a long time ago they made their first steps and where they have been drawn into the greatest thing that could have ever happened to them; where they feel that magic touch that only your club, your colours guarantee you; the scalpers slowly disappear. There is nothing they can do about a bunch of folks who just hand down tickets from generation to generation, from friend to friend, from fan to fan. They disappeared as kickoff drew closer.

The parks in Dortmund filled with BVB fans having pre-match BBQs, chatting about what to do with the €100 million. "Let's buy a new generation," some said while others just were thankful for what Borussia had given them ever since Jurgen Klopp took command in July 2008. The sun, meanwhile, burned down on Dortmund's parks and with some two hours left until kickoff, die Schwatzgelben marched up on Lindemannnstrasse and towards the stadium. Borussia Dortmund vs. Real Madrid. Champions League semifinal. Nobody had seen that coming some three years ago, and not even a year ago.

The first time you can spot the pitch, between the north stands and the west stands. The open gap. Black and yellow everywhere. Then, finally entering the stands, shaking hands with season ticket holders who have been there for all of their lives, discussing that Gotze issue for a minute, then moving on to more important issues. A new contract, a new employment and a new Borussia. Forever grateful for what happened over the past few years. Forever grateful for what the boys have delivered.

The songs they are singing. The songs that are so much more than songs.

"There will never be another club, and we will always be Borussen."

And Gotze warms up and the teams are called out by Borussia legend Norbert Dickel. The stadium shouts the names and when Gotze is mentioned it just does not matter, he is one of them. One of the kids. One of boys who have played the most outstanding football in Dortmund's Westfalenstadion ever since it was opened in 1974. The club is bigger than everything else, Klopp said during one of the most impressive press-conferences in footballing history on Tuesday, and the club, the fans know, today is their day for the boys on the pitch.

As the game kicks off it has to be Gotze to assist on Robert Lewandowski's first goal. The Poland international jumps into a Gotze cross and opens the scoring. For most of the first half Dortmund sit deep and wait for counters but the impressive Marco Reus is stopped several times and once falls to the ground. While all the stadium considers the decision to be unfair and hopes for a penalty, Mats Hummels sets up Real's equalizer. Halftime. 1-1. Both teams have been there before.

Halftime. 1-1. Could have been worse after that Tuesday. And 45 to go. Dortmund now playing towards the yellow wall. And Lewandowski has a plan. No longer wants to be the "Poland international", so he puts his name down into Dortmund's history books as the guy who scored a German hat trick in a Champions League semifinal. The second one coming from what appeared to be an offside position, but wasn't.

The third one after "The Machine" ate up the Real defence and hammered the ball into the goal and the fourth one? A bloody penalty! 4-1 up and all the while Dortmund fans sing and dance and undress and sing and dance and make sure everybody knows "there will never be any other club, and we will always Borussen".

The game ends and the team sits down in the front of the Sudtribune. Borussia Dortmund have just beaten Real Madrid in the first leg of the Champions League semifinal. 4-1, the result. For a moment, for a never-ending moment.