Clarence Seedorf's Brazilian renaissance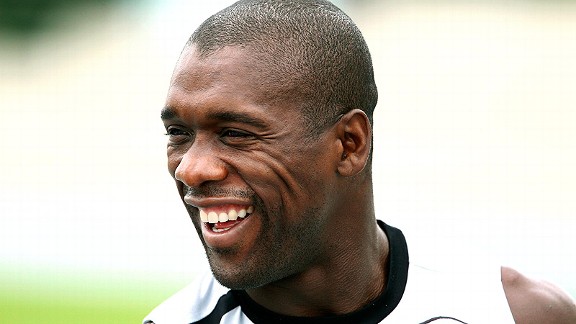 Ivo Gonzalez/Globo via Getty ImagesClarence Seedorf has won over Brazilians not just with his play but with his human touch.
"Garrincha style," read the GloboEsporte headline following Botafogo's 4-1 victory over Nova Iguacu on April 14, in reference to a bandy-legged dribble performed by the game's standout player. The trick -- a kind of full-body, drunken-master feint -- created enough space to whip in a cross, from which teammate Nicolas Lodeiro headed home. The name of the club's most famous son is not evoked lightly, but this was Mane through and through.

Yet the skill didn't come from a young Brazilian, an upstart pretender to the great entertainer's throne. It was performed by a veteran. By a gringo, of all people.

It was performed by Clarence Seedorf.

That wasn't his only contribution, either: Seedorf scored the opener with a clinical header and spent the match creating golden goal-scoring opportunities as if it were the easiest thing in the world. To him, it probably is.

It was just the latest in a string of gala performances that have had Brazilian journalists running out of superlatives over the past nine months. Since arriving in Brazil in June 2012, Seedorf has enchanted the country -- not just with his enduring ability on the pitch, but also with his humility, dedication and human touch.

Seedorf joined Botafogo after a long flirtation. The Dutchman had no shortage of options upon announcing that he was to leave Italy: Offers flooded in from China and the MLS, while Tottenham Hotspur were among the interested clubs in Europe. He was known, however, to be particularly interested in a move to Brazil -- the homeland of his wife Luviana. While other sides made offers, it was Botafogo -- who had first attempted to sign Seedorf 12 months earlier -- which got the nod after a byzantine novella of negotiations.

At first glance it was a slightly incongruous choice of destination. Botafogo is the unfashionable uncle of the Rio de Janeiro football landscape, condemned to sipping gin in the shadows as aristocratic Fluminense, populist Flamengo and historic Vasco da Gama hog the limelight. They have a (not entirely undeserved) reputation as underachievers and bottlers, and are not particularly well supported: Recent estimates put their fan base at just more than 3 million people throughout Brazil -- less than a 10th of what Fla muster. A Vasco-supporting friend of mine once joked that mocking Botafogo fans is easy but finding one to mock is anything but.

For Seedorf, though, the prospect of stamping his name into Alvinegro history was more attractive than coasting at one of Brazil's more successful clubs. "It would have been easy to go to Corinthians, who already have a great set-up," he told ESPN Brasil. "But I'll be happier here; the challenge is very important for me."

His unveiling at the Engenhao stadium was attended by thousands of fans and broadcast live on television. Witnessing a comically overblown entrance by helicopter (someone in the Botafogo PR department watches way too many action films), those who didn't know Seedorf would have been forgiven for thinking that the 37-year-old had only come to Brazil to wind down his career between trips to the beach and local nightclubs. He wouldn't be the first, after all. But such doubts evaporated as soon as he opened his mouth. In word-perfect Portuguese, Seedorf greeted fans and promised to get down to work the following week. The club known as the Lone Star had a new sheriff in town -- and a dedicated one at that.

His work ethic has paid off handsomely. Seedorf took to Brazilian football like a duck to water, playing a key role as O Glorioso ("The Glorious One" -- as you can see, Botafogo definitely won the nickname lottery, if nothing else) finished a respectable seventh in Serie A last year. Playing further forward than he had been at Milan, Seedorf chipped in with eight league goals -- the best return of his career -- and created countless more. That impressive form, both personal and collective, has continued into 2013: Botafogo won the opening stage of the Campeonato Carioca, while his strike against Nova Iguacu was Seedorf's sixth in 10 starts since the turn of the year.

Seedorf's intelligence has proved to be his best weapon in the glorified scrimmage that often passes for a midfield contest in Brazil. While other players pride themselves on their ability to win individual battles with (uniformly colossal) defensive midfielders, the Dutchman keeps it simple and nips into pockets of space. On the ball he is precisely as calm as you would expect a man in the 21st year of his career to be. He doesn't go in for grand gestures, preferring economy of movement over lung-bursting sprints. In a country so famed for generating technically gifted players, you'd be surprised how far a little tactical astuteness can go.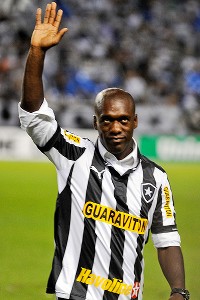 Antonio Scorza/AFP/GettyImagesIn a country where bullishness and partisanship rule the pitch, humble veteran Clarence Seedorf prefers a philosophical, right-minded view.
His value to Botafogo goes beyond the confines of the pitch. Seedorf's commitment to maintaining his fitness (seriously, look at those abs) should rub off on his teammates, while he undoubtedly has plenty of wisdom to pass onto promising youngsters like Bruno Mendes and Lodeiro, as well as to the children in the youth sides he coaches in his spare time. (This, it should be noted, is not a purely altruistic pastime; he is studying hard for his UEFA badges.)

Perhaps his most important legacy, though, might lie in his philosophical, right-minded view of the game, particularly in a football culture frequently defined by bullishness and partisanship. Most players, for instance, would avoid pitch-side reporters after a bad miss in an important game, afraid of rubbing skittish fans up the wrong way. Seedorf, after missing an open goal last month, laughed the matter off, even agreeing to wear a T-shirt emblazoned with the logo of TV Globo's weekly sporting bloopers segment.

(In another notable TV appearance, Seedorf endeared himself to Brazil's housewives and maids by crooning a rather nifty version of "[Sittin' On] The Dock of the Bay" on daytime show "Estrelas." This, admittedly, says rather more about Brazilian television than it does about Clarence Seedorf.)

Things aren't perfect, of course. With the Engenhao recently decommissioned due to structural concerns (a mere six years after it was completed, no less) Botafogo have no fixed home. The match against Nova Iguacu took place at the Moca Bonita ("Pretty Girl") stadium, and drew a paying crowd of just 870. The major leagues this is not. The quality of opposition in the Rio state championship -- which runs until May -- is similarly unbefitting a player of Seedorf's stature.

Seedorf has also expressed frustrations with Brazil's overzealous referees. Last month he was sent off for the first time in his career after refusing to leave the pitch via the closest touchline, an incident that left a bad taste in the Dutchman's mouth: "I know I'm not above the law. But yes, I am different. I have a history [of good conduct] and that should be worth something."

That was a rare reminder of the kind of grandstanding that we come to expect from most storied footballers. That there has been so little of that from Seedorf speaks volumes about the dedication with which he has gone about his work in Brazil. He has won hearts and minds in his adopted country and shows no signs of slowing up just yet. The clean-living Dutchman may have little in common with Botafogo's biggest idol, but the two may yet share a page or 10 in the annals of the Brazilian game.

Garrincha style indeed.

Jack Lang is a football writer who focuses on the game in Brazil. He runs the blog Snap, Kaká and Pop! and has had articles published by The Guardian, FourFourTwo and When Saturday Comes among others. You can find him on Twitter at @snap_kaka_pop.