Ban for repeat offender Suarez harsh but fair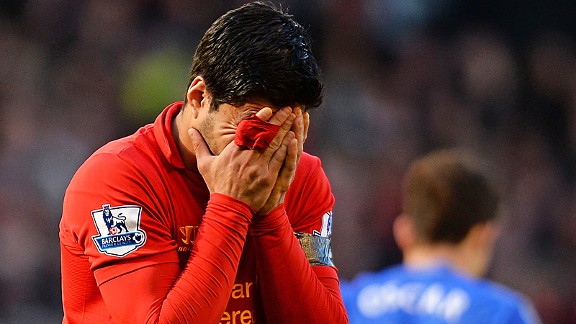 GettyImagesLuis Suarez
Ten matches. Two more than Luis Suarez received for racism. Three more than he received last time he decided to bite an opponent. To complain about the length of the ban would suggest that Liverpool would like to have their Branislav Ivanovic and eat it.

In actual fact, he is only really banned for six matches. Liverpool's season is done. Their sole remaining aim is to try and overhaul Everton but gaining civic pride from the last four matches has been endangered by the stupidity of their star man.

- Video: Was Suarez's 10-match ban deserved?
- Walsh: Suarez wrong, so is FA's judgment
- Jolly: Reds left in a no-win situation

When Ajax realised he had bitten PSV Eindhoven's Otman Bakkal, they banned the player even before the KNVB had delivered its own verdict. Ajax chose to remove him for two matches and levy a hefty fine. Liverpool chose only one of those courses of action, but then Ajax opted to play Suarez in a Champions League match, too.

Clubs remain pragmatic to the point of hypocrisy. Ajax bent their purported principle to play Suarez against AC Milan, while Liverpool gave Suarez a hefty new deal after the Evra affair had dragged them through the mud.

Ajax cashed in for £24 million, lavishly paid to have their consciences cleaned. Liverpool as a club have already staked and lost their reputation over Suarez yet seem willing to do so again. That they are "shocked and disappointed" suggests that it is not just Suarez who is unwilling to learn a lesson.

Kenny Dalglish indulged Suarez, and allowed his paranoia to cloud the club's management of an affair that would have been calmed by the simple act of apology. When a ludicrous whispering campaign was launched it all but cost Dalglish his job. Brendan Rodgers, who has so far seemed a more savvy media practitioner, faces the toughest test of leading the club he frequently hails as an institution for all that is right with the world.

Liverpool's anger about the latest ban would suggest that they feel their apology should have served as mitigation. Yet 'sorry' is also a word used by children when they want to lessen their punishment. It did not work this time, since Suarez has far too much previous history to give him a lesser ban than previous offences. Would England's FA want to be seen as more lenient toward an incident of feral viciousness than its Dutch counterpart? So what if Jermain Defoe got away with it? That was then, this is now, and this is Luis Suarez. Two wrongs do not make a bite.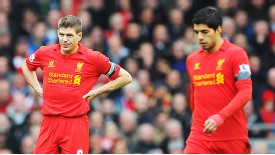 GettyImagesSteven Gerrard has been quick to paint Luis Suarez in a positive light throughout the season.
Suarez entered the Chelsea game on nine Premier League bookings, one short of the 10 bookings required to be banned for two matches, except that an amnesty after the second week of April left him without that millstone hanging over his head. He had been on that mark since being yellow-carded against Southampton on March 16 and has played notably within himself during that time. It had not been the same Suarez.

The player seen against Chelsea was Suarez able to play at his maximum level. It was his best match for some weeks. He set up and scored Liverpool's goals, but he also received a booking too, as well as his altercation with Ivanovic. It suggested that Suarez cannot be at his most effective without letting go of reason.

When mentioning Suarez, we are forced to admit his qualities as a player. He entered this season accused of being a player whose goal record did not equal the trouble he was worth. Yet he finished the Chelsea game as front-runner in the Premier League's Golden Boot list. The suspension that resulted from his stupidity allowed Robin Van Persie the chance to overtake him, another cost to the meagre bragging rights his club's fans have over the current champions. Liverpool's fans wish to exist as an isolated power from the rest of the Premier League but there is no reason others must accept a player who plays so beyond the spirit of the game to all but negate his footballing skill.

Complaints against the harshness of the ban are bound to dominate column inches for days to come but the fault lies with the player himself. Rodgers, Steven Gerrard and Jamie Carragher have spent the season praising their star player to high heaven, perhaps in fear that he may want to leave them. He has let them down horribly, and has once again damaged the club's credibility. They could be forgiven for wanting rid of him now. Liverpool have lost far better players than Suarez, survived and won trophies.

Liverpool have spent the past year vigorously attempting to rehabilitate Suarez's public image. Friendly reporters have been jetted in to receive charming soundbites and a family man has shown off a self-effacing side.

The rehabilitation process must begin again from an even lower ebb; Suarez must meanwhile show he wants to be rehabilitated. Billy Bremner, Tony Adams, Roy Keane, Eric Cantona, Jan Molby and Robbie Fowler, a selection of the English game's legends who took the path of redemption. Suarez must show willing or he will further let down a group of supporters who must realise the damage he is doing to their club.

Ten matches? Harsh but fair. This is Luis Suarez. He has not played fair to his opponents, his teammates, his club or the supporters. And it's time to accept his punishment.