Mueller and Heynckes, Bayern's unlikeliest lads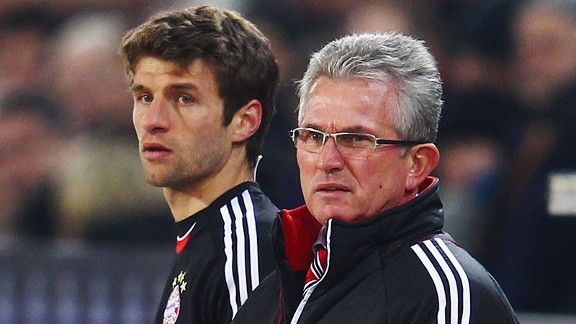 Alex Grimm/Bongarts/Getty ImagesThe impact of Thomas Mueller and Jupp Heynckes on Bayern's ascendancy is a testament to second chances.
It was spring 2007.

A scout for a well-known European team went to see Bayern Munich's under-19 side. His job was to evaluate half a dozen players on the pitch that day and write up a little report. Among them was Thomas Mueller, who was enjoying a free-scoring season.

"He scored once and came close several times that day," he told me recently. "But what I remember most was how I killed him in my report.

"[Mueller] was uncoordinated, ugly to watch. He'd try to trap the ball and it would bounce three meters away. He was always in a hurry, always scrambling, like a guy who was terrified to make a mistake. In my experience, guys like that don't have a future in the top flight.

"Looking back, I guess it wasn't my finest hour, eh?" he added.

Coverage of Bayern 4, Barca 0:
Hunter: Bavarian giants take Barca's baton
Schaaf: Good, better, Bayern Munich
Tomas: Barca undone by Munich's power
Press Pass: End of Barca's era?
Debate: Sky's the limit for Bayern?

It was about that same time that an agent rang up an official from a club in a major European league that was seeking a new manager. Jupp Heynckes was available and might be interested in a job outside Germany. Might the club consider him?

The official thought to himself: "Heynckes? The old guy who used to be at Bilbao? Really?" He did some quick research and found Heynckes had left his previous job at Borussia Moenchengladbach after a stretch in which the club gained just four points in 13 games. Later, it was relegated. Prior to that, he was at Schalke, where he endured a disappointing season and was let go at the start of the following year. And before that, in his second stint at Bilbao, he had two seasons where the club failed to finish in the top six.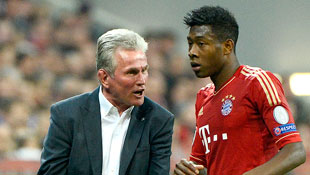 PIERRE-PHILIPPE MARCOU/AFP/Getty ImagesNever considered for his tactical nous, Jupp Heynckes has rarely put a foot wrong with his tactics at Bayern this season.

"I figured it's another has-been whom the game has passed by, no point in even talking to him," he told me a short while back. "A very nice man, but too old to relate to the modern game. I also didn't like the fact that nobody else seemed interested in him and he had a long spell out of work after Schalke. I guess we maybe should have at least spoken to him."

Six years have passed, and Mueller stole the show Tuesday night against Barcelona, driving the 4-0 win that -- barring a disaster -- has secured Bayern's place in the Champions League final. He was crucial in all four goals, scoring the first, setting up the second, laying out Jordi Alba with a "moving screen" straight out of the NBA handbook (yep, it would have been illegal there, too) and finishing off a counterattack for the fourth.

As for Heynckes, he'll retire from the Bayern bench in six weeks or so, having already overseen the club's most successful Bundesliga campaign and -- time will tell -- possibly a historic treble as Bayern are in the final of the German Cup and pretty darn close to Wembley.

Their stories serve to remind us that in football -- and probably life, too -- you make rash judgments on first impressions at your own peril.

Both Heynckes and Mueller were books judged by their cover.

When Heynckes was written off in 2007, it wasn't the first time. From 1987 to 1991, during his first stint at Bayern, he won back-to-back Bundesliga titles and then finished runner-up. Yet Uli Hoeness sacked him two months into the 1991-92 season, something he's since described as "the biggest mistake" of his career.

In May 1998, hours after leading Real Madrid to the Champions League title, he was sacked again -- this time because of a fourth-place finish in La Liga.

Therefore it must have been especially sweet when Bayern brought him back on board in summer 2011. It was the third time they'd come calling -- in between, he'd had a caretaker spell, mopping up in 2009 after Jurgen Klinsmann's disastrous tenure -- and finally, he believed he had a real shot to make a difference in Munich. (Spare a thought for Hoeness, too: It takes a big man to admit your mistakes, a bigger man still to give someone another chance.)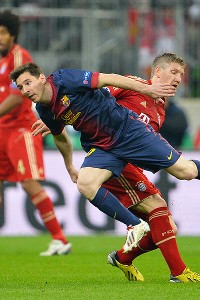 Stuart Franklin/Bongarts/Getty ImagesBastian Schweinsteiger and co. masterfully muzzled Barcelona on Tuesday, a testament to Heynckes' flexible, thoughtful game planning.

Heynckes was seen as a players' coach -- a guy who could bring harmony after the acrimony of the Louis Van Gaal era and simply get a talented group to play together without egos -- rather than some kind of tactical visionary. He likely won't ever be spoken of in the same terms as an Arrigo Sacchi, Pep Guardiola or Marcelo Bielsa -- genius, footballing philosopher-prophets who revolutionize the game tactically -- but he has proven that he can more than hold his own as an X's and O's guy, too.

He destroyed Antonio Conte's Juventus tactically in the previous round and did the same to Tito Vilanova's Barcelona Tuesday night. What's more, he did it in entirely different ways, the real measure of a flexible tactician. Against Juventus -- especially in the first half of the first leg -- Bayern employed a suffocating high press that squeezed the life out of Conte's men, who struggled to get out of their half. Against Barca, Bayern moved its center of gravity 15 yards back, lying in wait in midfield with a Maginot line of perfectly spaced players congesting the middle of the park and giving the Catalans a choice they didn't want: You can either have sterile possession, or you can run into our brick wall and lose the ball.

Mueller, on the other hand, is a total throwback. The Guardiola era and Spain's subsequent international hegemony prompted many to talk about the return of technical football and the triumph of skill over physicality and athleticism. The talk about La Masia, small-sided games, death by possession and all of the other "can't miss formulas" were routinely offered up by the pundits . . . and then along comes a Mueller.

It's not that Mueller is not technically gifted. He can beat players on the dribble when necessary. It's just that he looks inelegant and unorthodox when he does it.

But skill is only part of the equation. It's an ingredient, a means to an end. Unless you have the other elements to make your skill and elegance count for something, it's rather pointless.

Jorge Valdano told me a few years ago that in addition to technique, athleticism, courage and tactical understanding, there was another crucial element to a great footballer's makeup: Saber jugar futbol, or "Knowing how to play football." That means making the right decisions, being in the right place at the right time, and understanding the game to a point where you can maximize your strengths and minimize your weaknesses.

Few players in the world game do this better than Mueller. The way he sniffed out the chance at the far post for the first goal. The way he believed enough to make that lung-bursting run for the fourth. And, showing a more cynical side, the way he gambled on body-checking Alba, instantly playing the percentages in his head: "Worst case scenario? I get called for a foul on Alba. Best case scenario? I take him out and [Arjen] Robben can have a go at goal." Whatever microprocessor is lodged in Mueller's brain weighed the pros and cons, performed the neural equivalent of a cost-benefit analysis, then elected to direct Mueller to take out Alba.

Coupled with his exceptional athleticism, personality and tactical understanding, this "knowing how to play the game" more than makes up for the fact that he's not exactly Cristiano Ronaldo on the ball.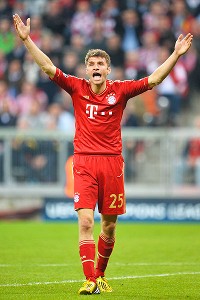 Stuart Franklin/Bongarts/Getty ImagesWritten off by some for his clumsy and inelegant play, Thomas Mueller has more than proved the critics wrong as Bayern's do-all attacker.

(With that in mind, we should give credit to Van Gaal, too. He may be depicted as a moody, inflexible footballing aesthete, but it was he who believed in Mueller enough to make him a regular just after his 19th birthday and at the expense of Luca Toni, who had scored a not-insignificant 57 goals the previous two seasons.)

If Mueller and Heynckes play such a huge part in this Bayern team, it's compelling evidence that superficial impressions can be dead wrong, and that as long as someone believes in you, the game will always give you a second (and sometimes a third or fourth) chance to prove your worth.

Gabriele Marcotti is the author of three books, the world soccer columnist for The Times of London and a correspondent for the Italian daily Corriere dello Sport. You can catch him on ESPN Press Pass and read him here twice a week. Follow him on Twitter: @marcotti.