Bayern grab baton from Barca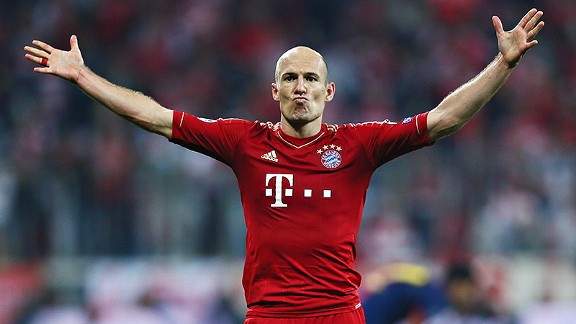 Alex Grimm/Getty Images Arjen Robben's second-half goal made Barcelona's comeback task against Bayern Munich all but impossible.
So it isn't just the initials FCB that Barca and Bayern share.

On this evidence, the Bavarians have broken into not only the Camp Nou but La Masia and extracted Barca DNA, pinched the blueprint documents and, just for good measure, handed these crack troops to Emperor Guardiola next season too.

There will be all kinds of autopsies over the details of how this deadly assault took place, the refereeing decisions which affected Bayern's second and third goals, in particular.

Obviously, in southern Germany, they won't care about the coroner's verdict -- "not guilty" they'll say.

And they'll be right.

- Mueller scores two in Bayern win

Not only did they deserve the victory, they won little victories all over the pitch from start to finish -- movement, technique, attitude, stamina, energy and coaching. And the coup de grace was administered with tremendous panache when Alaba centered looking as if he had all the time in the world to pick out the excellent Thomas Mueller.

Just before soaking up the details of this marvellous performance, it's worth stopping for a moment or two to accept that this is the logical, joyful culmination of a process which began back in 2009 when Barca handed precisely this 4-0 score line to Jurgen Klinsmann's Bayern.

The football brains at Bayern, Uli Hoeness, Franz Beckenbauer, Karl Heinz Rummenigge, wore black armbands in public for a week or two. But then they got right down to ensuring that (a) this wouldn't happen again and (b) that when Bayern finally reached their peak they would be capable of not only handing out a beating of their own, but doing so with all the intelligence, technique and flair of which Pep Guardiola's Barca were capable.

It was remarkable enough to see Barcelona plan and produce a mix of brilliant passing with daring, lightning-fast distribution in our generation. But to see it building again, THIS TIME IN GERMANY, with more to follow with the arrival of the new Catalan coach and Mario Goetze's €37m transfer from Borussia Dortmund, is thrilling.

Only Barca's fans, players and officials will be feeling pain after this display. The Bavarians? Well, it goes without saying that this performance and score line will be like winning €25m on the lottery, meeting the girl (or boy) of your dreams and recording a No. 1 hit record all on the same day.

But for the neutrals this was sheer adrenaline, sheer poetry.

If this is the handing over of football's Praetorian Guard, the end of one era and the beginning of another, then thank heavens that it's more of the same.

One of the key impressions everyone was left with in the Allianz Arena Tuesday night was that Jupp Heynckes' players performed as if they knew, long before the first whistle, that they weren't only superior but that they were going to impose their will.

Not once, not anywhere across the pitch, did Barcelona look Bayern's equal, never mind superior.

Some of this was based on momentum, runaway German champions, already in their Cup final, but it was also based on knowing very well that they were fitter, quicker, taller and stronger than Barcelona. Talk about Citius, Altius, Fortius -- this was beyond Olympic.

Perhaps it's worthwhile dispensing with any moaning, any complaints.

Two of Bayern's goals shouldn't have stood: Mario Gomez was patently offside for the second and Mueller patently body checked Jordi Alba for Arjen Robben's goal, the third.

"I don't want to speak about this, I want to speak about the way we played tonight because we played a terrific game and we fought for every metre.

"We didn't give them a chance, not a decent opportunity all night and that's something to be really proud of," the Dutchman said postmatch.

And I'll defend his point of view, strongly. Referee Viktor Kassai and his team of officials made two bad errors for those goals but, firstly, Bayern's absolute superiority merited their victory margin and, secondly, it looked completely sure that Kassai missed at least one, possibly two penalties in Bayern's favour.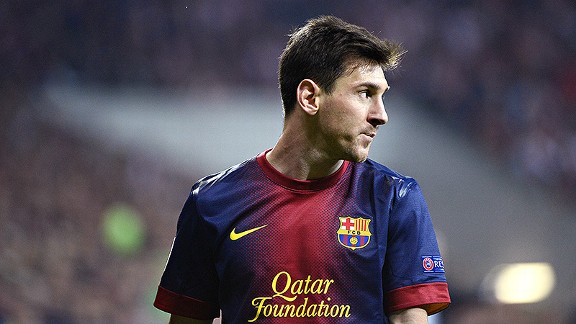 Pierre-Philippe Marcou/AFP/Getty ImagesThe hamstrung Lionel Messi endured one of the worst nights of his career.
These are the breaks at the sharp end of international football, and one of the Guardiola maxims, "make sure that you play so well that bad luck against you doesn't affect the score" looks to have been diminished, perhaps even discarded.

However it's vitally important, I think, to praise the process and the culmination of Bayern's job of work over the past four years in going from humiliation in the Camp Nou to this five-star exhilaration which will live so long in the memory.

For example, their purchases of Dante and Alaba look inspired -- just behind Mueller, Dante was the game's most important, most decisive player: elegant, powerful, smart -- the epitome of what used to be the trademark Barca player.

Another example, all the Barca players who turn out for the Spanish national team keenly wanted their club to purchase Javi Martinez from Athletic Bilbao -- they knew his age, attitude, technique and ability were perfect for the Camp Nou.

Bayern beat them to it, saw him, signed him, left the country with the Catalans in their dust.

Next? Nobody who was in the Allianz Arena last May, and I was there to thrill to Chelsea's "back-from-the-dead" Champions League victory, could deny Mueller his resurrection.

That night he starred, scored and left the pitch sure he had won the cup with the big ears in his home stadium ... but then came Didier Drogba.

It was utter heartbreak for him and his teammates. Robben, for example, missed a penalty that night and also lost the World Cup final to many of these Barca players in 2010 -- who could begrudge him this champagne night? Not me.

Even when you praise the victorious FCB, every phrase reminds you of either a former FCB strength (the Catalan one) or a weakness they haven't properly addressed.

For example, Bayern's first goal resulted from Dante's terrific back-post jump for Mueller to stoop and score. For how long have Barca been losing headers and the second ball from either set plays or the ball into the box?

Months and months and months.

It became palpably clear pretty quickly that neither Lionel Messi nor Sergio Busquets, particularly the former, was fully fit.

But when Barca couldn't play, couldn't establish their tempo, it was important to recognise that the new FCB (Bavarian version) pressed in the way that was the single defensive trademark of the 2009 Catalan treble winners.

Bayern were good at it, they worked harder, they simply had more desire and more energy than their opponents ... but this has been a problem flagged up since, oh, Chelsea in the Champions League semifinal one year ago.

Not enough done at the Camp Nou to address it.

And as if Bayern needed any little helpful nudges forward, it was utterly bizarre, under any circumstances, that Tito Vilanova took 82 minutes (and the evidence of four goals conceded) to make any changes of note -- either tactically or in terms of substitutions.

Only Victor Valdes and Pedro come out of the encounter with decent credit, but from 1 to 11 of the starting lineups, every single Bayern player was better than his opponent.

So, a carte blanche, vastly impressive and wholly enjoyable victory for Bayern Munich (unless you happen to be a Barca fan) and a night to be celebrated by anyone who loves football played well.

But, and I mean this with intensity, laugh in the face of anyone who says that this means Barca, La Liga or Spain need to go to the drawing board. Nonsense. Nothing has changed in the value of what we've seen over the past nine years since Frank Rijkaard took over at Barcelona and Spain began to dominate international football in 2006.

What has happened is that some basic housekeeping has been ignored, or poorly done, in and around the Camp Nou concurrently as one or two players have aged -- and that Molotov cocktail was topped off with the world's greatest player not being fully fit.

Meanwhile a clever, resourceful, ambitious and wealthy club has set about replicating everything which has made Barca so stunning to watch in recent seasons.

What's more, they've done one hell of a job, too. Hats off to Messrs Beckenbauer, Hoeness, Rummenigge, Sammer, Heynckes and all their players.

Get ready folks, there's even more to come, too.