Dortmund focus shifts from Madrid to Mario
Only 14 days ago, Borussia Dortmund beat Malaga CF in a thrilling Champions League encounter. Two goals in injury time secured Dortmund a berth in the Champions League semi-finals, where they were drawn against Spanish giants Real Madrid.

The Malaga success was followed up by two easy wins over Greuther Furth and FSV Mainz 05. Even the transfer gossip surrounding Dortmund-legend-in-the-making Robert Lewandowski fell silent and the club were fully focused on preparing for another great night of European football.

- Horncastle: 15 years since the "Fallen Goal"
- Rigg: Attack Madrid's best form of defence
- Analysis: Goetze versus Ozil
- Mourinho names Real side a day early

Dortmund were heading into the semi-final as the slight outsiders, mainly due to their lack of experience at this stage of the competition. However, their recent upswing in form, the return of key-player Mats Hummels, their unbeaten run in the Champions League - including one win and one draw against Real during the group stages - and the atmosphere at the Westfalenstadion - which once again proved it can turn games around against Malaga - gave Dortmund an excellent chance of continuing on the road to Wembley.

On Tuesday morning, with all players ready for the match on Wednesday, the situation suddenly changed. A German tabloid reported that Mario Gotze, Dortmund's 20-year-old starlet, had taken advantage of a release clause and signed for Bayern Munich. Within minutes, a storm started on the internet as Dortmund fans vented their anger and vowed to whistle Gotze on Wednesday. The news could not have come at a worse time.

Why now? Why break the news ahead of one of the most important games in recent club history?

It took Dortmund only a few hours to at least confirm the transfer and silence the rumours. There was no other choice but to make it public from a club's perspective. The press release stated Dortmund had not officially been approached by Bayern Munich.

Bayern didn't have too as they simply triggered Gotze's release clause. According to Borussia Monchengladbach general manager Max Eberl, Dortmund did the same when triggering Marco Reus' release clause last year.

From that moment on the focus was no longer on Real Madrid but on Gotze and his switch to Bayern. "Traitor", cried the fans. "Judas", they commented before unliking the Germany international on Facebook. Dortmund fans were no longer willing to support the attacking midfielder.

"Out of consideration for the upcoming Champions League semi-final between Dortmund and Real Madrid, Bayern Munich wanted to notify Borussia Dortmund after that game," Bayern answered when confirming the transfer via press-release, an hour after Dortmund's announcement.

Over the past couple of days, the Bavarian giants had been in the centre of a storm themselves - a storm that gained a lot of attention outside the footballing world too.

On Saturday, somewhere in Bavaria the Uli Hoeness news broke. The "larger-than-life" Bayern president had filed a voluntary tax disclosure in January and dark clouds gathered over Munich. Süddeutsche Zeitung reported late on Tuesday, Hoeness was arrested and later set free on a €5 million bail. With the Champions League semi-final between Bayern and Barcelona coming up, this was certainly not the best news for Munich.

Despite claiming the ongoing discussions surrounding the Bayern president did not harm the Bayern squad, and even despite thrashing Hannover 6-1, the club must fear that all the Hoeness talk could eventually damage their best year ever and could hinder them in their quest for the double.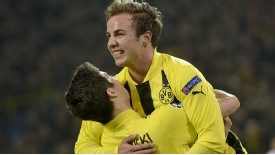 GettyImagesMario Gotze: The one that got away
In recent weeks, ahead of his tax problems being made public, Hoeness talked a lot. He had an opinion on Sepp Blatter, he had an opinion on the right wing threat in German stadiums and most of all he feared the German league was headed towards "Spanish proportions" in terms of a Dortmund and Bayern duopoly. Last Monday he said that it was finally time to act and he had already discussed it with Dortmund CEO Aki Watzke.

Speaking on German TV on Saturday evening, Watzke claimed that Hoeness had chatted to him about his concern - of free-spending clubs living beyond their means, or having barely-legal financial positions and ruling the transfer market - when the Dortmund CEO called the Bayern man to congratulate Die Roten on winning the league. Watzke added that there was nothing more to it.

The Dortmund man was not the only one to put down Hoeness' idea, with several Bundesliga managers, such as Schalke's Horst Heldt, suggesting Bayern should stop signing young German players then, instead of complaining.

Maybe the most striking answer came from Dortmund boss Jurgen Klopp. "I have to be very careful what I answer now. Let me put it this way: no," he told a press conference last Thursday when questioned whether the league was turning into a duopoly. "I fear 'Scottish proportions' more than 'Spanish proportions'. If Hoeness does not want 'Spanish proportions', maybe he should dispense with a few players rather than signing them."

Listening to his statements today, and now knowing what Klopp had known since the day after the Malaga game, a new light is shed on the story. It raises questions a to why Uli Hoeness started a discussion about 'Spanish proportions' and two clubs hoovering up all the best players, after already having agreed a deal with Gotze a few days prior.

Could this really be a giant smoke screen? Who supplied the press with the information? Why now?

"Bayern Munich had no interest in tripping us up ahead of the game. Mario Gotze didn't either, and nor did his agent. That means there's not a lot of people left then," Jurgen Klopp said on Tuesday. "Of course, the timing was bad, but everyone can guess why it was made public now."

This is football, I wrote 14 days ago, bathing in the joy of Santana's late and controversial winner in the Champions League quarter-final against Malaga. This is also football, I have to write today.

"I have been here for six years and I know our supporters will be fully behind us tomorrow. Here in Dortmund, BVB is more important than everything else," Jakub Blaszczykowski said. And Jurgen Klopp pleaded: "Leave negative emotions at home, let's make this a special BVB night tomorrow and beat Real Madrid"

That, no matter what happens after the match, sounds like a good plan. Dortmund are bigger than any player, but during those 90 minutes on the pitch the club can't live without their players. And Dortmund players can't win without their fans. Everything is set for a very special night of football at Dortmund's Westfalenstadion.