15 years on, "Fallen Goal" defines BVB vs. Real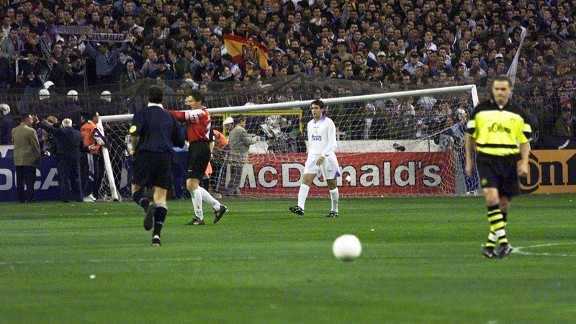 Andreas Rentz/Bongarts/Getty ImagesThe "fallen goal" at the Bernabeu in 1998 was enough to distract Borussia Dortmund from victory.
When Borussia Dortmund were drawn with Real Madrid in the Champions League semifinals earlier this month, their supporters didn't know whether to break out into a fit of laughter -- as their coach Jurgen Klopp occasionally does -- or cry.

What immediately sprung to mind among the older generation of BVB fans who stand in Die gelbe wand, or "Yellow Wall," at the Westfalenstadion was the encounter between these two clubs at the same stage of this competition 15 years ago.

That tie was quite unforgettable, remembered throughout Germany -- and not just in the North Rhine Westphalia region where Dortmund is located -- because of the Torfall, or "Fallen Goal."

The goal itself fell on April Fools' Day 1998, a day that then-Dortmund president Gerd Niebaum would later describe as a "joke."

Uersfeld: BVB focus shifts from Mario to Madrid

Let's cast our minds back to that surreal evening.

The first leg between the cup holders, Dortmund, and Real is about to kick off at the Bernabeu, but as the players are posing for an official photograph, there's a commotion behind the goal in the south stand.

The Ultras Sur are making a nuisance of themselves. A number in their rank have climbed the perimeter fence to get closer to the action and begin to shake the structure when, all of a sudden, it begins to fold under their weight and collapses inward.

This provokes an unforeseen circumstance. The goal in front of the fence had been tied to it for support. It buckles and falls too.

Dortmund captain Stefan Reuter and Real Madrid counterpart Manuel Sanchis lead their teams back into the dressing rooms as the Bernabeu ground staff start work to get the goal upright and in place again.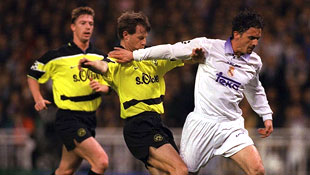 Andreas Rentz/Bongarts/Getty ImagesReal Madrid rode the luck of the "fallen goal" all the way to European glory that season, a neat parallel with this season's fortunate result at Old Trafford.

It quickly becomes apparent that there is going to be a delay. Down at pitchside and up in the gantry, Marcel Reif and Guenther Jauch, commentators from the German station RTL, have no choice but to improvise, becoming a comedy double act. The pair would later win a broadcasting award for capturing the sheer absurdity of the situation, somehow managing to keep everyone entertained back home. Germany was in stitches.

"For those who missed it, they're a goal down already," joked Jauch. The one-liners kept coming, like: "We need to get a quick goal in this one."

The whole thing soon got ridiculous. The ground staff didn't appear to know what it was doing. "Why did I never learn a practical trade like this so I could help out?" Reif and Jauch asked.

When one Real Madrid lackey placed a 2x4 in the hole where a goal post should be only for water to be displaced and come to the surface, the German pair quipped: "They seem to have discovered an underground well … or is that oil?"

Cameras then focused in on a number of officials working on untangling the nets. "They look like Spanish fishermen," Reif and Jauch said.

A video of the infamous "Torfall" is below. Though the audio is in German, its visuals tell the compelling tale.



Indeed, so inept was the ground staff that try as it might, it couldn't fix the goal. A search for a spare one began, which would prove especially embarrassing for a club of Real's tradition and reputation, as they didn't have one on site at the Bernabeu.

A mad dash had to be made to the club's training ground 2 kilometers away. Once there, they struggled to find a guard who could let them in. Once the doors had been unlocked and they were inside, they found a goal, frantically loaded it into the back of a van and got a police escort back to the stadium.

As they brought it out onto the pitch, Reif jested: "Never has a goal benefited a game so much."

To Dortmund, however, it was no laughing matter. The game kicked off at 10 p.m., a full 75 minutes after it was supposed to start. As if their game plan hadn't already been complicated enough by the absences of Juergen Kohler, Matthias Sammer, Jorg Heinrich and Andreas Moeller, Dortmund felt -- quite justifiably -- that the wait had psychologically disrupted them too.

"[The players'] concentration was gone and all the preparation wasted," Niebaum argued. Coach Nevio Scala was also aggrieved. "You here [in Spain] are used to going to dinner at 10 or 11," he said. "We're used to going to bed."

Once the game kicked off, it certainly did seem like Dortmund were asleep, as Real won 2-0. Barely a week after marking his Spain debut with two goals in the opening five minutes of a World Cup qualifier against Sweden, Fernando Morientes, just 21 at the time, gave his side the lead midway through the first half and set up Christian Karembeu after the interval.

The result left Dortmund with a mountain to climb in the return leg, and they swiftly launched an appeal. "I know how dedicated to fair play UEFA are," Niebaum said. "If we did not lodge an official protest, it would leave the door open for similar cases in the future."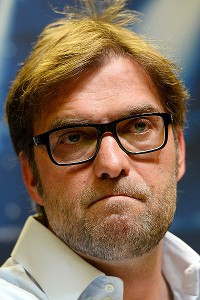 Lars Baron/Bongarts/Getty ImagesJurgen Klopp will fancy his chances against Madrid but knows not to take anything for granted.

Better yet, a Torfall wasn't without precedent in the game's history. The time it took Real to resolve the matter most certainly was, however. The Germans had intimate knowledge of this. A goal had collapsed when their national team played Bulgaria in the 1994 World Cup quarterfinal. On that occasion, it took just six minutes to put things right, not the 76 required at the Bernabeu.

Initially told that Real would be given half an hour to fix the goal, Dortmund found out that the deadline had been extended to an hour and a half. UEFA delegates, it seemed, were reluctant to call the game off for fear it would lead to disorder. There was pressure to play.

Dortmund made another discovery too. The goal at the other end of the pitch wasn't the same size; the bar was 3 centimeters (1.2 inches) lower than the one Real had brought from the training ground. Earlier in the season, a UEFA Cup game between Spartak Moscow and Sion had been replayed because one of the goals in the Moscow leg had been shorter than the other.

"I don't believe you can play a game with two goals of different sizes," Scala sniffed.

Despite the evidence, UEFA were unmoved and Dortmund's case was dismissed. Instead, Real were ordered to play their next two home games in Europe away from Madrid (they would host Inter in Seville the following season) and were fined. President Lorenzo Sanz made a show of being tough on the Ultras Sur, taking away one of their privileges: a room to store flags and banners in the Bernabeu. But that was it.

Dortmund vowed to take revenge in the second leg at the Westfalenstadion. As such cold dishes go, though, it didn't get served. Kohler suffered an injury in the warm-up. Defender Martin Kree had to go off after 12 minutes, and with Julio Cesar suspended, Scala's plans were in tatters.

After coming under significant early pressure, including an Ibrahim Tanko goal disallowed for offside, Real began to believe during a wet and windy second half, that maybe -- just maybe -- they could ride out the storm.

When referee Paul Durkin blew the full-time whistle, Roberto Carlos described it as a "liberation." Real were back in a European Cup final for the first time since 1981. Things had gone their way, as they would again in Amsterdam a month later when the linesman's flag stayed down and an offside Predrag Mijatovic scored the winner against a heavily favoured Juventus, ending a 32-year wait for La Septima. It seemed like Real's destiny.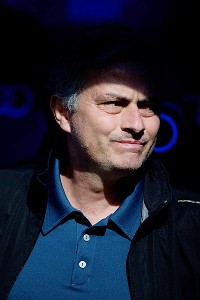 Jasper Juinen/Getty ImagesJose Mourinho has a better Real side to call upon than the 1998 team, but Dortmund is just as strong.

Way behind Barcelona in La Liga that season with manager Jupp Heynckes widely expected to be gone by the end of it, there are similarities with the current campaign and the situation Jose Mourinho finds himself in today. Lest we forget, Real have been lucky in the competition this season. It's enough to think of Nani's red card at Old Trafford and Mourinho's opinion that "the best team lost."

The omens are there. This Real side is arguably better than that one, but then, you might say, so is this Dortmund team, which compares favourably with Ottmar Hitzfeld's some 15 years ago. That side was nearing the end of a cycle by the time he was bumped upstairs and Scala was appointed in his place just a week before the 1997-98 season, a campaign in which they would win the Intercontinental Cup by beating Cruzeiro but finish 10th in the Bundesliga.

"These are going to be two very even matches," Klopp said Monday. "We have the memory of what happened in the first stage [when Dortmund drew at the Bernabeu and won at the Westfalenstadion], but things have changed since then. Real Madrid looks to be stronger to me now."

It promises to be a compelling tie. One hopes that rather than a goal falling like in the 1998 semifinal, this one will be defined by goals flying in instead.

James Horncastle is a European football writer who contributes to ESPN, BBC Sport, Guardian Football Weekly, FourFourTwo and The Blizzard. You can follow him on Twitter @JamesHorncastle.