Football must accept right from wrong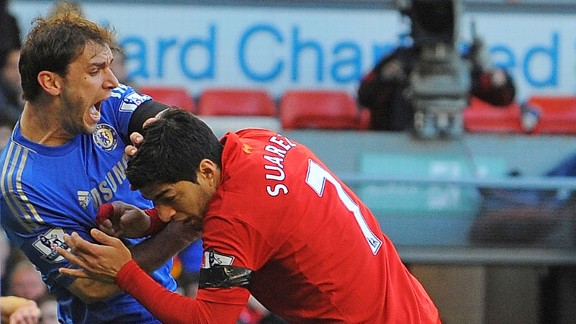 GettyImagesLuis Suarez sinks his teeth into Branislav Ivanovic
Football's deepening tribalism drives the game's followers into ever dodgier moral territory. The defensive reaction to Luis Suarez's chewing of Branislav Ivanovic was depressing in its attempts at deflection. A clunking use of precedent led the charge of defending the indefensible.

"He's a son of a bitch, but he's our son of a bitch" has been attributed to several American presidents, with Franklin D Roosevelt leading the list. Some fans are even loath to accept that their heroes even behaved like sons of bitches - and, if they have, then others have too.

Didn't Eric Cantona do a kung-fu kick on that fan at Selhurst Park? What about that time when Roy Keane kicked Alf-Inge Haaland in cold blood? Wasn't John Terry alleged to have slept with a team-mate's girlfriend? How about Ryan Giggs cheating on his wife with his own brother's wife? Kevin Keegan and Billy Bremner fighting at the 1974 Charity Shield? Surely these are all as bad as what Suarez did?

Some of them were, some of them were not, but they were all wrong. Cantona missed nine months of football after Manchester United's removal of him for the rest of the season was extended by the Football Association. Keane got a three-match ban for the initial sending-off and a further five for bringing the game into disrepute after graphically admitting his intent in his autobiography. Terry lost the England captaincy. Giggs probably missed out on a knighthood. In a more moral age, Keegan and Bremner received 11-match bans, including eight for throwing down their shirts. In all cases, quite right too.

In football's bubble, though, there is now support for a notion that two wrongs make a right. Decency is being freely traded for expediency.

There is a familiar process at hand. First the denial. He can't have done that. Next, anger. He has done that; now who else is to blame? The bargaining can then begin. Didn't someone else do something similar? Why is biting worse than head-butting, spitting, punching or kicking? In some cases, acceptance never happens at all. Suarez's previous ban for racist abuse continues to be disputed by a vocal minority of Liverpool fans despite a compelling document that explains the Football Association's ruling. The player himself has gone on record numerous times to continue to deny his guilt. No apology has ever been made to Patrice Evra or Manchester United.

Fans tie themselves in moral knots. Chelsea fans boo Rio Ferdinand for being the brother of the player Terry racially abused. Haaland, working for Norwegian TV at the 2004 FA Cup final, had to run the gauntlet of a Cardiff street where thousands sang "Keano, Keano" at him. Ivanovic will probably be booed when next he faces Liverpool.

Brendan Rodgers played an admirably straight bat to initial questions but then cast aspersions that Fernando Torres had also thrown an elbow at Jamie Carragher. He had, but what did that have to do with Suarez? Rodgers bought himself time by saying he would need to "analyse" what his striker had done but must have known by then what Suarez was accused of. An elbow on a different Liverpool player was hardly mitigation for Suarez taking a chunk out of Ivanovic. Rodgers, who has spent the season praising his star player as a "wonderful human being", had painted himself into an unnecessary corner.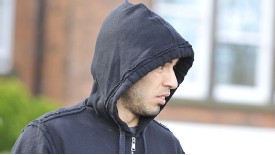 GettyImagesSuarez has been banned for ten games
Some lessons had clearly been learned by Liverpool. By Sunday evening, Rodgers and Suarez had issued apologetic statements. As had Ian Ayre, the Harley-riding managing director who is a very public figure these days. This was an improvement on the rambling conspiracy theories issued on the club's official website to accompany news of Suarez's eight-match ban in December 2011, but then came a decidedly wrong turn.

Liverpool chose to fine rather than ban their player, and then played a wholly unnecessary card. It was true that Suarez's folly had overshadowed an Anfield afternoon planned as a tribute to the late Anne Williams, the tireless campaigner for Hillsborough justice who had lost her battle with cancer. However, there was no requirement to publicly invoke Hillsborough when stating that the fine would be donated to the campaign fund. This was no time, no mechanism to attempt a PR coup. Leading lights of the justice movement expressed rather mixed feelings.

Sheila Coleman of the Hillsborough Justice Campaign was highly dismissive. "Suarez to make donation to Hillsborough families! Ian Ayre/LFC disgraceful to use Hillsborough in this way.#exploitation," she tweeted.

"We can't say we are grateful because we would rather him not have done that at all," Margaret Aspinall, chairman of the Hillsborough Families Support Group, said. To hand the money to the fund was okay, and £300,000 or so is the estimated value, but to grandstand it in the eye of a player disgracing himself was clumsy and ill-considered. The events of April 15, 1989, can never be used to cleanse a Liverpool player's clear disregard for the spirit of the game.

Those seeking precedent in the injudicious use of teeth to defend Suarez playing are on shaky ground too. Jermain Defoe might only have been booked for his nip of Javier Mascherano in 2006, but there is a more famous case where a lengthy ban was laid down. That involves Suarez, whose seven-match ban from the KNVB while playing for Ajax was completed as he joined Liverpool. A defence of actions being out of character is thus completely out of the question.

Successful footballers are always forgiven. Cantona's comeback revived Manchester United to win the Double they had lost without him. Keane captained his team to the Premier League title on his return from his ban. Terry did the same after losing the England armband. Giggs is the hardiest of perennials. Keegan and Bremner are all-time Liverpool and Leeds United greats.

The winning of football matches can often blur the difference between right or wrong, but precedent and deflection must never provide an excuse for the disgraceful behaviour Suarez exhibited.