United, van Persie deliver champion performance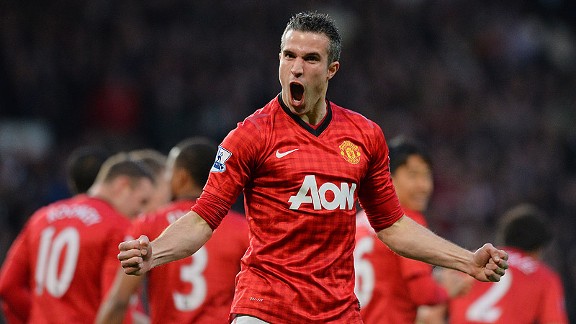 Paul Ellis/Getty ImagesRobin van Persie's first-half hat trick was the finishing touch as Manchester United clinched another Premier League title.
It was, in short, a champion's performance.

It was also one that restored all of the relish to this title victory -- right down to the sparkling display of the man most responsible for it.

Report: Manchester United wins Premier League
Payne: Welcome to "Vanchester"
Jolly: Sir Alex revels in 20th league title

Because, after two months in which Manchester United's very lead at the top took away much of the team's urgency and edge, the run-in often took on a more routine, rhythmic feel. It was certainly far removed from some of the rousing comebacks that put United in such a position in the first place.

That was particularly surprising given the searingly painful way in which they lost last season's title, as well as the initial determination to respond to Manchester City in the most emphatic manner.

The methodical nature of the past two months, however, altered the dynamic to such an extent that, by the derby, it was Roberto Mancini's side that had something to prove.

As such, it often felt as if United had won the title without the ascension, the crescendo, or the sense of catharsis or elation.

No more. This was a glorious coronation.

With the title in sight, all of the team's vigor, purpose and imagination returned. So did Robin van Persie's most exceptional form.

Because if this was the most appropriate way to seal a league title, it was also one in which the match was entirely apt, given the season that preceded it.

If you want to get simplistic, this victory effectively summed up the campaign: a sensational van Persie display giving United the early lead that was ultimately far more than enough.

There is, of course, nothing simplistic about the forward's talent -- other than the manner in which he made a truly emphatic and bombastic goal look so easy.

It wasn't just a contender for goal of the season, but a confirmation of the fact he is undeniably this campaign's outstanding player.

He has been the signing of the season, one of the greatest of Sir Alex Ferguson's reign and the principal reason why they have taken back what they see as their title from City. Unlike Luis Suarez or even to a degree Gareth Bale, van Persie has performed under the most exacting pressure in domestic football.

You only have to look at the fact that van Persie's goals have been directly responsible for 26 of United's 84 points. Of course, Ferguson's side also has designs on greatly improving that tally and possibly breaking Chelsea's 2004-05 record. If so, it would give rise to some of the misplaced arguments that this is one of United's finest ever sides.

The truth, however, is that the dynamics and points thresholds of every season are different, and it's therefore difficult to directly compare. Lower points in a more challenging season may be of more value.

What seems more accurate is that this is a United team at the start of another cycle. After a period of transition following the 2006-09 Ronaldo-Rooney side, Ferguson has finally put in place the core of a new team, with van Persie leading the way.

One of the main reasons that the forward -- as well as young players such as David De Gea and Phil Jones -- have won their first title, though, is because they have maintained and retained some of the oldest and most important qualities that guarantee a league championship: winning all the games you should.

Although United did claim crucial early victories against Chelsea, Arsenal, Liverpool and -- most importantly -- City, it also has kept dispatching the likes of Reading, Southampton and most recently, Aston Villa.

On Monday night, United never suffered a misstep. Instead, it did so much more.

It was the story of the season.