Eras set to clash in Munich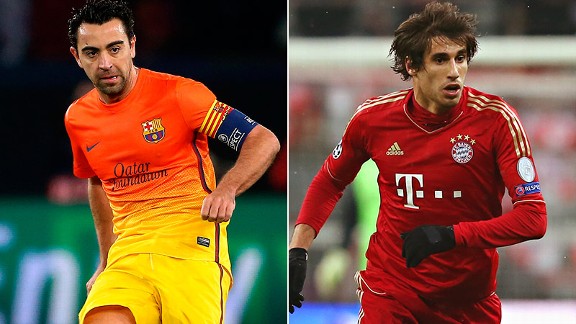 Getty ImagesA clash of past and present could be on display when Xavi's Barcelona takes on Javi Martinez's Bayern Munich.

Amid all of the respect and platitudes of the past week, there was one slightly more revealing statement from Javi Martinez on Sunday.

Much like his Bayern Munich teammates, the midfielder had made a point of praising the quality of this Barcelona side, the scale of their achievements and the difficulty of Tuesday's Champions League tie in the Allianz Arena.

There was also, however, one line with a little more edge to it.

"I think it's the perfect moment for us to take on Barca," the midfielder claimed.

- Tomas: Time to shine
- Messi included in squad
- Schaaf: Epic only way to describe Bayern-Barca
- Muller primed for Barcelona showdown

In terms of this season and even the cycle of this Bayern Munich squad, of course, Martinez has summed up the feelings of many.

Most tellingly, such sentiments are very different from three years ago. At that point, having been thrashed by Barca in the 2008-09 quarterfinals, many at Bayern were speaking about how they were prepared to face anyone except the Catalans.

Now, of course, the Germans have ratcheted up records to rival almost anything from the Pep Guardiola era, as the figures illustrate.



The stats are mind-blowing; the football magnificent.

It is all the result of a near-perfect infrastructure, with Bayern's admittedly ample finances used in the most efficient way. Everything seems set up for them to dominate continental football for the next half-decade -- right down to the way they've echoed Barcelona in properly building on their nation's recent youth-coaching revolution.

Certainly, in terms of base, depth quality, integration and entire structure, no other club has looked so well-equipped to properly usurp the Catalans.

Guardiola, in fact, almost personifies the difference in where the clubs are at. When it came to negotiations as regards appointing the coach, the Bayern hierarchy impressed on the 42-year-old just how much their infrastructure mirrored Barca's.
To take a more detached view, Guardiola may have effectively left one cycle after it had peaked and is set to join another as it rises.

The manner in which Bayern so commanded the tie against Juventus illustrated a team coming to fruition.

At the same time, the way in which Barca recovered from some pretty desperate Champions League situations against both Milan and PSG reflected a side using all their experience to fully assert their excellence when it matters most.

As a consequence, there is also a deeper, broader significance to Martinez's words. This isn't just a "perfect moment" in terms of the season, but also in terms of Champions League history.

When you put it all together, this tie has that rare potential to distinctly define and divide European Cup eras.

In truth, because of the improbability of so many elements aligning -- right down to the draw itself -- there have really been only three such contests.

In the 1963 final, Milan blocked out Benfica 2-1 to end an era of almost innocent attacking play and begin the reign of Catenaccio. At the end of that period, in the 1969 showpiece, it was that same Italian club who gave a nascent Ajax one final lesson in the competition. Milan expertly picked the Dutch side off for a 4-1 win.

Four years later, in the 1972-73 quarterfinals, a fully-formed Ajax brutally illustrated to Bayern Munich just who Europe's best team still was. Many of the German players cited an emphatic 4-0 defeat as one of the most traumatic matches of their careers.

"I have never been beaten like that," Franz Roth said. "I had to mark [Johan] Cruyff so it was doubly painful for me."
Even Rinus Michels was surprisingly frank about the development of his Ajax team in 1969.

"We lost [to Milan] because we were not good enough," he said. "We were building our team. It was good enough to win everything in Holland but not yet everything in Europe."

The different structure of the modern Champions Leagues means the modern Bayern come to their defining tie with much more continental experience and therefore closer to their peak. They arrive ready to finish the job, rather than requiring one more lesson.

At the same time, though, it is the very way that Bayern play that adds a similar depth to this contest.

As exceptional as the Germans' pressing-passing game has been, it is still Barca who apply that approach better than anyone. Their best is still a peak beyond virtually everyone else.

That is someway reflected in this season's average possession stats. Both Bayern and Barca predictably lead the way but, whereas the Bavarians are only at 57 percent, the Catalans are way out in front at 68 percent.

In short, Barca should have more of the ball in this tie, potentially denying Bayern one of the elements that has made them so dynamic. The Catalans might, quite literally, show them how to do it.

That in itself gives rise to two key questions as regards this contest and potentially the future of the Champions League.
First of all, are Barca still capable of making the most of such possession?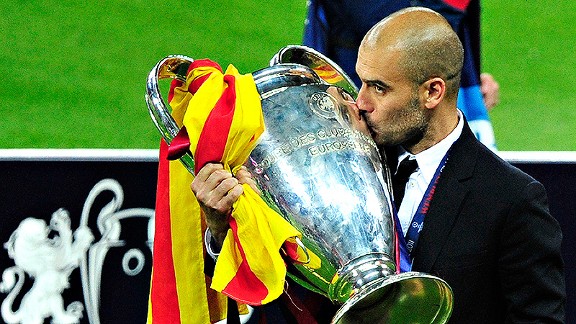 Glyn Kirk/AFP/Getty ImagesThe Pep Guardiola era at Barcelona reached its zenith in May 2011 after a 3-1 victory over Manchester United in the Champions League final.
It has been a sign of their recent decline, after all, that Barca have produced so many more underwhelming performances than in the 2008 to 2011 period. One of the reasons for that has been the absence of both the intensity and tactical edge of Guardiola, as well as the simple fact that a core of their players are now just past their prime.

One of the reasons that they're in the semifinals, however, is that they retain all that experience and excellence -- not to mention a Leo Messi most certainly in his prime.

The crucial variable has been that vigour of old. It is also a vigour that Bayern, by contrast, have consistently illustrated this season.

The second question, though, is whether the Germans will decide to stay true to their own approach and confront Barca on their terms.

Bayern defender Dante is abrasively insistent that they will.

"Barcelona have a great team, the greatest show on earth," he told the Guardian. "But we are at our best at this moment in time, and we certainly won't change our game for them. We don't change for anyone."

Given how many sides have tried that approach against Barca over the past five years and failed, it is perhaps the facet of the tie with the greatest resonance as regards any continental shift.

The reality of Champions League history, however, is that compromise, adjustment and evolution have all been necessary to give rise to the next era.

In 1963, Milan altered their previously free-scoring approach in order to place an extra man, Mario Coluna, and tilt the final their way. In 1969, Ajax took on some of what the Italians did to add an essential extra tactical fluency to their game. In 1973, then, the 4-0 evisceration to the Dutch side sufficiently battle-hardened Bayern.

But, just as the 1973 departure of Cruyff led to the decline of Ajax and provided the Germans with that nuance of fortune that even history's finest teams all need, circumstances may have unexpectedly and counter-intuitively played into Bayern's hands.
When Toni Kroos went off injured against Juventus, it was rightly viewed as a real blow and there is little doubt he would have started this game if fit.

If his absence leads to the introduction of Arjen Robben, though, it may well condition Bayern to bypass midfield a little more and play a more direct, counterattacking game that is actually more conducive to defeating Barca.

Certainly, a defence as chaotic as the Catalans' could have real problems against an attack as intimidating and prolific as Bayern's.

As ever with Barca, though, that back line is only as vulnerable as their possession is wasteful.

And, on the eve of the game, Xavi returned to a familiar theme.

Barca, the midfield architect said, are coming to Munich "at the right time."

In so many senses, it certainly feels like it. It may well be another game for the ages.