Food for thought as Suarez plays hero, villain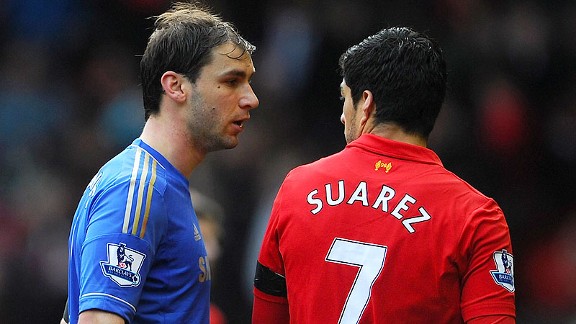 Michael Regan/Getty ImagesForget the final result; Suarez vs. Ivanovic will dominate the headlines.
Say what you want about Luis Suarez -- and I'm sure on the balance of evidence in Liverpool's 2-2 draw with Chelsea, many opinions will be put forth -- but there's no denying him as the ultimate game-changer, for good or for bad, in the English Premier League.

For starters, he changed the game midway through the second half when he blatantly punched a corner kick and conceded the penalty that gave Chelsea a deserved 2-1 lead.



Then, he should have changed it again when he appeared to bite Branislav Ivanovic in the penalty area yet received no second yellow card from referee Kevin Friend (more on him later).

News: Suarez appears to bite opponent


Finally, in the seventh minute of six added by the fourth official, he nodded home Daniel Sturridge's near-post cross to give Liverpool a share of the spoils and further muddy the three-way fight for Champions League football currently being contested by Chelsea, Arsenal and Spurs.

Such is life with Suarez on the field. It's been a while since his last serious transgression (though sadly for Liverpool fans, he's had a few in his career), yet there's always a sense of unease/curiosity as to what he's going to do next.

Whether it be a sublime goal (he's had 23 of them in the Prem this season), a frustrating afternoon (against the Reds' last three league opponents, Villa, West Ham and Reading, he managed 21 shots and 11 on target without scoring) or brazen controversy (Patrice Evra, anyone?), the Uruguayan isn't a man who stays out of the limelight for very long.

Yet on an afternoon in which his late, late equalizer broke a 519-minute barren spell in the EPL, his apparent forearm chomp against Ivanovic is the only thing we'll be discussing for days. And rightly so, given that there are few things you shouldn't do in football -- with attempting to eat your opponent being top of the list.

In a bid to circumvent the bulk of that discussion -- I'm already tired of it, but if you're not, the flurry of slideshows, Zapruder-esque game tape and broader conversations about character, mentality, IQ, temperament and Suarez's scourge-like presence in the "beautiful game" should put paid to that quickly -- let's look at the game as a whole.

Rafa's return merited three points for Chelsea: After a warm spell of applause prior to kickoff for ex-Liverpool boss Rafa Benitez, his new side seldom put a foot wrong at Anfield. They didn't dominate for long, took a while to get into the flow of the game and showed a frustrating lack of sense at the death to allow Suarez an unmarked header inside the 6-yard box -- but despite all that, Chelsea was the better team.

Ramires and Mikel shuttled play effectively in midfield. Juan Mata wasn't as effervescent as usual but showed good vision in possession. Fernando Torres was a surprising choice up front but used his knowledge of Jamie Carragher's and Daniel Agger's bad habits (plus a couple of dives, it must be said) to frustrate the home side on defense. It wasn't a comprehensive performance, but it was more than enough to claim the win.

Daniel Sturridge makes a statement: Since joining the Reds in January, the ex-Chelsea and Man City forward has lived up to most expectations. His pace and persistence from the right wing have added a much-needed attacking threat to Suarez's hungry (I couldn't resist) work in the penalty area.

On Sunday, his fifth goal in 10 EPL games for Liverpool was as pretty as it gets, with a flowing move down the right capped by Suarez's inch-perfect cross and a beautifully composed finish on the volley having worked in behind David Luiz. Then, his late cross found Suarez to return the favor with a goal.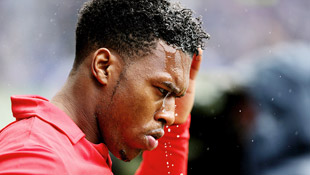 Warren Little/Getty ImagesDaniel Sturridge has impressed since moving to Anfield.

If Brendan Rodgers' style is to be successful at Anfield, he needs that positivity and flair from wide positions. Sturridge showed in his second-half sub effort that he can offer it while the likes of Stewart Downing and Philippe Coutinho are still seeking consistency.

Referee as anonymous as Steven Gerrard: It's very simple to mock or moan about the officiating in soccer. We all do it, whether on Twitter, in the pub or loudly to no one on crowded public transport, hence why the sport's slow grind into modernity will soon see Hawk-Eye goal-line tech in the EPL and GoalControl tested at the Confederations Cup.

Yet on a more primal level, referees are supposed to know how to assert themselves in games beyond the tricky issue of getting goals right or distinguishing a legitimate foul from an egregious dive. Mr. Friend did little of it, allowing this hot-tempered game to continue at a raging boil instead of applying his sense on any number of calls. Many dives yielded yellow cards, Suarez was sight-unseen on his apparent bite despite a plethora of camera angles offering replays within seconds, and the wobbly measure of added time (the goal was notched 16 seconds after the pedantic 96th minute had concluded) gave the Kop a reason to cheer.

Then there's the issue of Gerrard, who was pedestrian for long stretches and also failed to impose himself on an aggressive and confident Chelsea midfield. Replacing him will be a difficult task for Rodgers and Liverpool in the long run. After all, his box-to-box energy and epic sense of timing have defined the Reds since his first game on Nov. 28, 1998. Yet if he puts in more subdued shifts like this, other options might soon become quite clear.

A game for controversy -- and bad defending: All four goals today were eminently preventable, more the result of mental error than spellbinding skill. (OK, the Sturridge goal was so quick and sweet that I'll let it slide). For Chelsea's first, the tiny Oscar was allowed to nod in a corner unmarked at the near post with Carragher left trailing and fuming at the man-marking. That and Pepe Reina appeared a second or two slow to move across, succeeding only in parrying the ball into his own net.

In the second half, Suarez had no need to cheekily punch at the corner -- Torres was primed for a close-range header, but it's anyone's guess as to whether or not he'd score -- that yielded the second Blues goal, either.

Finally, Luiz and Ivanovic are smart players, for the most part. They know Suarez is Liverpool's primary goal threat. Yet neither paid much attention as the striker slipped between them to power Sturridge's cross beyond Petr Cech. Maybe they were too incensed over the alleged bite (or afraid of a second) to notice. They'll be grateful in the end that the bulk of the headlines focus on Suarez and not their slack defending.

James Tyler is an editor at ESPNFC.