Spurs stage one of the season's most impressive comebacks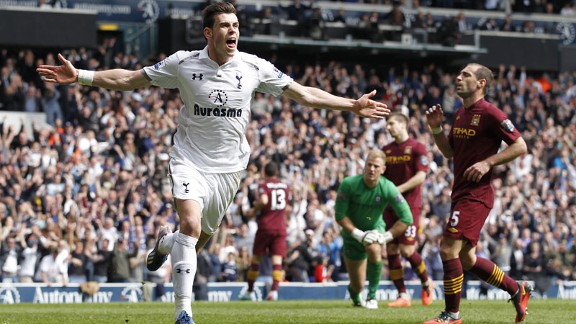 GettyImagesGareth Bale's goal capped an impressive comeback that keeps Tottenham's Champions League hopes alive.
For 75 minutes, Chelsea and Arsenal must have been loving what they saw. Manchester City was in cruise control, leading 1-0 over Tottenham while the sun-drenched pitch at White Hart Lane betrayed the sense of gloom among the home fans. With just one win in their past four league matches, Spurs looked to be reverting to type -- a late-season collapse that would see them finish outside the Champions League places. Instead, Clint Dempsey happened. Then Jermain Defoe. Then Gareth Bale. Three goals in seven minutes gave Tottenham the lead, and ultimately the 3-1 win, over the defending-for-not-much-longer Premier League champion.

In the first half, Roberto Mancini's men continued to show that they have finally rediscovered their spark. Efficient, ruthless and at times brilliant, the Sky Blues went ahead in the fifth minute. Carlos Tevez -- 11 goals in his past nine matches in all competitions -- ran down the right channel. Jan Vertonghen and Scott Parker pushed him out to the corner flag, but Tevez's clever reverse pass found James Milner. He, in turn, picked out Samir Nasri, whose side-footed finish put City on the front foot.

(The Frenchman, by the way, was quite lucky not to have seen red two minutes later for a rash challenge on Kyle Walker. Just ask Fulham's Steve Sidwell.)

As the match wore on, Tottenham didn't appear to have the energy or strategy to break down a sturdy City defense. Casual and way too narrow in their buildup play, Spurs couldn't find a way in while City still flashed threats on the counter. A superb sequence in the 28th minute saw Pablo Zabaleta pick out Tevez, whose one-touch pass to Nasri cut Tottenham apart and illustrated the looming danger.

For Spurs, the game was calling out for Defoe -- in other words, a potential goal scorer with a pulse. The Tottenham striker who started up top at White Hart Lane, Emmanuel Adebayor, was proving yet again that he is mostly an overpaid, underperforming player. Sure, Defoe hadn't found the back of the net since Boxing Day, but his poacher's instinct still beats Adebayor's lack of a killer instinct any day.

Andre Villas-Boas indeed shook things up first by bringing on Lewis Holtby in the 60th minute and then Tom Huddlestone in the 61st minute for Scott Parker. Huddlestone isn't the most mobile midfielder, but his long-range passing immediately changed the dynamic of the match and allowed AVB's men to get in behind the (increasingly sleepy) City back four. The coup de grace, it turned out, was the introduction of Defoe for Adebayor in the 71st minute. Would it be too little, too late?

Up to that point, Bale was nonexistent in the match, and an argument could have been made that AVB should have left him on the bench. But Bale would soon prove that theory wrong, hitting a laser-pointer pass across the face of goal to pick out a wide-open Dempsey at the far post. Game on.

As the tension rose and the challengers got scrappier, Nasri gave the ball away to Holtby (you didn't think the game would go by without one Nasri screw-up, did you?). He instinctively passed the ball to Defoe, whose finish caused White Hart Lane to erupt in rapture. It only got more raucous when Huddlestone picked out Bale, who got in behind the defense to finish off City.

So much for Tottenham's late-season swoon that Chelsea and, especially, their archrival Arsenal were hoping for. This wasn't the campaign's defining game, but a loss would have only reinforced that AVB's side is lacking in the confidence and gusto needed to mount a challenge for the Champions League. But instead of reverting to type, they staged one of the most impressive (and important) comebacks of the 2012-13 season. In so doing, they also gave United a chance to clinch the title tomorrow against Aston Villa.

Tottenham still have five matches to play, including a massive one against Chelsea on May 8. It's a long-enough fixture list to give Chelsea and Arsenal fans hope that Spurs will still trip up. But the display at White Hart Lane on Sunday -- the heart, the grit, the final result -- suggests that AVB's side (currently fifth in the table) has other plans.