Benitez's complicated return to Anfield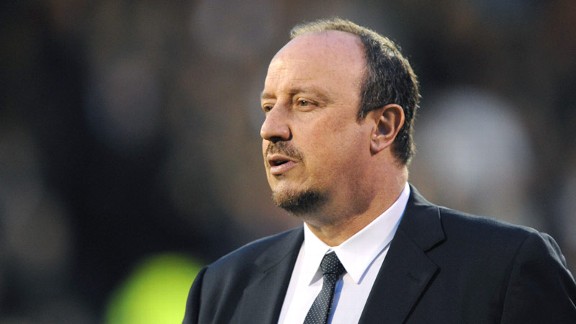 Steve Bardens/Getty ImagesSunday marks the return of Chelsea manager Rafael Benitez to Liverpool.
Publicly, at least, Rafa Benitez was maintaining the facade.

When asked Friday at Chelsea's Cobham training base whether he was completely satisfied with his six years at Liverpool in terms of success, he refused to get into it. This wasn't the time for it; that's not what we were really there to talk about.

Of course, it is Benitez's tenure at Liverpool that has provided so much to talk about at Stamford Bridge -- from his reported comments about the London club's fan base in 2007 to whether he is actually suitable for the Chelsea job.

Privately, it seems he has no problem talking about it. When the Spanish boss was at Internazionale for the first few months of the 2010-11 season, he reportedly spent an awful lot of time insistently defending his record at Anfield.

Having taken over from a hugely popular figure who had finally delivered the Champions League for the club, Benitez encountered a situation with a lot of extra edge and outstanding issues with his squad.

It's been something of a recurring theme for the Spaniard. It also illustrates one of the more curious characteristics of his career.

For a generally amicable man with a hugely respectable managerial record, he polarises opinion and emotion to a disproportionate degree. Worship and admiration are often contrasted with dismissal and disrespect, with little in between.

Sir Alex Ferguson, one of Benitez's biggest rivals, has referred to Benitez as a "clown," while one of his most trusted players in Didi Hamann this week described him as a "genius."

Such differences will effectively be distilled Sunday at Anfield, as Benitez returns to his old club for the first time since departing in June 2010. We may even have the unique situation of a majority of the home crowd cheering and celebrating the opposition manager, while a section of the away support boos him.

Whatever happens, Benitez insists he can't afford to take much notice. While acknowledging that it could be emotional, his only concern is ensuring Chelsea are happy with three points at the end of the game -- another facade.

- When Benitez outmaneuvered Mourinho
- Benitez: Anfield will be emotional
- Match preview: Liverpool-Chelsea

"I am professional. I was there six years. I have a lot of good friends and good memories, so it will be quite emotional," Benitez said. "They know me. Everybody [there] knows me. But I will concentrate on the game and try to do my best for 90 minutes.

"I'm committed to Chelsea until the end of the season, to win and achieve our targets. I will try to win. I'm sure the past, with Liverpool fans, where I was there for six years winning things, they will appreciate that. But they will support their team, and I will try to do my best for mine."

It cannot go unacknowledged, however, that a section of Liverpool fans were not exactly unhappy that he departed in the summer of 2010.

That is one of the many shades of gray amid the otherwise black or white opinions on Benitez. Similarly, as much as soccer is a sport that persistently tries to put forward an unrealistically polished image of itself, the Spaniard is one manager for whom the public facts are often confused by the private briefings, suggestions and hearsay.

Take the perceptions of that much-debated record at Anfield. What we know for sure is that Benitez returned the European Cup to the club in hugely dramatic and impressive circumstances and involved it in its only true title race since 1990. He also, however, failed to build on that and went four years without a trophy, ultimately finishing in seventh.

How you rate that depends on your interpretation. That interpretation, however, is dependent on a multitude of other issues.

On the one hand, Benitez will point to limited funds in contrast to his rivals and the interference of Liverpool's previous owners -- Tom Hicks and George Gillett.

On the other, many will point to his insistence on getting deeper involved in such politics and a fair few transfer failures with the money he had. The sale of Xabi Alonso in the summer of 2009, just after Liverpool had run Manchester United so close in the title race, would appear to sum this up.

At the moment when things seem to become clear for Benitez, a complication arises -- often of his own making. Success or progress always has a footnote.

It has been much the same at Chelsea.

How Benitez compares:

Win %; PPG; Scoring record; Defensive record

Benitez at Liverpool: 55%; 1.9; 1.63 goals; 0.8 goals
Villas-Boas at Chelsea: 48%; 1.7; 1.74; 1.19
Di Matteo at Chelsea: 52%; 1.83; 1.82; 1.17
Benitez at Chelsea: 52%; 1.76; 1.95; 1.1

Benitez inherited a squad that had been on a dismal run under Roberto Di Matteo, and those close to him have frequently briefed the media that the previous fitness of the squad was simply not equipped to successfully navigate such an intense season. At the same time, some of his attempts at necessary rotation have seemed to put certain results at risk, and it has always been as if he is treading a fine line to a rather precarious degree.

Adding to all that, Chelsea are one of the most idiosyncratic clubs in the world -- with the uncertainty over the futures of John Terry and Frank Lampard just one of many dramas at Stamford Bridge.

News conferences with Benitez have often taken on absurd tone as he has been asked about issues that he has absolutely no control over. That was the case on Friday again, as he was quizzed about the arrival of a player he may never get to manage: Andre Schurrle.

As amicable and down to earth as many find Benitez on such occasions, though, it cannot be denied that his indisputable ego has infringed on his career.

Indeed, for all his many managerial qualities, part of his problem has perhaps been taking on challenges that are a little too big.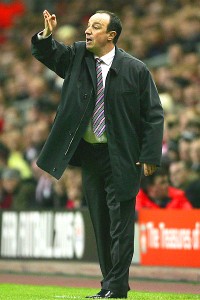 Alex Livesey/Getty ImagesThe emotive Benitez took the helm at Anfield in summer 2004 and brought home a Champions League trophy the following May.
In 2008-09, for example, he finally tried to confront Ferguson head-on rather than in the understated manner that had previously served him. And while the infamous "facts" rant has polarised opinion even more than Benitez himself, there is one unfortunate reality to it for the Spaniard.

Following it, Liverpool won only two of their next seven league games. As impressive as their 4-1 win over Manchester United and the intense late rally after that were, it was there that the 2009 league title was lost.

In 2010 at Inter, he arguably never had a chance to win, as the club refused to make the transfers necessary to an aging, emotionally exhausted squad after the departure of Jose Mourinho.

Now, in 2012-13, we have Chelsea.

Certainly Benitez has failed to do the "great" job he spoke of a few weeks ago. Eminently presentable chances to win the Club World Cup, the League Cup and the FA Cup have been squandered.

Those failures, though, may be the root of what is ultimately a successful season.

Sunday's match at Liverpool, after all, marks the beginning of what is the most demanding run-in of all the teams in the Champions League chase. Chelsea face trips to Manchester United and Aston Villa in their last six games while also hosting Tottenham and Everton.

If Chelsea's squad is fresh and fit to successfully navigate those challenges, as well as a Europa League victory, it may all have been worth it. That has been the case in the past for Benitez teams, not least the manner in which Liverpool combined a superb run-in and an FA Cup win in 2005-06.

In that sense, this fixture against his old club will provide a different kind of barometer of where he is as a manager. A coach who prides himself on tactical sophistication and innovation will take on someone, in Brendan Rodgers, who has a very defined template. It will be increased passing against greater pragmatism.

Where Benitez will be at as a manager next season, though, is still unknown. He denies that he has tempered the Chelsea team in view of his achievements.

"I don't think about my CV. I think about my targets, to finish in the top four or top three. That's very clear," he said. "To win is always good."

That will certainly be the case Sunday, regardless of reception. And there is no facade about that.

How Benitez's big teams have fared in the final six games of a season:

Valencia 2001-02: 16 points
Valencia 2002-03: 7 points
Valencia 2003-04: 8 points
Liverpool 2004-05: 8 points
Liverpool 2005-06: 18 points
Liverpool 2006-07: 8 points
Liverpool 2007-08: 14 points
Liverpool 2008-09: 16 points
Liverpool 2009-10: 9 points