Should Edinson Cavani leave Napoli?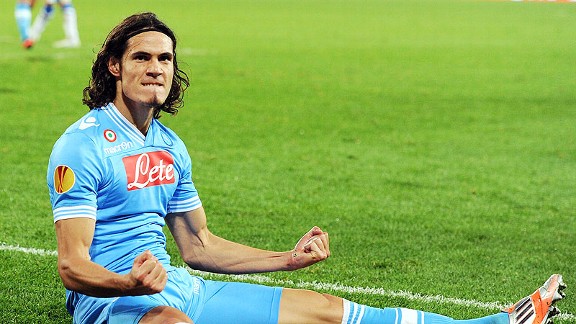 Giuseppe Bellini/Getty ImagesEdinson Cavani, who's scored 30 goals in all competitions this season, may be on his way out of Napoli. Is it the right move?
As a nephew of the film producer behind some Federico Fellini classics, to say nothing of "Conan the Barbarian" and "Flash Gordon," Napoli president Aurelio De Laurentiis has always approached football as if it were show business. Which it is, of course. So when Napoli revealed that they were to hold a press conference on transfer deadline day last summer, journalists knew they were in for a spectacle.

A year earlier De Laurentiis had unveiled new signing Gokhan Inler in a lion's mask. With that still fresh in the memory, you can perhaps imagine the heightened sense of anticipation beforehand and the speculation at what stunt he might pull this time. In the days, weeks and months leading to it, one news item had dominated the local agenda: the future of striker Edinson Cavani. Today they'd finally have an answer.

- Cavani's mother says he wants to leave Napoli
- Cavani will listen to all offers

On their arrival at Castelvolturno, the press corps were treated to an opening act from Napoli communications director Nicola Lombardo. Striding around on stage, he tried to set the scene. There were two possibilities, he said. Either Cavani would stay or go. It was time to hear what decision had been made. And so with no further ado, he welcomed Cavani and De Laurentiis to face the media.

It looked as if they were the bearers of bad news. "Good evening everyone," De Laurentiis said, his face serious and sorrowful. "At times, marriages come to an end and we're here today to announce that unfortunately Edi wants to go to England, to that cold city of Manchester. He'll be there in a few hours. There's a plane to take him to that destination."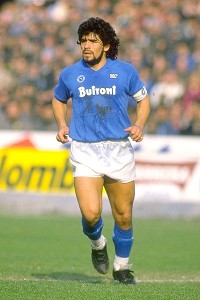 David Cannon/Allsport If Cavani stayed at Napoli for another year, he would likely overtake Diego Maradona has the club's all-time leading scorer.
Turning to Cavani, he said: "What do you say?"

De Laurentiis had kept a straight face throughout. His delivery had been deadpan. Some members of the audience had been taken in. They'd fallen for it. "There's a strike," one shouted in desperation. But De Laurentiis maintained the pretense. "An airline strike?" he replied. "There are still private planes." All eyes in the room focused on Cavani again. "What do you say?" "Nothing," Cavani smiled bashfully, a touch embarrassed by the whole thing. "Let's sign."

The jig was up. Cavani was staying after all. In the midst of thanking the club and its president, De Laurentiis, ever the showman, interrupted him and said: "Come on then, sign." Lombardo brought out a new contract.

Pen was put to paper, then to a Napoli shirt with Cavani's name, number and 2017 on the back, the year the deal will expire.

Even by De Laurentiis' standard this was some coup de theatre.

With the exception of a 729-minute goal drought from February to March, Cavani, scorer of 30 goals in all competitions this season, has once again proved to be arguably the league's most valuable player. As such, the piece of paper he signed on Aug. 31 hasn't brought an end to the uncertainty about his future. With the title race all but over, this promises to be the most compelling storyline to follow in Italian football over the next few months.

Cavani's deal at Napoli

But first let's return to the events of last summer and reflect on just what an achievement it was for De Laurentiis to tie down Cavani and the position in which it left him and Napoli heading into this summer.

Napoli had finished fifth in Serie A, 23 points behind Juventus. All their efforts had been geared toward the club's first-ever Champions League campaign. That had been their priority. After emerging commendably from a Group of Death, which comprised finalists Bayern Munich, Premier League champions Manchester City, and Villarreal, they were knocked out in the Round of 16 by eventual winners Chelsea despite taking the first leg 3-1 at San Paolo.

Napoli left the competition with their heads held high and the reputations of the club and its players enhanced. No more so was that the case than with Cavani. He had scored five goals in his maiden Champions League campaign, including a brace in a 2-1 victory over City at the San Paolo and another goal prior to that in a 1-1 draw at the Etihad. If football's elite somehow weren't already aware of him, they certainly were now.

Any pain felt at missing out on qualifying for the Champions League again was temporarily eased by Napoli's triumph at the end of the season in the final of the Coppa Italia in Rome. There they quite impressively beat Juventus 2-0, depriving them of a league and cup double and ensuring that they didn't finish the campaign undefeated in all competitions. Cavani had scored a penalty shortly after the hour mark, then Marek Hamsik delivered the coup de grace seven minutes from time to end Napoli's 22-year wait for a trophy.

It was a historic and emotional night. One member of the so-called Three Tenors, Ezequiel Lavezzi, bid a tearful farewell. Five years in Naples had been all-consuming. He was leaving for Paris Saint-Germain.

Trepidation about Cavani's future made itself felt too. A player like him, pundits said, should be in the Champions League. He wouldn't be this season. Interest was high. De Laurentiis later revealed he'd even turned down two offers worth 55 million euros. Then there was Cavani's wages. The Uruguay international was arguably Serie A's best player along with Zlatan Ibrahimovic, yet while the Swede earned 9 million euros a year, he was on an annual salary of just 2.2 million euros. The man was due a pay rise and there were said to be a number of teams across Europe willing to satisfy his demands.

De Laurentiis had let it be known that he was more than prepared to do so himself. Things got complicated when Cavani's wife, Soledad, pregnant with their second child, Lucas, was mugged in Naples while he was away on international duty at the 2012 Olympics. Sensing how this might jeopardize everything, De Laurentiis flew to Cardiff to reassure Cavani that everything was all right, Soledad was being taken care of and the club was there for them both.

As a gesture, it meant a lot to Cavani. They discussed his contract there, and an agreement was reached. The player got, more or less, what he wanted, but then so did the president. Included in a deal worth 5 million euros a season to Cavani over the next five years was a buyout clause worth 63 million euros. Anyone wanting Napoli's star player now knew how much it would take to even get a seat at the negotiating table.

De Laurentiis, it's fair to say, deserves consideration along with Tottenham chairman Daniel Levy and his counterpart at Porto, Jorge Nuno Pinto da Costa, as one of Europe's hardest bargainers.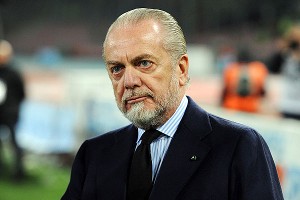 Giuseppe Bellini/Getty ImagesAurelio De Laurentiis, ever the showman, worked his magic to keep Cavani at the club last season.
Here he'd reinforced an already strong position. He'd secured Cavani's services for at least another year, setting up if not a tilt at the title then a return to the Champions League. Qualification for that would bolster revenue, provide an attraction to the player and thereby strengthen his hand even further ahead of negotiations to keep or sell Cavani the following summer.

By establishing a prohibitive price, De Laurentiis had also protected the value of his most lucrative asset, ensuring that even if Cavani were to give Napoli just one more season before being allowed to leave -- a promise the owner had made Lavezzi in 2011 and didn't break in 2012 -- then the club would at least be handsomely remunerated.

Oh, and De Laurentiis wasn't grandstanding either when he said: "We don't need the money. We need Cavani." Napoli are under absolutely no obligation to sell. The club has reported profits for six years in a row, a rare feat in football anywhere.

With Financial Fair Play coming into effect, Napoli are well-placed while other teams, which may be interested in Cavani, aren't. That might make some think twice about their chances of signing him. Because in addition to the buyout clause -- and assuming De Laurentiis doesn't accept a discount -- they'd have to commit a further 35 million euros in wages, a figure the press arrived at amid indications that he would ask for a five-year contract worth 7 million euros a season. The operation as a whole, including agents' fees and the like, might, if estimates are to be believed, therefore cost the buyer in excess of 100 million euros.

What will happen this summer?

But, as De Laurentiis knows, you can't keep a player against his will. "It will depend on him," he says. So how does Cavani see things? Interestingly and amicably he says it'll depend on the proposal De Laurentiis makes.

The state of play from Cavani's perspective is as follows: This is his third season at Napoli and there's a sense that the time has come to move on. At the beginning of the campaign, you got the impression that he had a dream that went a little like this: follow up the Coppa Italia by winning the club its first Scudetto since 1990, then leave a hero. Unfortunately, things haven't gone quite to plan. Napoli are 11 points behind Juventus, and the Scudetto is gone for at least another year.

Can he leave on that note? With unfinished business? No one would begrudge him if he did. However, Cavani has spoken about wanting to leave a mark on Napoli.

Now you could argue that he has already done so. He has broken the club's single-season scoring record, which had stood for 78 years. He has helped Napoli into the Champions League at least once, not to mention win their fourth Coppa Italia. And in the midst of a third consecutive 20-goal season in Serie A -- a feat only achieved by Gabriel Batistuta and Antonio Di Natale in the last 50 years -- he looks likely to finish this season Capocannoniere for the first time too.

But is that enough for him? Is that what he meant by leaving a mark or did he mean leading Napoli to their first Scudetto since the days of Diego Maradona? If so, the question you assume he's asking himself is this: Is it worth staying on another year for another crack at that? And realistically speaking, does he believe they can do it? After all, he did at the beginning of this season and they have come up short. He's entitled to wonder whether anything will be different next year. It's up to De Laurentiis to persuade him that enough will change in the summer to make them better contenders than they already are.

Time is on Cavani's side. He turned 26 in February and, let's be honest, were he to win Napoli their third Scudetto, he might as well be immortal. Another year on the bay would also be enough at his current scoring rate for him to find the 19 goals needed to overtake Maradona as the club's all-time leading scorer too.

De Laurentiis certainly has enough of a case to make him believe that staying would be worthwhile. But will it convince Cavani or will he be led into temptation? He has made no promises to stay, only to give everything for Napoli for as long as he's still around.

His father, Luis, has said there's a "50 percent" chance he'll go to Real Madrid and, speaking to a radio station in Uruguay this week, his mother, Berta, also supposedly revealed "he told me he wants to go elsewhere and to leave Napoli, but also that one day he'd love to return to Napoli."

Her response to that suggestion was especially telling.

"Naples is a city that lives for football," she said. "The affection of the people is unique and I have always explained to my son, 'No other place will love you like they do in Naples.'"

She's not wrong. Whether it'd be the right decision for Cavani or not, though, only he knows.