Glass ceiling hampering Everton and Moyes
Even after his team had almost certainly surrendered their outsider's chance of reaching the Champions League by drawing with Arsenal, David Moyes seemed to be enjoying himself.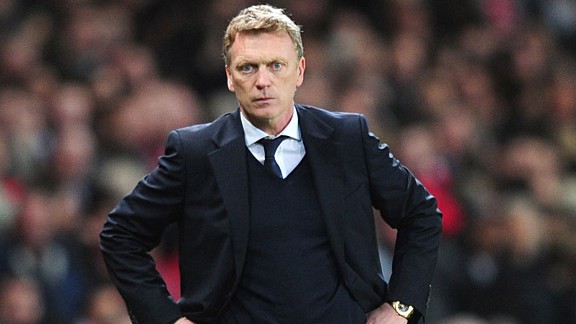 PA PhotosDavid Moyes' Everton played out a goalless draw at Arsenal that did little to boost their top-four hopes

"I didn't see it; I know someone who says that quite a lot." His answer to questions about a half-time tunnel row was a gentle jibe at Arsene Wenger but with no hint of malice. These days, even Wenger laughs about that one. The overall tone from Everton's manager was satisfaction; Moyes recognises that his team can only bang its head against a glass ceiling.

"I would take it (the Europa League), but I am going to try and get the Champions League - if we are still getting that mention in mid-April, then it is not bad for Everton."

Not bad for Everton? This would be the Everton who are one of English football's most successful clubs, a member of the original 'Big Five' that pushed for the formation of the Premier League in 1992. Time has sunk expectation. Everton have long been overtaken as a power in English football. Only Moyes' consistently excellent management has kept them being mentioned in April.

The Scot is yet to sign a new contract to stay beyond this summer. A recent relaxed and open manner suggests a de-mob happy manager who knows his future lies elsewhere. Moyes has not won the trophies to attract even aspirant superpowers - he was passed over by Tottenham last summer - so his future may lie abroad, with the Bundesliga said to be fancied.

Finance has never allowed Moyes to buy Everton the players to alter his team's fortunes beyond being the best of the rest. The landscape of the Premier League ownership makes multi-millionaire chairman Bill Kenwright a comparative pauper. The theatrical impresario has never found the buyer he feels could trust. That has frustrated Toffees fans in the past, but a glance across Stanley Park and the mess that Tom Hicks and George Gillett created at Liverpool may have quelled such impatience.

Everton are one of just five Premier League clubs to have actual supporters as their owners: Norwich City have Delia Smith and husband Michael Wynn-Jones; West Brom are helmed by local boy Jeremy Peace; Huw Jenkins leads a group of wealthy local businessmen at Swansea City; Davids Gold and Sullivan are in charge at West Ham.

Last week saw the Premier League's current 20 clubs authorise its own version of Financial Fair Play. It was a motion reported to have passed the required two-thirds majority by only a narrow margin. In February, Swansea and West Brom, two of football's best run clubs, were against the bill, their logic perhaps being that they could manage their own finances very well, thank you.

Gold and Sullivan were major players in the push for regulation. Their reasons centre on taking over a club set on a debt-ridden road to ruin by its previous ownership. Norwich's finances are steady enough anyway, and the new regulations would only cement their outlook. Everton however, are living on the limit, with a high wages-to-turnover ratio. Tuesday's Times newspaper rated it at 78.8%, as compared to Norwich's at 49.3%, the lowest of all. Reading, who abstained in February's initial vote were at 180%, though the Premier League will not be their concern next season. Southampton, for whom chairman Nicola Cortese was vehemently against FFP, are second-highest at 124.4% but their ratio will have been lowered by this season's TV cash.

The arguments against Financial Fair Play have been around for a while now but remain compelling. The glass ceiling is being reinforced with platinum against even clubs the size of Everton. Even if Kenwright finally finds the wealthy benefactor to fund Everton's rise back to prominence, their climb is restricted by the low base from which they began.

Any club spending over £52 million per season of their TV revenue on wages can only extend their lay-out by an additional £4 million in the next. A weekly wage increase of £80,000 a week might only land one quality player. £105 million over three seasons is the limit of losses allowed. In short, reaching for the stars by going for broke is no longer possible.

The inability to fractionally increase wages - Manchester United for example paid out £161.8 million - means big clubs can prevent big stars holding them to ransom; Yaya Toure's rather hysterical recent negotiations may be the last of their kind. However, smaller clubs cannot now better their playing fortunes by paying the high wages needed to attract stars to lowly surroundings. Sam Allardyce has already invoked FFP as a reason West Ham may not sign Andy Carroll on a full-time deal.

In a case of shutting the stable door once the horse has jumped the first in the Grand National, it appears Queens Park Rangers wanted Financial Fair Play. The Times places their wage bill as being 92.2% of turnover, but that's from last season, before two transfer windows of millions being wastefully lavished on under-performing mercenaries. With relegation almost certain, even lucrative parachute payments will not catch Rangers' fall.

The romance of local-boy-made-good Jack Walker philanthropically funding the 1994-95 title win for Blackburn Rovers will no longer be possible. Dave Whelan's propping up of Wigan Athletic becomes more difficult to maintain too. There can now be no such thing as the Arabian lottery win which propelled Manchester City to success. Needless to say, their administrators were in the 'no' camp and are looking for ways around the new restrictions.

The Glazer family, Fenway Sports Group and Stan Kroenke were leading lights in the proposals, though their countryman, Aston Villa's Randy Lerner, was anti. All will be acquainted with similar frameworks from American sports but English football has no draft system to refresh ailing rosters, and holds the ruinous threat of relegation too. Extra money from sponsorship and matchday income is still allowed to be spent on wages, which spells little in the way of good cheer for match-going fans. A £5 billion bonanza will not be used to help lower admission prices. Instead, the lucre will wash into the pockets of owners who do not have to put any more money in.

And Everton must stay on the outside looking in, something their current owner has signed them up to. Prudence is both admirable and understandable but it will come at the price of success, and most probably Moyes now too.