Battle for domination of European football
One of the beauties of the Champions League semifinal draw is that the pairings of Bayern Munich with Barcelona and Real Madrid with Borussia Dortmund are going to stoke the brewing battle for complete domination of European football -- the battle between Germany and Spain. It has been building for a while.

At the international level, La Roja has had to shake off Germany in two of its three tournament wins since 2008 -- in that final plus the semifinal of 2010 -- while there was the strongest of impressions given in 2012 that Germany were so preoccupied with how they were going to beat Spain in the final that they forgot due diligence against Italy in the semis.

It bears repeating what Iker Casillas told me during the South African World Cup: He feared Germany were building a skilled, aggressive era of young footballers through which they intended to rule Europe for a couple of generations. He said it with the utmost respect in his voice.

Now, three years later, here we are with no English sides in the Champions League quarterfinals, Italy having lost an automatic qualifying slot for the tournament and the last four comprising dos de la Liga and zwei von Deutschland.

The German national team has a manager in Joachim Low who is obsessed with the Spanish technique, its style of play and how attractive La Roja has become to watch. He often talks about the team glowingly.

Bayern Munich has signed Pep Guardiola to take over at the end of this season, and the club topped competition from all over Europe to make its record signing in Javi Martinez from Athletic Club for €40 million last summer.

I recently spoke to one of Low's beaten finalists from Euro 2008 and we were discussing Barcelona's recent 4-0 thrashing of AC Milan.

"How could anybody not recognise that as the best football it's feasible to play?" he asked me.

While German football got on with getting a great deal right in its infrastructure over the past decade -- new stadia, great transport links, affordable ticket prices, better marketing and greater turnover -- it has also put a high premium on the development of skill and technique.

What Casillas was talking about was the fact that his generation of German rivals had already been fearsome enough, but behind them there was arriving a great wave of the kind of quick, mentally agile, highly skilled adventurers who closely resemble Juan Mata, David Silva, Isco, Santi Cazorla and Jesus Navas. You know their names: Thomas Muller, Toni Kroos, Mesut Ozil, Mario Gotze, Marco Reus, Andre Schurrle, Sami Khedira, Holger Badstuber, Manuel Neuer, Ilkay Gundogan and Mats Hummels.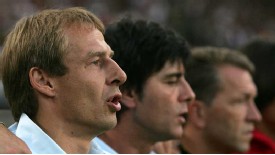 PA PhotosJurgen Klinsmann and Joachim Low put the emphasis to attack when taking charge of the German national team
The catalyst for change in Germany was the appointment in 2004 (coincidentally Spain's lowest moment of recent history given that they failed to even emerge from the group stage in Portugal) of Jurgen Klinsmann and Low.

Klinsmann explains: "We began the whole regeneration process by trying to give our national team an identity which was to go down an attack-minded route, passing the ball on the ground from the back to the front line as quickly as possible using dynamic football.

"We made our plans very public and made it clear that we were trying to rebuild from the bottom up. The German Football Association helped us by putting a lot of pressure on all the first- and second-division teams in the Bundesliga to build academy programmes and ensure talented young players were coming through.

"We held workshops with German coaches and players, asking them to write down on flip charts three things: how they wanted to play, how they wanted to be seen to be playing by the rest of the world and how the German public wanted to see us playing. We then announced that it was our intention to play a fast-paced game, an attacking game and a proactive game.

"It meant we did not react to what our opponents did; we played the way that was right for us."

The result is that Spain and Germany are now ranked first and second in the world. The German national team and a couple of the Bundesliga's creme de la creme are fantastic to watch and have earned new popularity outside their own country. Bayern reached the Champions League finals of 2010 and 2012, while Germany's record in national tournaments from the 2002 World Cup reads: second, group stage, third, second, third, third.

What is fascinating about the "Spanification" of their football is that they have stolen a march on England.

When Spanish players began to choose the English adventure (Morientes, Mendieta, Fabregas, Pique, Alonso, Arbeloa Torres, Reina, Arteta) it advanced Spain's cause exponentially. What they learned in England was shared with friends, former colleagues and national team stars when they returned on international duty, on holiday or permanently.

Mentally and physically, they became more robust. The aggressive Anglo-Saxon hunger to win, and to compete as if this were the battlefield, proved infectious.

It emerged, clearly, that if you could blend certain British characteristics with the technical excellence and tactical intelligence of the modern breed of Spaniard, you'd have something approaching the perfect footballer. Trophies would fall, an era of domination could be built.

Instead of England being next to seize that "hybrid" territory, Germany has done so.

German football is imbued with all the physicality, all the hunger, all the belligerence of British heritage but now they are producing a wave of guys who have just the technique, friendship with the ball and intelligence to allow them to resemble the Spanish.

Legendary former Bayern star Paul Breitner, who also played for Real Madrid, recently told ESPN Brazil: "For the last few years, Barcelona have dominated Europe but we want to do so now, and we are convinced that with Guardiola in charge we will do so within 12 or 18 months."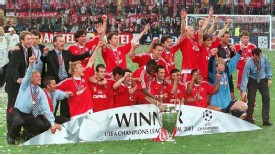 GettyImagesBayern Munich's 2001 Champions League success was the last for a German club
But here's the rub: The German national team hasn't lifted a trophy since 1996, no Bundesliga club has won the Champions League since 2001, and the last UEFA Cup/Europa League success came in 1997.

During the equivalent period, Spain's trophy list hits 12 across the World Cup, European Championship, Champions League and UEFA Cup/Europa league -- plus, to the winner the spoils, seven more UEFA Supercups.

The German football revolution is real. Generally their clubs are better run, financially more sound and with better attendance, and they are also beginning to cherry-pick the best Spanish talent.

It may well be that at both club and country level, it's just going to take one significant victory to unleash a torrent -- to finally confirm the era of domination Casillas warned about. But like the infamous "close that sale" saying, it's always harder to seal the deal than take an attractive package to the table.

Perhaps this is the year. But if not now, then soon. What happens when the trophy does finally drop into German hands -- now that will be fascinating.