Where has it gone wrong for Newcastle?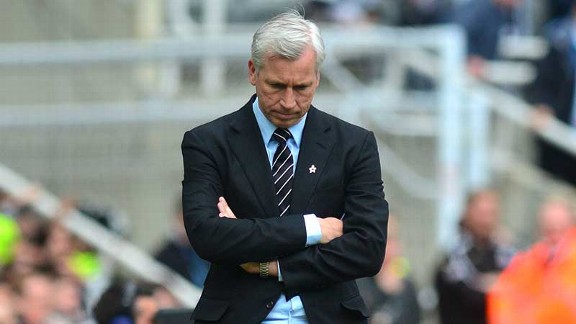 PA PhotosAlan Pardew: More questions than answers for Newcastle boss
As the hoards of travelling Sunderland fans sang their taunts, Alan Pardew cut a desolate figure. "It's up there," he said, ranking his most disappointing moments as Newcastle manager. Speak to fans and they'll tell you it sits on top of the pile, by some distance.

Clutching at excuses, his attempts at mitigation were lame and did little to rectify the despondent mood on Tyneside. "After Thursday night we couldn't really do much because of the (energy) levels of those players," he said. The claim fell on deaf ears. Five of the starting eleven had not played on Thursday night, while Sunderland themselves had a number of injury concerns to contend with.

- Duffy: Gutless Newcastle humiliated in derby
- Randall: Sessegnon inspires Sunderland to Tyne-Wear glory

His reasoning also did little to explain just why his team had looked so flat, playing without any sense of urgency. It wasn't the first time the Magpies had faltered this season, with many fans asking why the Magpies in the bottom half rather than the top.

So where has it all gone wrong? Below are some possible reasons.

Summer spending - Linked with a bevy of names, Newcastle fans can easily recount the players they were supposed to sign, but didn't. A frustrating summer period saw Vurnon Anita as the only real purchase of note. Players like Roman Amalfitano, Gael Bigirmana and Curtis Good came in, but none were ready for first team action. Still relying on the notion that their players simply wouldn't get injured was chronically naive by the club's hierarchy, whose biggest mistake was refusing to budge on certain player's asking prices. The couple of million saved hardly seems worth it when you consider what they may have achieved.

Consistency - When Newcastle held one of the Premier League's best defensive records in Pardew's first season, people questioned just what he was doing differently. Perhaps it was a new tactic, or coaching style learned during his sabbatical in Germany following his sacking from Southampton.

The real answer was far simpler. He was holding extra sessions with just his back five and schooling them in the art of working as a unit. How to position themselves in relation to the ball on the field for example. Able to start the same five players consistently, they were well drilled and coached extensively. It's nigh on impossible to build such a unit amid constant changes in personnel. Of that group, all five have been burdened with injury at some point this season. Unquestionably the club have been unlucky with injuries, but their methods are also unrealistic as a long-term strategy in the Premier League.

Pardew himself - There was a period last year (around spring) that Newcastle were arguably the best team to watch in the Premier League. Exciting and dangerous, their front three of Hatem Ben Arfa, Papiss Cisse and Demba Ba was blessed with a dynamism that had previously been lacking. Typified by the 3-1 demolition of West Bromwich Albion, it seemed the club had finally incorporated their three best attackers into a system. Then they suffered a freak 4-0 result against Wigan and Pardew scrapped it.

His natural disposition as a negative, defensive manager has shown itself this year. Gone is any real attempt to play fluid football, with Cisse constantly isolated from those around him. When he joined the club, Yohan Cabaye had spoke of how he'd been sold the idea of the club playing a possession based game. Occurring in spates during his first season, this season they simply haven't. It's been bloated, direct and just not nearly as diverse as the last campaign.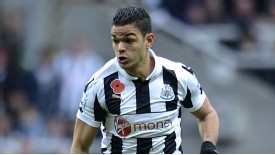 PA PhotosHatem Ben Arfa: Limited impact
His tactical naivety has also been of real disadvantage to Newcastle this year. There have been a number of games where luck, rather than judgement, has seen Newcastle prosper, including the wins over Stoke City and Southampton. Using Shola Ameobi as his go-to substitute, Hatem Ben Arfa now also seems lumbered with changing the game form the bench - the irony being that when he has the ball his team-mates become frighteningly static.

Even his handling of Checik Tiote has been poor. Giving the defensive midfielder more responsibilities has destroyed what he had become famed for - simplicity. Proliferating the idea of him being a tough Mr T type midfielder has also done him no favours with referees. Sent off in the Wear-Tyne derby, his reputation rather than the challenge saw him walk that day.

As Sunderland boss Paolo Di Canio gave his post-match lecture, he fulfilled all the preconceptions people had of him. But while he may seem eccentric, few can contest that he has drastically changed the fortunes of Sunderland already. The Black Cats now sit just two points off their greatest rivals.

Perhaps the most damming fact comes when you compare those around him. Since the start of the year two younger, less experienced managers have come into the Premier League in Di Canio and Mauricio Pochettino and already both have produced better performances and produced more cohesive units than Pardew. And with arguably less talented players.