Millwall play against old stereotypes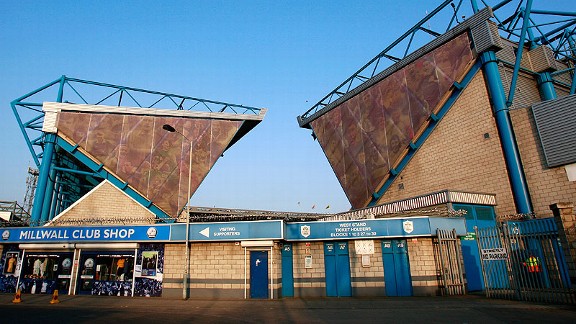 Dan Istitene/Getty ImagesThe Den is home of Millwall Football Club, once infamous for some of the most violent fans in Britain.
It's a Tuesday night, a Champions League night, but instead of settling on a couch for Borussia Dortmund-Malaga or Galatasaray-Real I'm in South London, dreary and cold, at the New Cross Gate Overground station, headed to The Den, home of Millwall Football Club, once infamous for some of the most violent fans in all of Britain. "No one likes us, we don't care," its supporters sing during matches. I wanted to see Millwall and The Den for myself, and what better than four days before its FA Cup semifinal against Wigan at Wembley Stadium.

Close to the Overground is the well-regarded Goldsmiths College, which produced Damien Hirst and the Young British Artists of the mid-1990s, but moving toward The Den it's clear that this is the London that the new go-go economy (and the Barclays Premier League) forgot. There's a hotel that advertises rooms for 25 pounds per night (or is that per hour?), fried chicken-and-fish joints (Fish Republic), storefront churches (Christ the King Chapel, though no sign of Lamar Odom), auto-part garages, car washes and bleak council housing.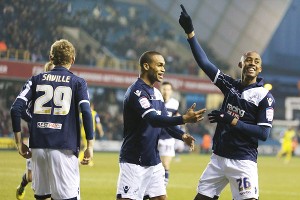 Ian Walton/Getty ImagesJimmy Abdou scored in a losing effort against Sheffield Wednesday, but Millwall now prepares for the FA Cup semifinal vs. Wigan at Wembley.
To a native New Yorker (and Bronxite) like me, it's a cross between Willets Point and the South Bronx, not necessarily a bad thing. It's the anti-London. Or maybe the real London, as the city center is overwhelmed with wealthy foreigners, a Costa Coffee or Pret a Manger seemingly on every corner and, according to a recent front-page article in the Evening Standard, average rents of 5,000 pounds.

As I get closer to the ground, I'm nervous, to be honest. I came to soccer in the 1980s and read a lot about England's violent football culture. At the top of the hooligan list were Millwall's Bushwhackers. In 1989, The New York Times Sunday Magazine ran an excerpt from Lesley Hazleton's book "England, Bloody England," which included this: "In January 1986, a bus full of Millwall supporters was returning to London after a game in the north. It stopped at a motorway service station just as two buses of Newcastle United fans pulled in. Millwall had played Sunderland, not Newcastle that day, but 30 Millwall fans nevertheless went crazy. They trashed the cafeteria, then leaped on Alan Price, a 27-year-old geologist, as he stepped out of a phone booth, and beat him to a pulp. They then scattered business cards over him -- printed, embossed cards reading, "Congratulations, you have just met the Bushwhackers."

That was pre-Taylor report, pre-Prem, but even into the 1990s -- and a new stadium, The New Den, in 1993 -- and 2000s, Millwall's reputation remained. As recently as 2005, in the ridiculous movie "Green Street Hooligans" starring Elijah Wood, Millwall toughs have several unflattering cameos. That was fiction; YouTube is reality, or at least partial, edited reality, and Millwall still appears to have its hell-raisers.

Even that name, The Den, is open to interpretation. Cozy reading room? Or something more base and, to quote Tarantino, medieval? Or both? What I first notice is the acrid smell. It's virtually adjacent to a waste-transfer station and an incinerator spewing smoke. I mill around a couple of hours before the match, tonight against Sheffield Wednesday, which are in the bottom half of the Championship table with 50 points. Millwall, with 52, are still uncomfortably close to the relegation zone yet, ironically, a win over Wigan on Saturday would likely qualify them for Europa League next season.

As more fans reach the ground -- some head to the team shop, some to 'Arry's Bar -- I'm surprised (and relieved and delighted) that the atmosphere is quite placid, even friendly, that the stereotype is confounded.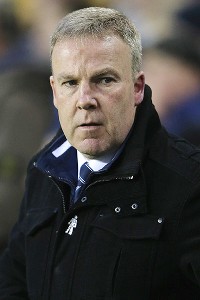 Ian Walton/Getty ImagesKenny Jackett, appointment as Millwall manager in '07, is the fourth longest-serving manager in the club's 127 history.
"We're a great family club," says the kindly 57-year-old Geoff Coe, a Millwall fan since he's been 7. "Everyone gets on down here, but the rest of the country sees us different. There's been various things that have happened over the years, and as I say, give a dog a bad name and it sticks, and it has certainly stuck with us."

His friend Mark, 37, a fan for 30 of those, says, "When you tell someone you support Millwall, they take a step back. And if they say, 'You're not a typical Millwall fan,' I say, 'I am.'"

"We are typical Millwall fans," Coe says. "But as the press see us and as the rest of the world see us, we're not typical. If we're not smashing something up, if we're not swearing at the opposition or something like that -- that's what the press wants to see."

He goes on to say that before Millwall's fifth-round FA Cup match against Luton, the English media played up the notorious riot between the two clubs' supporters in an FA Cup game in March 1985 (available on YouTube with the indelible voice of John Motson), despite the numerous (and incident-free) times they've met since.

If Champions League and the Premier League are the epitome of soccer as a globalized product, this is soccer at its most local and maybe even soulful. Historically, many of the supporters were dock workers -- one of the stands is known as the Dockers Stand -- though now the neighborhood, South Bermondsey, appears to be more the home of African immigrants, though still decidedly un-posh. But for how much longer?

Millwall's majority owner since 2007 has been Boston businessman John Berylson. Geoff and Mark are happy with him -- "He's not in it for the quick buck," Coe says -- and it's true he has brought a commitment and stability to the club, especially with the appointment of former Welsh international Kenny Jackett as manager in '07. (The widely respected Jackett, a coach's coach, is now the fourth longest-serving manager in the club's 127-year history.)

Berylson has talked about refurbishing the area around The Den, but at what cost? Will artists' lofts and pricey condos come with redevelopment? Will South Bermondsey become, heaven help us, Bushwick?

- Millwall vs. Wigan preview
- Wigan come up 10,000 short
- Brown: Five questions and conclusions

What Berylson could do in the short term is improve the little things, like food concessions. Hot dogs are either an unusual dark brown or bright red color, and the fries are, well, this isn't Brussels or, for that matter, Fenway. For 30 pounds (about $45), my girlfriend and I buy tickets in Section 3, Row H of the Barry Kitchener Stand upper tier, named after the club's longest-serving player. These are great seats in a terrific 17,000-capacity ground. It's not as intimate and endearing as The Old Den, we're told, but don't all fans (read: Yankees, Browns, Celtics) say that?

For Saturday's semifinal at Wembley, Millwall have sold out its allotment of 31,500 tickets (Wigan have come up 10,000 short), and though there are just 9,000 at The Den tonight, many are kids and there's even a grandmotherly woman two rows in front us. My girlfriend and I are not singing arm-and-arm with anyone, but we're perfectly well-treated. Of course, a second-minute goal by Millwall's Jimmy Abdou has everyone upbeat. Beware, one fan tells me, we blow hot and cold, and sure enough, they dominate large portions of the first half -- with Chris Taylor their most creative and effervescent presence -- and it's 1-1 at the interval, with many in the crowd losing patience with keeper David Forde, who made two starts for the Republic of Ireland last month in World Cup qualifying. A supporter behind us actually apologizes for his earlier tirade -- justified, I might add -- against the referee's non-call.

At the final whistle, the home fans do leave in a huff: Millwall gives up a goal to Sheffield Wednesday's Chris Maguire in the final minute of stoppage time off a corner. The SWFC supporters, about a thousand, go berserk, but outside the ground all is calm.

I may have missed the second-greatest ending ever to a Champions League match, but I don't care. I am glad I'm here. I could see Dortmund's dramatic late winner on YouTube; I couldn't experience The Den on YouTube, unless it was a short clip that played to stereotype.

On the walk back to New Cross Gate, I realize that for the entire 90 minutes, we didn't hear "No one likes us, we don't care." Instead, we heard this, which is still ringing in my head: "Que sera, sera, whatever will be, will be, we're going to Wembley, que sera, sera."

Michael J. Agovino is the author of "The Bookmaker: A Memoir of Money, Luck, and Family From the Utopian Outskirts of New York City." His second book, "The Soccer Diaries," will be out in spring of next year.