Barcelona and Real Madrid avoid each other in the Champions League semifinals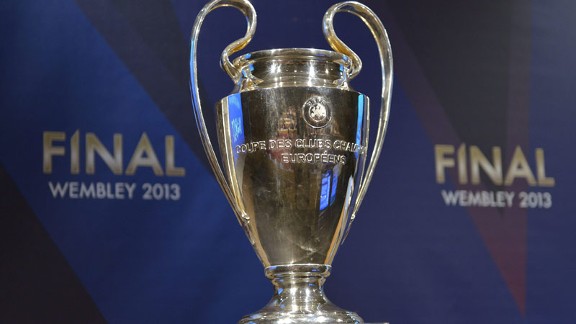 GettyImagesNo argument here: This season's final four feature the best teams on the continent.
Champions League semifinals:

Real Madrid vs. Borussia Dortmund
Barcelona vs. Bayern Munich

As open as the Champions League semifinals appear this season because of the relative parity of the four teams, this draw looks set to close some long-standing narratives and campaigns. In fact, these may well be the ideal pairings -- not least for the manner in which it has kept two teams from the same league apart and retained that welcome sense of diversity in the competition.

Whether we see a one-country final is dependent on these two dynamic ties, which are laden with subplot.

Real Madrid's Jose Mourinho has obviously never been content with being a background character, and ever since his side got a break with Nani's red card at Manchester United, it has carried that air of destiny about this campaign. That stroke of fortune at Old Trafford recalled his first Champions League win with Porto in 2004, and the manner in which he encounters a semifinal rematch recalls his second with Inter in 2010.

In that 2009-10 campaign, Barca gave Mourinho's side a group-stage reality check in the manner Borussia Dortmund did this year. The Portuguese, however, picked out the most important lessons for his team and forensically applied them by the time the sides met again.

Given how Dortmund now look to be waning a bit, the same could happen. That kind of evolution has been the nature of Mourinho's career, as would be leaving Los Blancos after lifting a landmark Champions League trophy -- which would be his third and Real Madrid's 10th.

At the same time, just as Mourinho surprised everyone by winning the trophy ahead of schedule as a young manager with Porto, Dortmund may well do the same as a young team. For all its domestic form and lack of experience, there are so many distinct and unique elements to Jurgen Klopp's side that it sometimes feels futile to apply general football truisms to it. What's more, the nature of that late win over Malaga will over embolden the side. That might well be its own season-changing moment.

If that tie is all about the rise and form of two individual forces, the other tie is all about broader Champions League eras.

Barcelona, after all, have absolutely dominated the past half-decade as indicated by the fact that this is their sixth successive semifinal. Bayern Munich, however, have heavily suggested that they will dominate the next half-decade.

This pairing is a compelling and timely clash of eras that will tell us whether Barca are ready to give up their long-standing position of prominence and if Bayern are ready to take it. One team is undeniably on the way up, the other on the way down. This will reveal how far.

One of the main factors in how fast this apparent cycle moves, however, is another individual force: Pep Guardiola. His departure from Barcelona has resulted in a drop-off in intensity among Lionel Messi & Co.; his impending arrival at Bayern has brought an excitement for the long term there.

Somewhat ironically, though, this clash will only further condition perceptions of both reigns. Should Barca win, it will arguably slightly diminish Guardiola's reign there given the manner in which the team has maintained its excellence, but also give him a grand objective at the German club.

Should Bayern win, it will further prove Guardiola's importance to that Catalan cycle but arguably take away some of the urgency of his next job.

This clash of eras, however, goes beyond individual clubs.

After the manner in which Germany and Spain have come to dominate the latter stages of the past three major international competitions, their takeover of the Champions League illustrates the full effectiveness and success of the deep changes the two countries made to their football infrastructures over the past 20 years.

It is a victory for proper planning, coaching, the appreciation of technique and more efficient use of economics -- even if the perceived purity of three of the teams is compromised by the fact they are the wealthiest clubs on the planet.

What's more, there can be little argument the semifinals feature the four finest teams on the continent.

This season, the final four doesn't include a lesser side, such as Schalke 2011 or Monaco 2004. And we don't have any also-ran top-tier team that has been permitted to focus all of its energies into this competition, such as Liverpool 2005, Milan 2007 or Chelsea 2012.

Whoever wins the 2012-13 edition of the Champions League will very much seem like rightful champions. It may define an era.

Europa League semifinals

Chelsea vs. Basel
Fenerbahce vs. Benfica

If the Champions League has for once distilled the continent's best into a dynamic semifinals, the Europa League continues to reflect the vitality and variety of knockout football. That's further reflected by the countries represented. While the Bundesliga and Spanish league dominate the last four of the elite competition, none of their teams are left in the secondary event. Instead, England, Portugal, Turkey and Switzerland maintain a continental presence.

It is that diversity which mitigates against the most likely final of Benfica-Chelsea. Both, after all, are surely favourites in their respective ties against Fenerbahce and Basel. The latter sides, however, have already upset form and expectation to even get this far. Basel, after all, did not just defeat Tottenham but deserved it; Fenerbahce professionally picked off Lazio.

Those games, as well as the way in which both Benfica and Chelsea wavered in the second legs en route here, also saw the Europa League retain a sheen of its own this season. The ties have been anything but an afterthought, and there's been a refreshing urgency and openness to them. The semifinals feel the same.