Blues offer Mourinho a marriage of convenience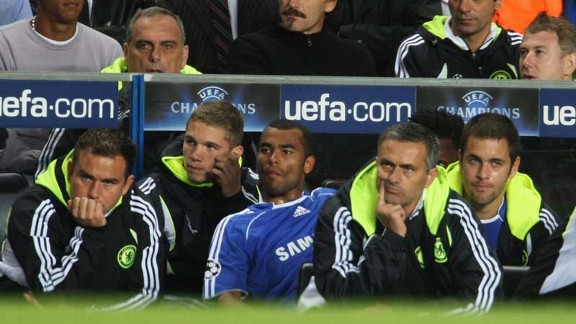 GettyImagesJose Mourinho's last match as Chelsea manager came in a 1-1 draw with Rosenborg
Emirates Stadium, Sept. 19, 2007: Arsenal drubs UEFA Cup holders Sevilla, considered one of Europe's best teams. A red letter day for Arsene Wenger. His team is off to a fine start in the Champions League. Yet there are noticeably few journalists to ask him about it postmatch. Rumours from across town have them on their phones, calling contacts and news desks.

By 11 p.m., the rumours are confirmed. Jose Mourinho is now the ex-manager of Chelsea. He has texted his senior players to tell them so. The previous evening's 1-1 draw with Rosenborg had been played at a stately pace, the power game of Mourinho's Chelsea all but absent. Just 24,973 fans had been at Stamford Bridge. It followed a weekend defeat at Aston Villa and a goal-less draw with Blackburn Rovers.

Chelsea players and staff, including a morose-looking Mourinho, had spent the evening watching a screening of "Blue Revolution," the story so far of Roman Abramovich's tenure at the club. With Mourinho's sacking, or "mutual consent" as it was officially described, a glimpse of Abramovich's future behaviour was revealed. Six managers later, the Russian is expected to go right back to where he started from.

Last weekend saw a brief wavering in the belief that Mourinho will return to Chelsea this summer. Paris Saint-Germain were heavily linked, and fans and journalists alike were aghast. It might be the Stamford Bridge fans who sing his name, but there is a section of the press who crave Mourinho's return to English soil yet more. His news conferences are back-page heaven, a narrative made easy. The story is always Mourinho -- a dream ticket for rolling news and soundbites. His ability to fill airspace and column inches make Mario Balotelli look like Tony Hibbert.

Chelsea TV's "The Best of Jose" -- a series of edited-together news conferences -- shows why so many agreed with his self-styled specialness. Quip after quip, with Jose cocking a snook at his rivals with many a wry grin, gently jibing at chortling journos and, at one juncture, even betting his salary against that of one grizzled hack. Through revisionist media management, the schism with Abramovich has been wiped from the history books. The two are back in touch, friendly even, and could be back in tandem soon.

In the years away, Mourinho has gone out of his way to charm the English media. They are happy to be flirted with. "Mourinho," Gabriel Clarke's excellent ITV program about him, was a glowing tribute, its hero staging a bravura performance of grinning, joking and even self-deprecation, all while leaving us in no doubt of his genius. Come back, Jose -- all is forgiven? There are plenty who would subscribe. Others may choose to recall the other side of Mourinho.

When returning to England during his stints with Inter Milan and Real Madrid, there have been slivers to show why his departure proved a relief to many. While the English got the glints and the gags, his face changed when he spoke with the media packs from Italy or Spain. Monosyllabic, defensive, dismissive, open contempt made clear. It brought back memories of his grumpy last days at Chelsea.

Chelsea's two-year dominance of the English game between 2004 and 2006 came at the price of rank tedium for many. They even managed to make a sizable section of the footballing public applaud Manchester United's title win in 2006-07. That is not to say they did not play some decent football -- twin wingers in Arjen Robben and Damien Duff made for a briefly thrilling attacking force -- but such flourishes were short-lived as Chelsea often chose to bore to victory.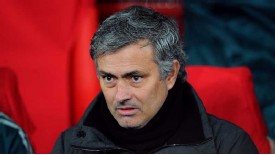 PA PhotosJose Mourinho would appear to have ambitions to manage at Manchester United
Then there were the spats with officials and other managers. The treatment of Swedish referee Anders Frisk was particularly unedifying, and while Manchester United's Sir Alex Ferguson was treated with chummy deference, perhaps with one eye placed on the Scot's job, Rafael Benitez and Wenger were dished a viciously truculent brand of disdain.

In Italy, there was a televised row with a journalist perceived to be an admirer of predecessor Roberto Mancini. Mourinho's time in Spain has been littered with conspiracy theories, his dubious touchline conduct reaching ugly apex with his eye-jabbing of Tito Vilanova in 2011's Supercopa. At Inter, owner Massimo Moratti was said to be disturbed by how unpopular the Mourinho effect had made his club, though the sweetness of Treble success eventually washed down that bitter pill. Real Madrid seem happy to let him go, even if he does win them the Champions League. Mourinho's methods have never quite fitted their aristocratic pretensions.

And that is the dichotomy of Mourinho. He brings success, but at a price that goes a considerable distance beyond lavish pecuniary recompense. None of the clubs he has managed have ever quite got over him, such are the intensity of his short cycles of pushing relentlessly for success. FC Porto took five managers to find Andre Villas-Boas; Inter, too, have employed five coaches unable to emulate Mourinho.

Chelsea fans want him back, but they will have to accept that they are not his first choice. Real Madrid's Champions League trip to Manchester brought out Mourinho at his most openly seductive. "The best team ... lost," he sympathised, having already whispered simpering agreement with Ferguson's rage as Nani was red-carded. The ambition cannot be faulted. Replacing the Scot is the toughest gig imaginable for a football manager, but Mourinho believes he is the one, the "Special One," who can succeed. A return to Chelsea would be something of an unexpected detour on a carefully planned career path that will end with his managing the Portuguese national team. He had not expected that Ferguson might be around so long.

When that position becomes vacant, and no one knows when it might happen, perhaps least of all Ferguson himself, then Mourinho will surely consider himself the best candidate. That would make a Chelsea return a temporary marriage of convenience, a situation Abramovich must accept if he wants the successes that Mourinho can bring him. Both parties must go into their reunion with eyes wide open.