Lionel Messi inspires Barcelona into Champions semifinals
After Barcelona advanced over Paris Saint-Germain to the Champions League semifinals on away goals (3-3 on aggregate), the narrative and headlines are easy -- but that's only because for the Spanish side, it really was so difficult for quite a long time.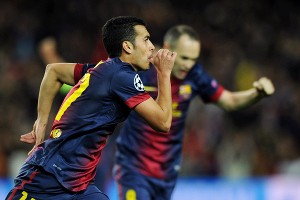 Lluis Gene/AFP/Getty ImagesPedro's goal leveled the match against PSG 3-3 on aggregate, allowing Barca to advance to the Champions League semifinals on away goals.
In the end, it's impossible to escape Leo Messi's influence. It certainly was for Paris Saint-Germain. Even aside from the incisive run that brought Pedro's crucial goal, the Argentine -- hobbled by a dodgy hamstring, no less -- immediately made Barca look so much more assured and cohesive.

Before then, there can be no mistake: The French side had them on edge and teetering.

With Barca having started the game somewhat complacently -- a slight persistent flaw for this team in such positions the past five years -- Paris Saint-Germain soon ensured that gave way to obvious anxiety.

PSG manager Carlo Ancelotti got his game plan almost perfect. By keeping his back line tight and structured but allowing his attack to counter with numbers and bravery, they created a series of worrying moments for Barca before Javier Pastore's fine goal.

It was one of the contradictions of this Catalan side. For a team that always seems so in control through their passing game, it is remarkable how many moments of blind panic they endure.

It wasn't just panic that we saw. It was frantic worry. When Dani Alves fired so wildly shortly after the Pastore goal, it was a sign of a man who just wanted to force the moment to end rather than a professional of his quality trying to properly finish. As was further evident from a number of passes lacking both conviction and quality, Barca had been psychologically affected.

And that, beyond his historic ability, was the real importance of Messi's introduction. It immediately seemed to calm the team, to reassure them. Right away, they were putting proper moves together. A rather typical siege started to build as they pounded the Paris Saint-Germain goal with a series of shots in an impressively short space of time after the substitution. Indeed, it was arguably a reflection of Messi's lack of fitness that he couldn't get his legs in order to properly react to one parry.

It was a reflection of his transcendent brilliance, however, that he was still central to the game's key moment. After Messi had opened the way by threading the ball to David Villa, the Spaniard teed it up and Pedro closed the door with a fine finish.

By then, even apart from the scoreline, the transformation was clear. Barca were back in total control, but with the conviction to go with it, while Paris Saint-Germain looked like they'd blown their chance and lost their way.

Not that Barca's psychological dependence on Messi wasn't still showing. As the nerves built again in the tense final minutes, the Argentine was at the center of attritional passing moves that further wore down both the clock and the French side.

The relief, rather than delight, was evident when the final whistle blew.

It does leave us, though, with a rather remarkable record. Barcelona have now reached the Champions League semifinals for a record six consecutive seasons.

As to whether they can go further and win a third trophy in five years, this tie will have given both reasons for optimism and pessimism.

On the one hand, it is a worry that a side that has lost some of their Pep Guardiola-inspired intensity and organization had to bring on a half-fit player. What's more, just like Milan in the last-16 first leg before them, Paris Saint-Germain exposed more flaws in the Barcelona setup and illustrated another potentially successful approach to beat them.

On the other hand, just as against Arsenal in 2011 and against Chelsea in 2009, Barca have come through a truly testing moment.

Although this team may not quite be at the level of those years, they have the collective memory and the experience.

Most importantly of all, they also have Messi.